Ontario's Political Parties on Proportional Representation
The Ontario Green Party supports proportional representation.
The Ontario Liberal Party has no current position, but will soon be engaging in a policy development process ahead of the next election.
Watch NDP Democratic Reform Critic Peggy Sattler connect proportional representation to better outcomes on COVID 19, building better democracy, collaboration and citizen engagement. Comments in the Ontario Legislature October 5, 2020: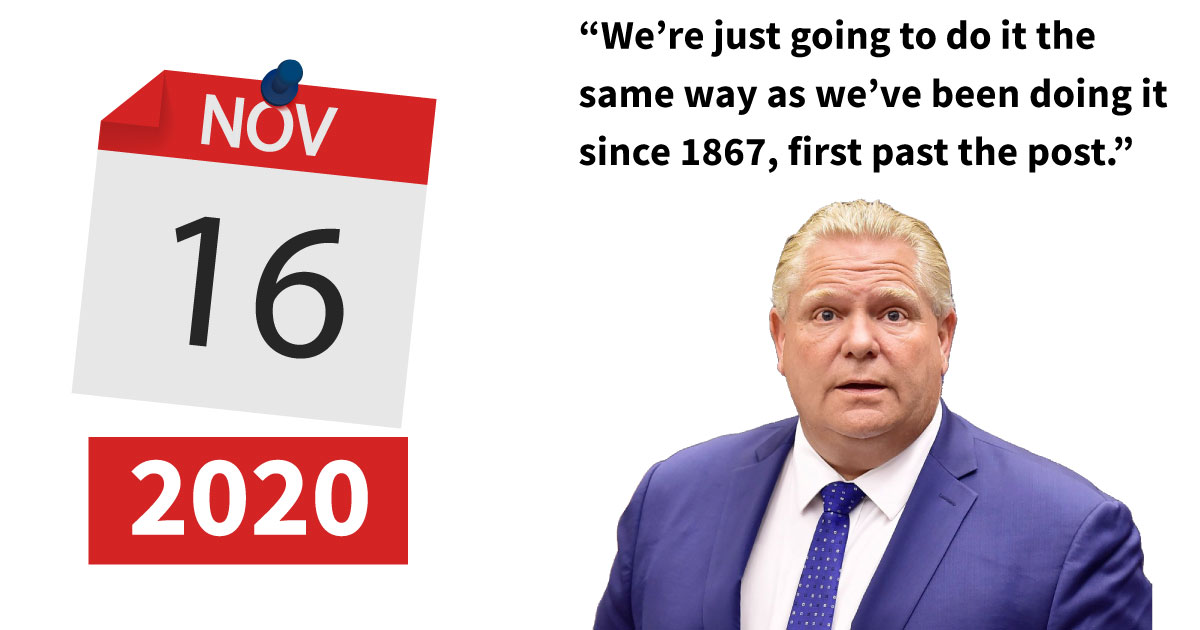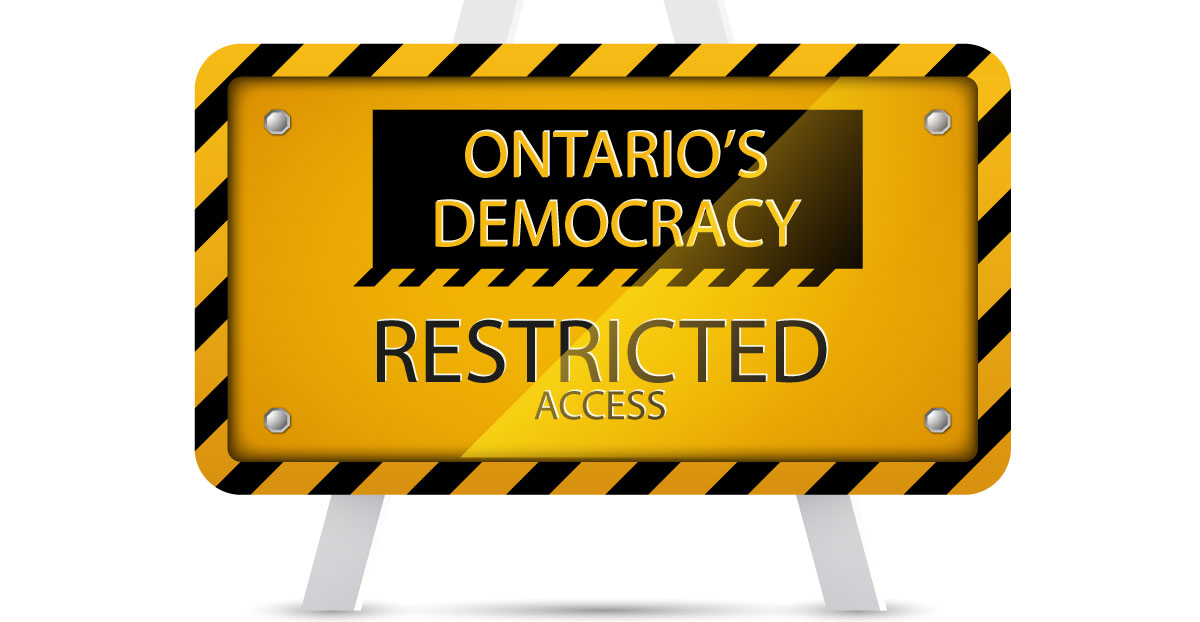 Press release: Ford rams through bills that shut out MPPs, public

In June, 2017, Ford's PCs were elected to a majority government with only 41% of the popular vote. Today Doug Ford rammed through two wildly unpopular bills: Bill 195 and Bill 197.  The opposition MPs were easily outvoted by the PCs. The PCs used time allocation to shut down debate quickly. Both new bills make it harder for MPPs and the public to have their say in decisions.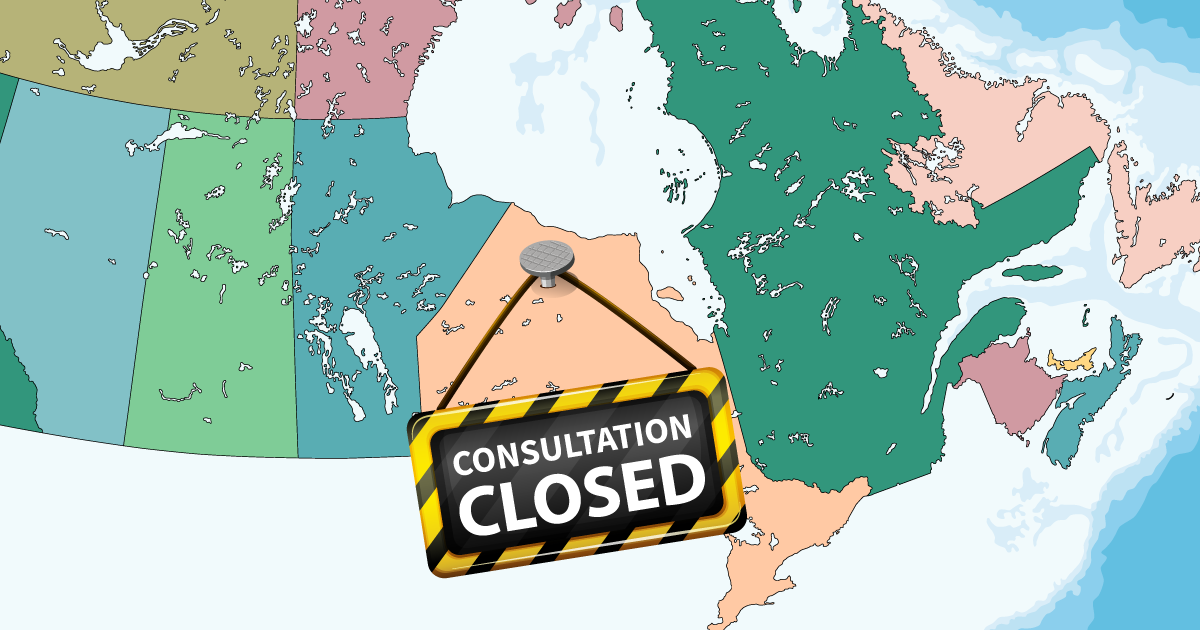 Press release: Suspending Environmental Rights Highlights Need for More Cooperation
At this critical juncture, it is incumbent upon the government to ensure that perspectives from all political stripes are represented in their decision-making, rather than bolster their own ability to control the agenda. Concentration of power within the minority, an unfortunate side-effect of our antiquated first-past-the-post voting system, is further exacerbated by this move.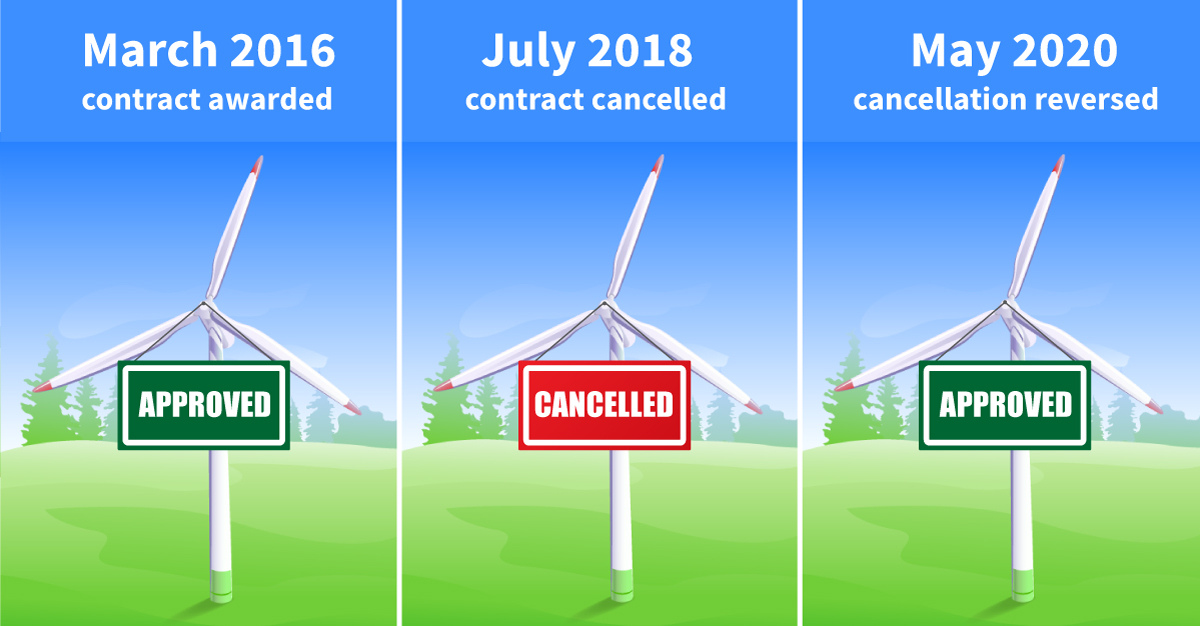 Press release: Flip flop on wind farms highlights cycle of bad decision-making
Following a strong rebuke to the government from the Ontario Superior Court, Ontarians are on the hook for $126,000 in wasteful spending. The courts minced no words about the quality of government decision-making: "not reasonable," and lacking in "transparency, justification, and intelligibility." With winner-take-all voting, abrupt policy lurches―often driven by nothing more than ideology―are par for the course.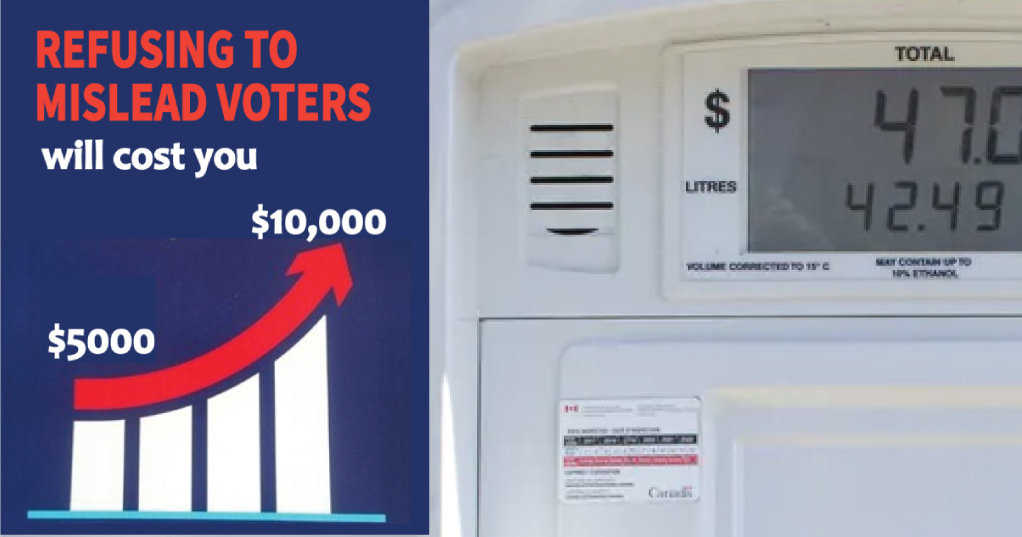 Ontario Voters Need Proportional Representation
Want to help the campaign for proportional representation in Ontario?
Presently, we are collecting petition signatures on the Declaration of Voters' Rights for MPPs to present in the Ontario legislature. If you would like to help, you can download the petition using the button on the right. Since the petitions presented in the Ontario legislature must be originals, please contact [email protected] for a mailing address.
You can also download a sign to take to a rally.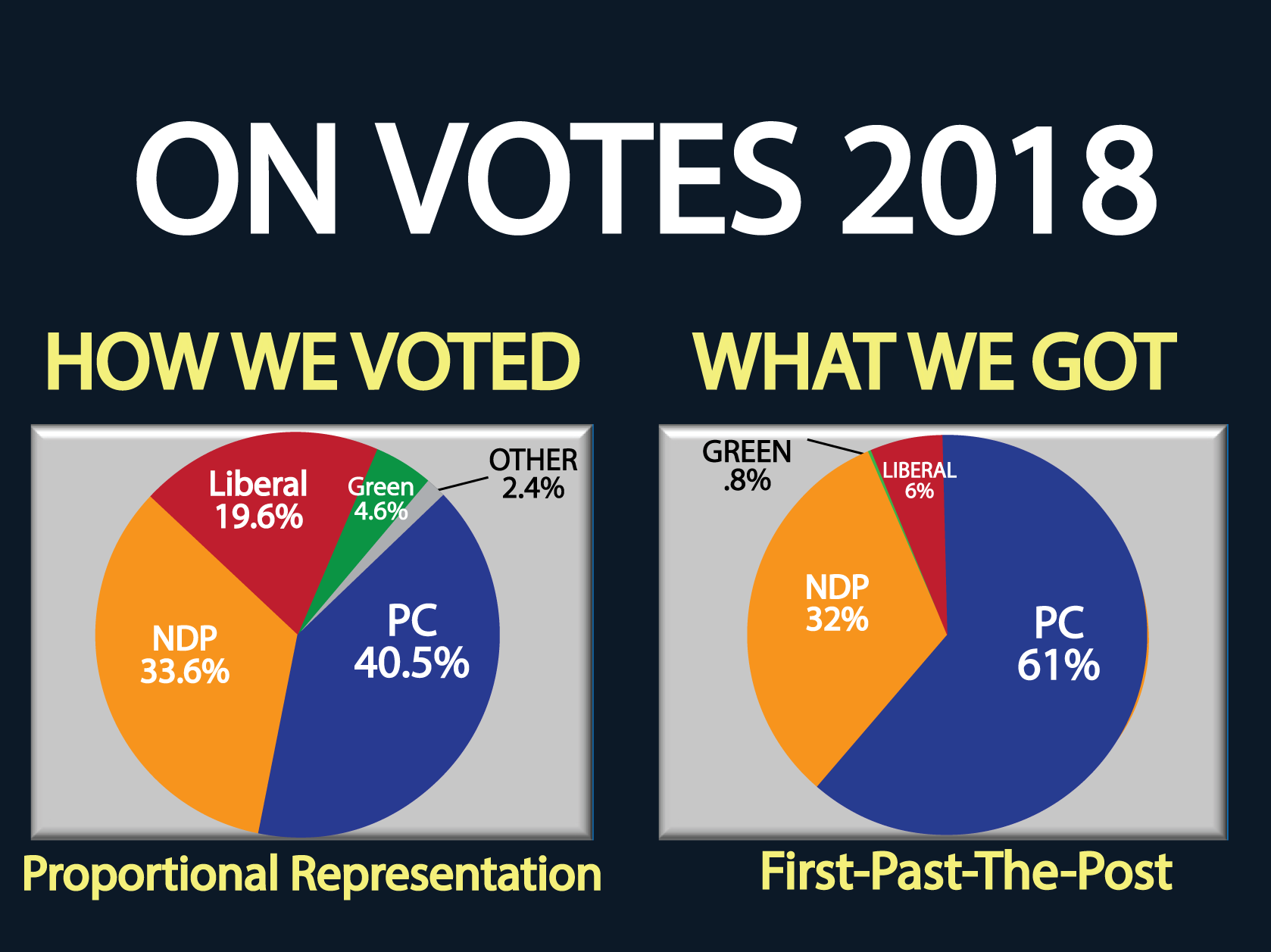 False Majority Governments
Ford's government continues a long line of false majority government in Ontario in which a single party with less than half the votes gets more than half the seats.
Since 1943, we have had 17 false majority governments and 5 minority governments but not a single majority government based on a majority of the popular vote.  This means the majority of voters are routinely shut out of having a voice in policy making.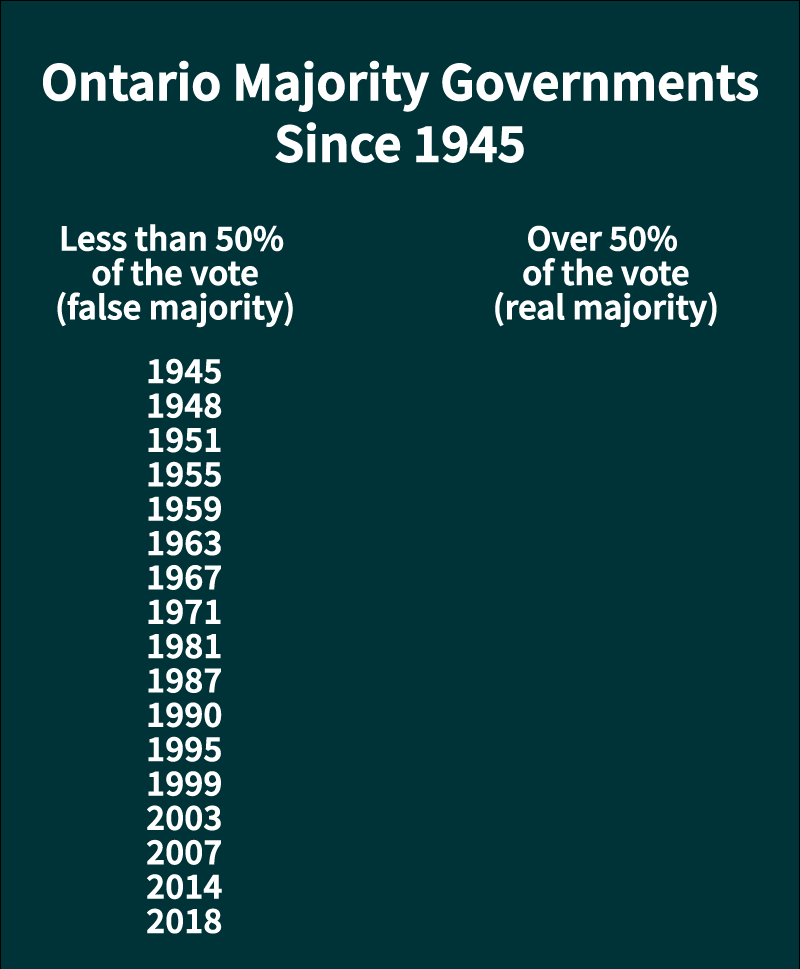 Most Voters Elect No-One
In every Ontario election, about half of all voters elect no-one. In Ontario in 2018, 52% of voters cast "wasted votes". This means the majority of Ontario voters have an MPP who does not represent their values.