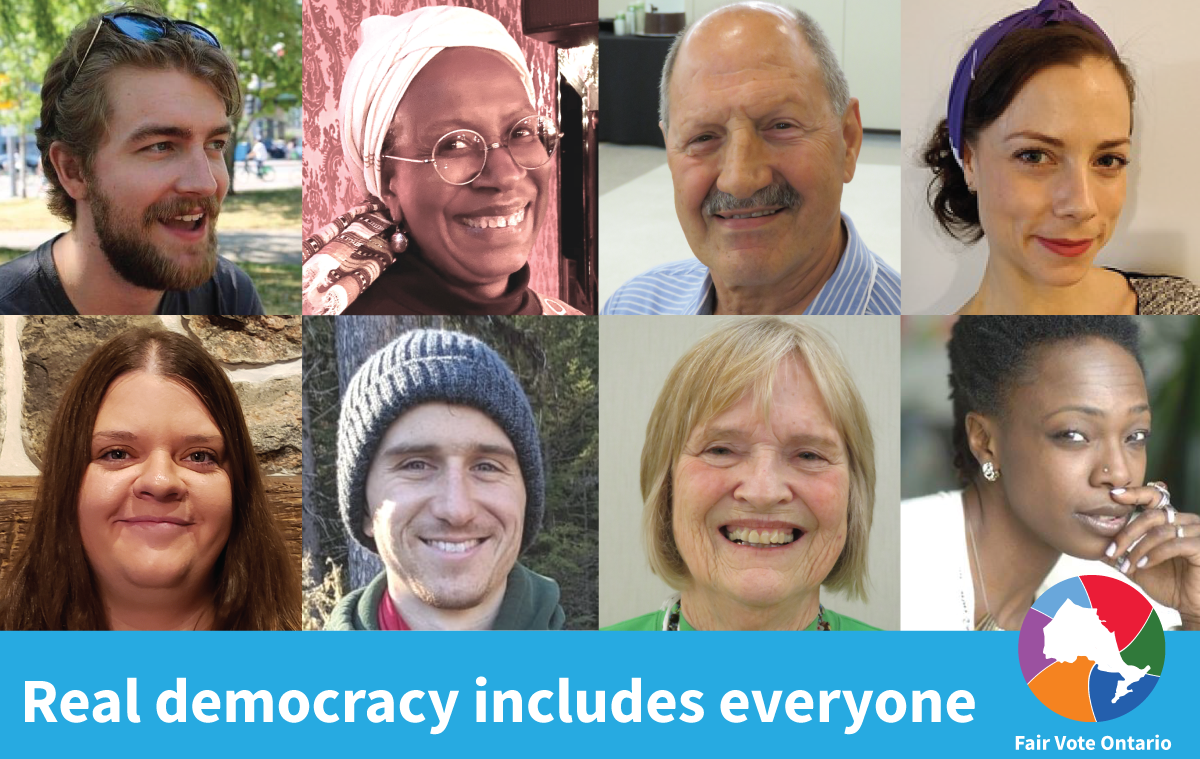 Democracy in Ontario needs an overhaul!
For too long, citizens and voters have been forced to live with unaccountable, false majority governments and partisan-driven politics in Ontario.
It's time for a citizen-empowered democracy in Ontario! 
We are seeking a transformation that values evidence-based decision-making―and gives citizens a stronger voice on the policies that affect our lives.
Fair Vote Ontario calls on the parties to commit to deliver: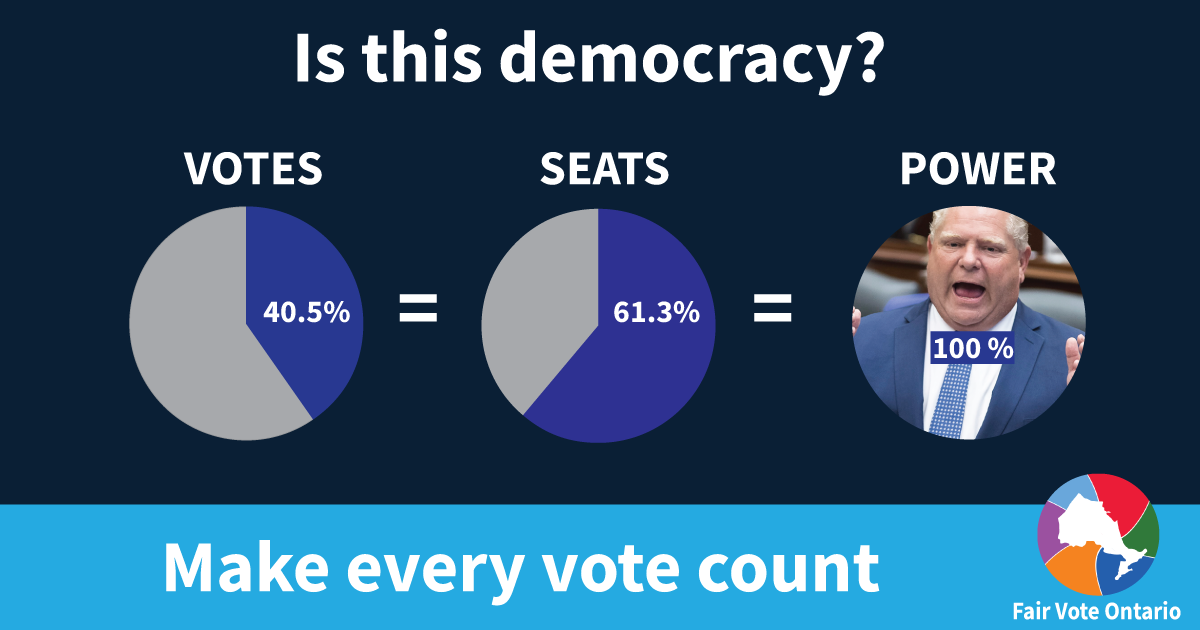 Electoral Reform and a Citizen-Empowered Democracy Event!
a
Watch our June 28, 2021 discussion of moving ahead with electoral reform a new citizens' assembly in Ontario! Guest speakers: Ontario NDP Democratic Reform Critic and House Leader Peggy Sattler, Ontario Liberal Campaign Co-Chair Kate Graham, Ontario Green Party Leader Mike Schreiner, citizen engagement expert Megan Mattes, and youth leader Dolly Cepeda Montufar! 
Shareable graphics
a
Find below a few graphics with numbers specifically related to Ontario provincially.
There are many, many more graphics about the problems with winner-take-all voting and the benefits of proportional representation that would broadly apply to any level of government on the Fair Vote Canada facebook page under photos!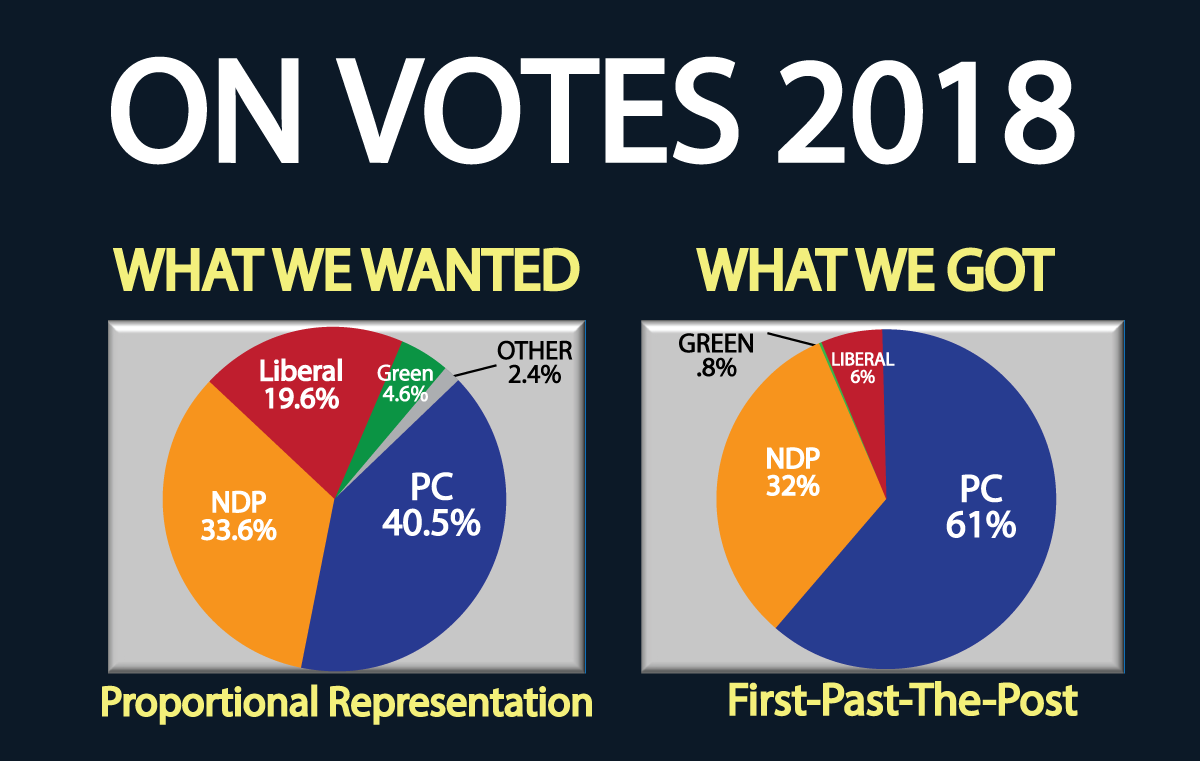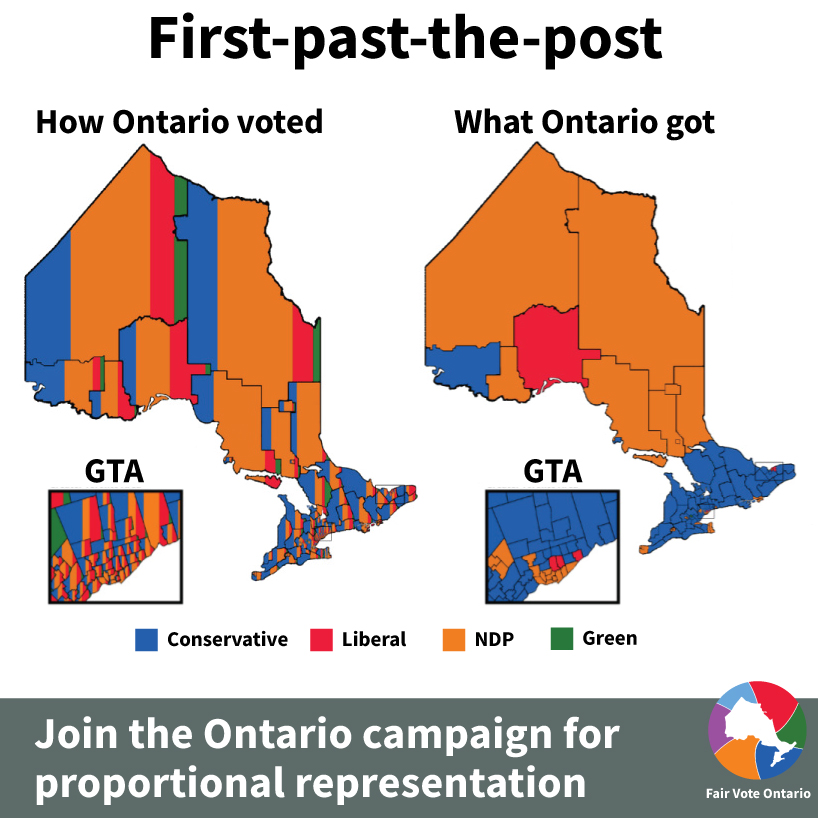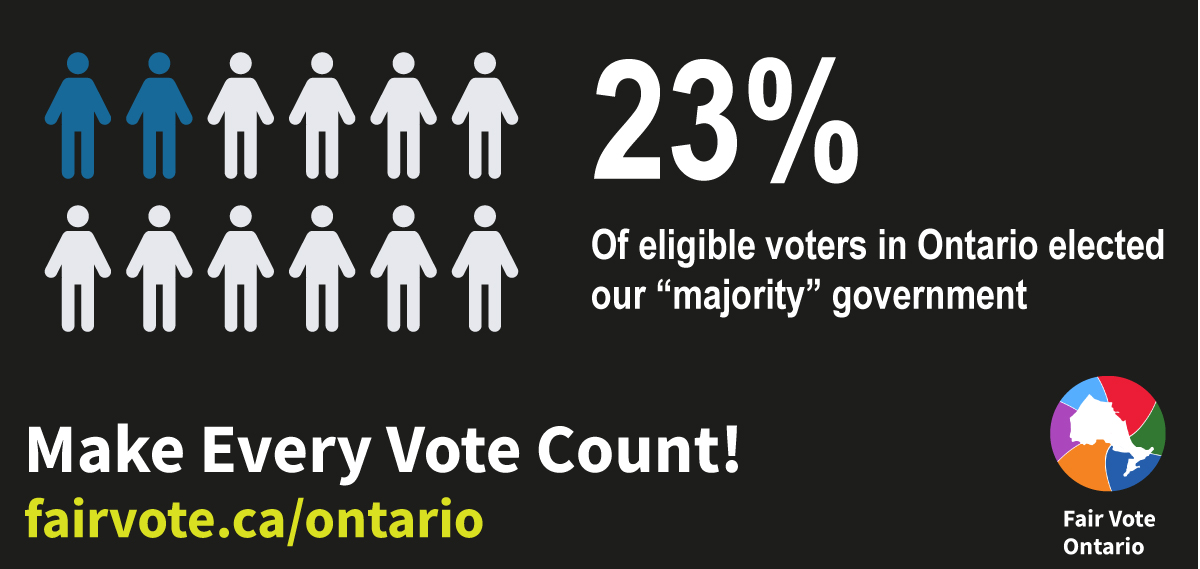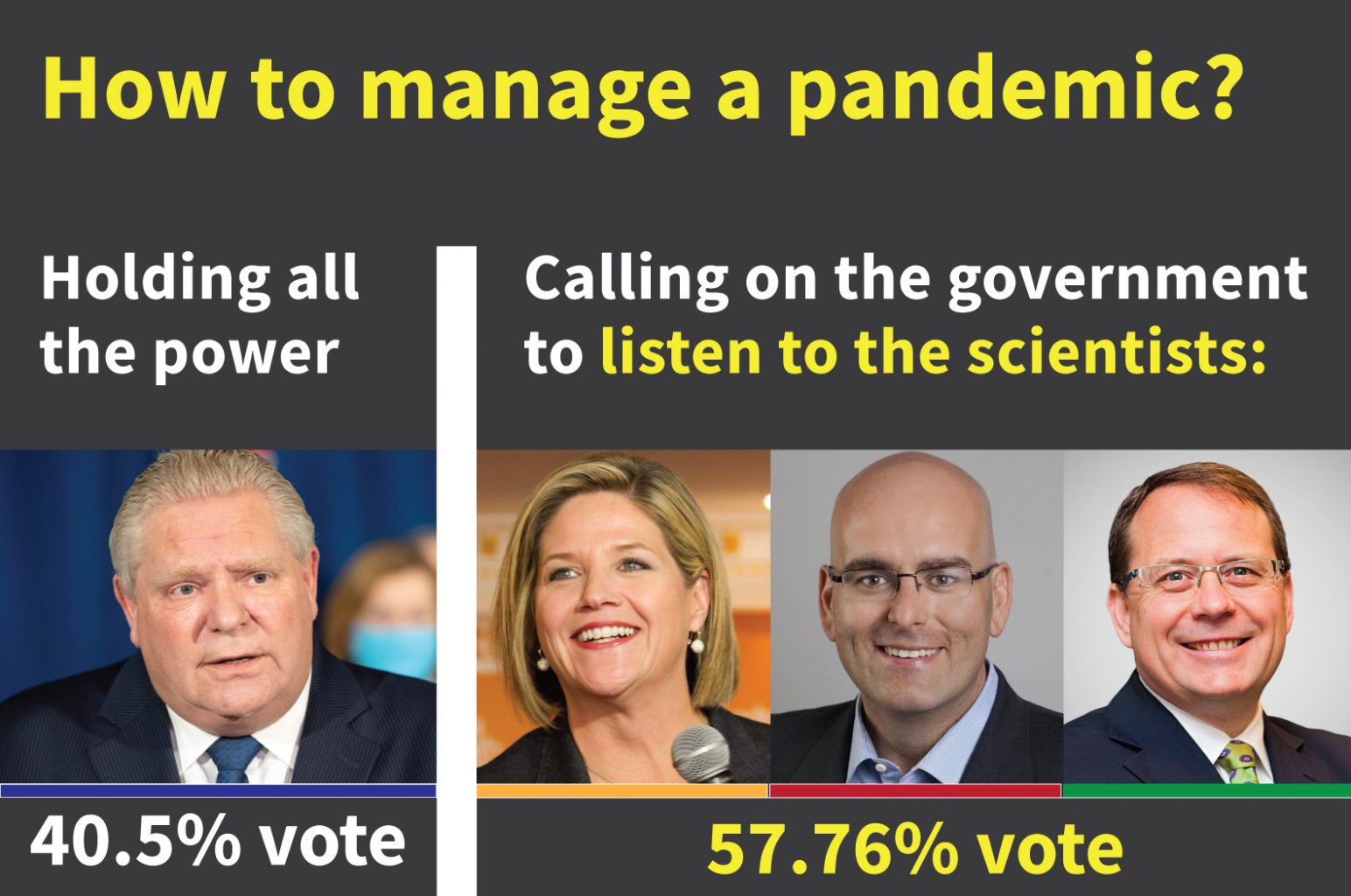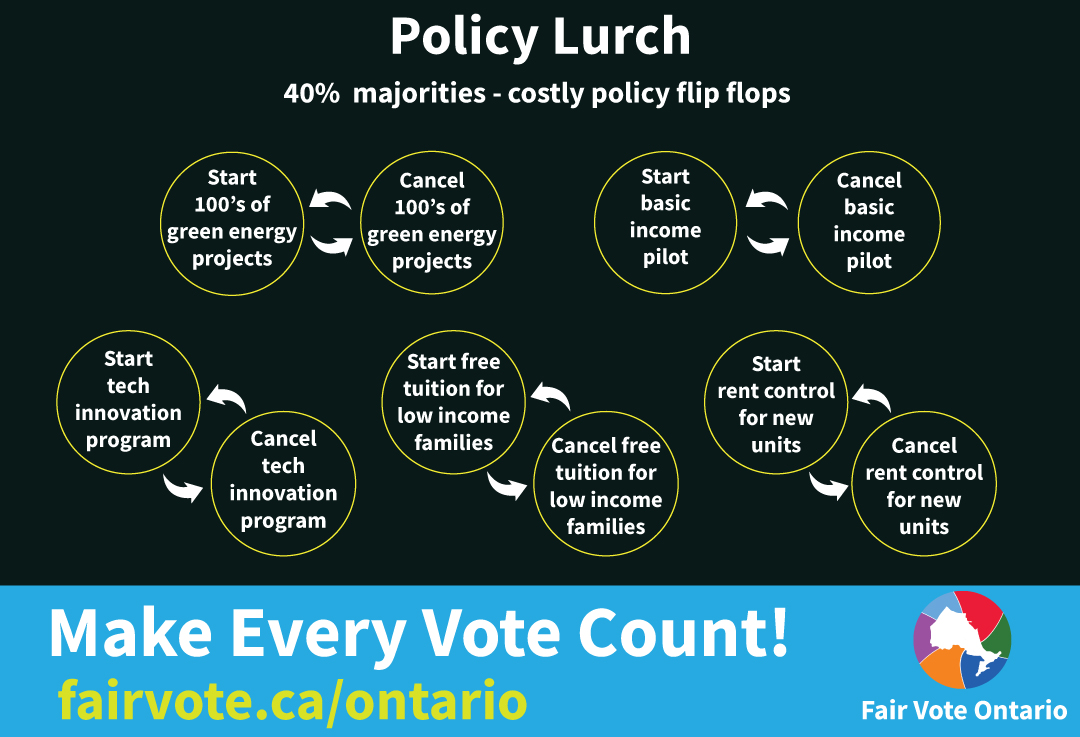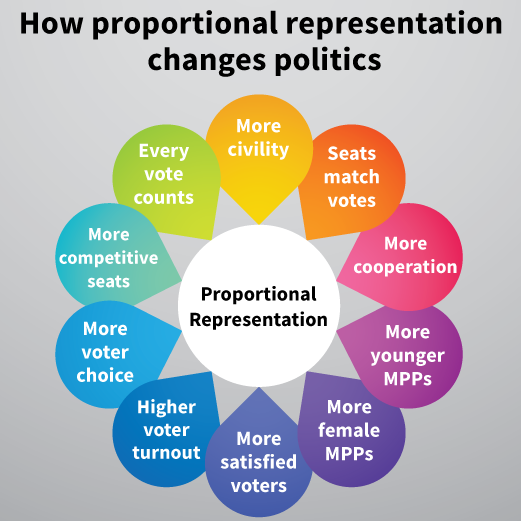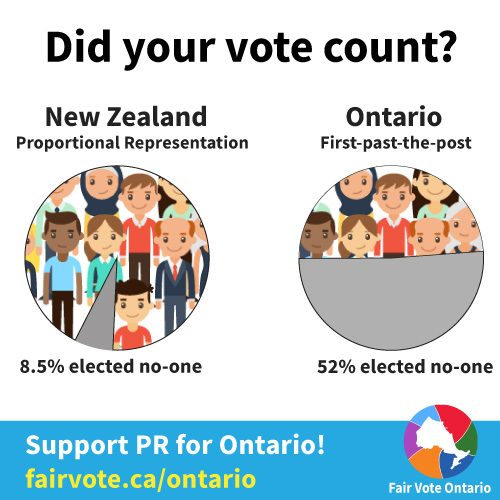 Ontario's Political Parties on Proportional Representation since 2018
Ontario Liberal Party
The Ontario Liberal Party has no position on electoral reform yet but is engaging Ontario voters about their election 2022 platform right now!
In March 2021, many proportional representation supporters participated in their online consultation open to all Ontarians called #TaketheMic. Participants could rank their support for many different policy ideas and leave comments. Over 93% of participants supported PR and the participation that topic was high. (Support for winner-take-all ranked ballots provincially was low).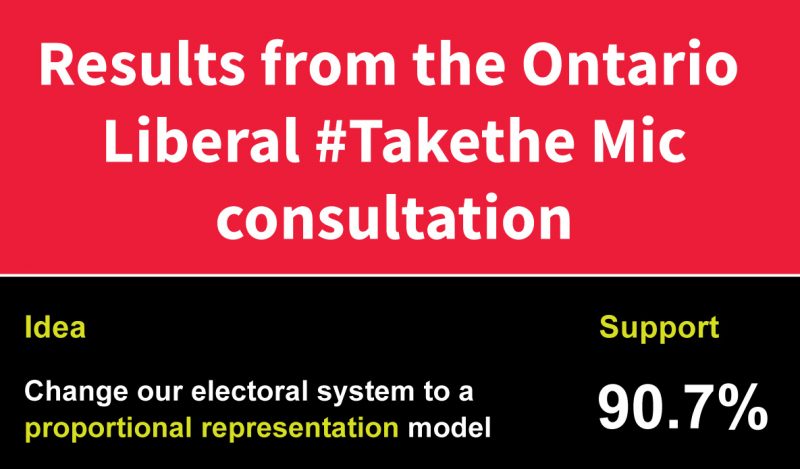 The Ontario NDP's policy book includes a policy for Mixed Member Proportional Representation, but they have not prioritized this policy in past elections. The Ontario NDP has been showing renewed interest in proportional representation over the past three years. Watch NDP Democratic Reform Critic Peggy Sattler connect proportional representation to better outcomes on COVID 19, Fair Vote Canada's case for building better democracy, collaboration, and citizen engagement in the Ontario Legislature October 5, 2020. Starting at 8:00 in the video:
Authorized by Fair Vote Canada, a registered third party advertiser with Elections Ontario for the Ontario provincial election.