Upcoming Fair Vote Canada webinars

PR 101: proportional representation vs first past the post
Want to learn the basics of the campaign for proportional representation? What's wrong with winner-take-all systems? What is proportional representation? How would it strengthen our democracy?
Join Fair Vote Canada for PR 101! We'll look at proportional representation vs first past the post. A half hour presentation is followed by questions and answers in a small group setting.
Offered on the 15th of every month. 1 PM Eastern if the date is on a weekend, 8 PM Eastern if the date is during the week. To register for any of the upcoming sessions, click the date below.

Wednesday February 15, 8 PM ET
Wednesday March 15, 8 PM ET
Saturday April 15, 1 PM ET
Monday May 15, 8 PM ET
Thursday June 15, 8 PM ET
(See more on our YouTube channel!)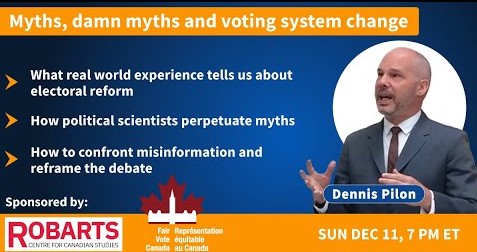 Myths, damn myths and voting system change

Is electoral reform really about "trade-offs" as so many academics have suggested? What about simplicity, accountability, stability and local representation?
Dennis Pilon explores how political scientists have perpetuated myths about electoral reform, and how to reframe the debate based on an honest look at history and the struggle for democracy.

Polarization in democracy: What's happening and what can we do?

Political polarization and extremism in Canadian politics is on the rise. Many are concerned about the tone of our politics and the consequences of politicians from all sides who fan the flames of division.
Our expert guests discussed the problems facing democracy and solutions that can bring people together.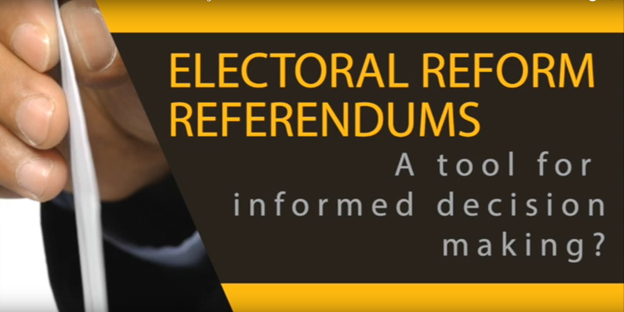 Electoral reform referendums: A tool for informed decision-making?

This webinar takes a deep dive into some of the best research of the last 20 years, looking at the formidable forces that drive the vote in referendum campaigns. Referendums are not the politically-neutral, democratic tool that they are often presented as. Guest: Dr. Lawrence Leduc.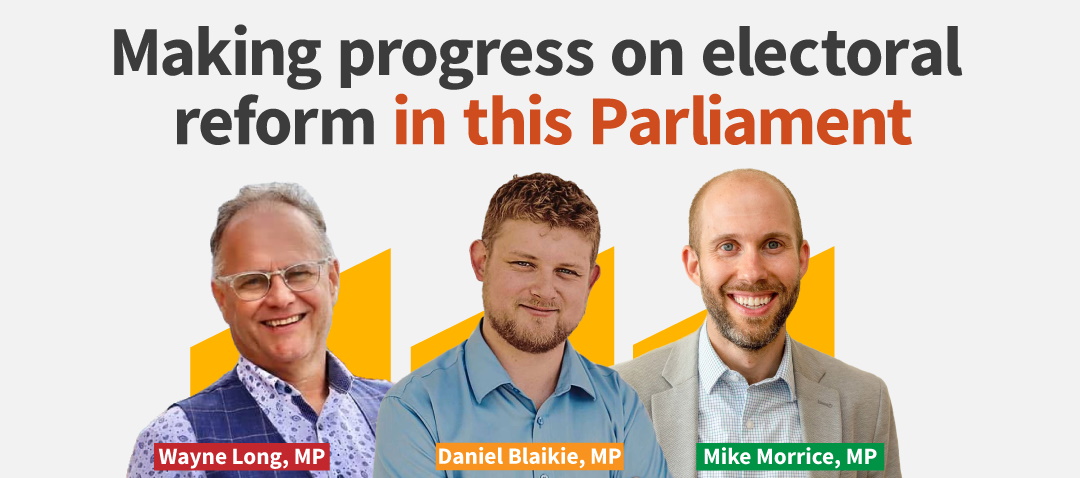 Making Progress on Electoral Reform in this Parliament
A new Parliament means new opportunities to push for action on proportional representation! As our MPs get back to work, the movement for PR is more determined than ever.
Where are the next opportunities to drive progress on electoral reform in this Parliament? What can MPs do? What can citizens do? 
Hear what MPs from three different parties who have committed to work for real progress said! Special guests:
Daniel Blaikie, MP for Elmwood—Transcona, NDP Democratic Reform Critic
Wayne Long, MP for Saint John—Rothesay, Liberal
Mike Morrice, MP for Kitchener Centre, Green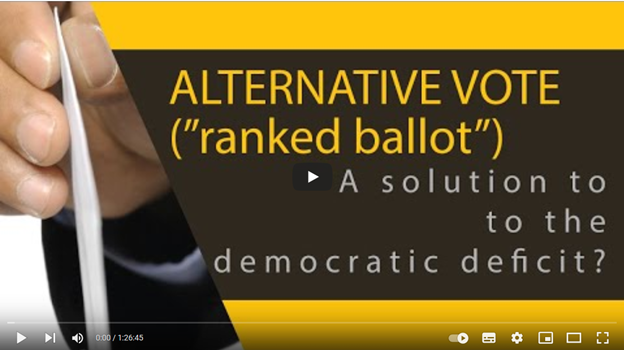 Alternative Vote: A solution to the democratic deficit?
The movement for proportional representation is under serious threat right now.
Ontario Liberal Leader Steven Del Duca has recklessly vowed to force through winner-take-all ranked ballots (Alternative Vote) for Ontario—or he'll resign.
What happens in Canada's most populous province can have a profound impact on the national campaign for proportional representation for years to come.
Those who care passionately about seeing PR in Canada—equal votes, fair outcomes and cooperative politics—can't afford to downplay, ignore or dismiss the Liberal's ranked ballot scheme.
Learn the risks and consequences of the Alternative Vote (non-proportional "ranked ballot").