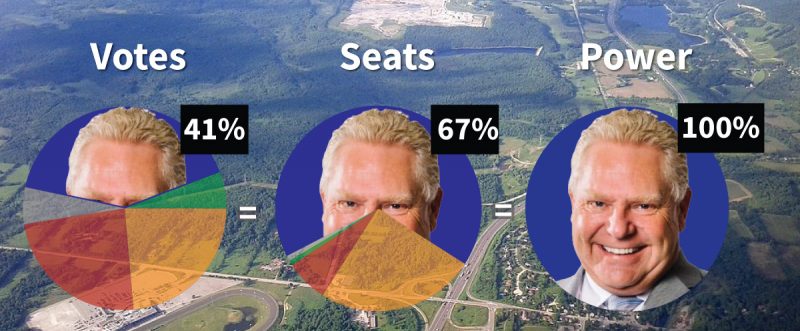 In a blistering report, Auditor General Bonnie Lysyk laid out how the process to decide which lands would be removed from the Greenbelt was flawed, unfair, and heavily favoured the developers picked by the PC Housing Minister's Chief of Staff.

Lysyk also concluded that it's not necessary to remove lands from the Greenbelt to meet the government's housing targets.

A strong majority of voters already oppose the development of the Greenbelt and the Ford government continues to ignore their voices.
Opposition parties were understandably furious about the revelations in the report and wasted no time in calling for the resignation of Ford's Housing Minister and the firing of the Minister's Chief of staff.
That's the easy part.
Which politicians are calling out the electoral system that lays the foundation for situations like these in the first place?
Too often, it appears that each party would like the voting public to believe that if their party received all the power with 40% of the vote, they could be trusted with it.
Experience, research – and the common sense of most voters – says otherwise.
From the 2018 Plecas report in BC which unearthed years of covered-up lavish and improper spending by MLAs on the taxpayer's dime, to the more well-known scandal of Justin Trudeau pressuring Jody Wilson-Raybould to support a Deferred Prosecution Agreement for SNC Lavalin, history is rife with examples of false majority governments found to be looking out for themselves, their parties, and their friends.
What happened with the Greenbelt is exactly how winner-take-all systems work – no matter which party forms the government.
Using the World Governance Index and Transparency International's data, renowned political scientist Arend Lijphart compared 36 democracies over two 25-year periods, and found that countries with winner-take-all systems produced more corruption than countries using consensus (proportional) systems.
All Ontarians can thank Bonnie Lysyk for her diligent work uncovering the Greenbelt giveaway and forcing a degree of accountability; but today's scandal begs the question:

What other major decisions are being made with little oversight, purely for the benefit and partisan self-interest of one political party?

As Professor Dennis Pilon states:
"First-past-the-post leads to a poor policy process because governments have too narrow a base in civil society. Usually around 40% of voters can give one party complete control over policy development and implementation, with little or no input from other parties. Low levels of support combined with complete control can lead to bad decisions, or a cover-up of questionable ones.

Proportionally elected governments do better because more people are involved in the policy process – usually a number of parties that together represent an actual majority of voters – and more eyes on the process means fewer questionable decisions getting rushed approval or covered up after the fact."