It's time to regulate political advertising




a
What's the problem?
Since the Brexit referendum, there has been heightened awareness of the real impact of dishonest advertising in political campaigns.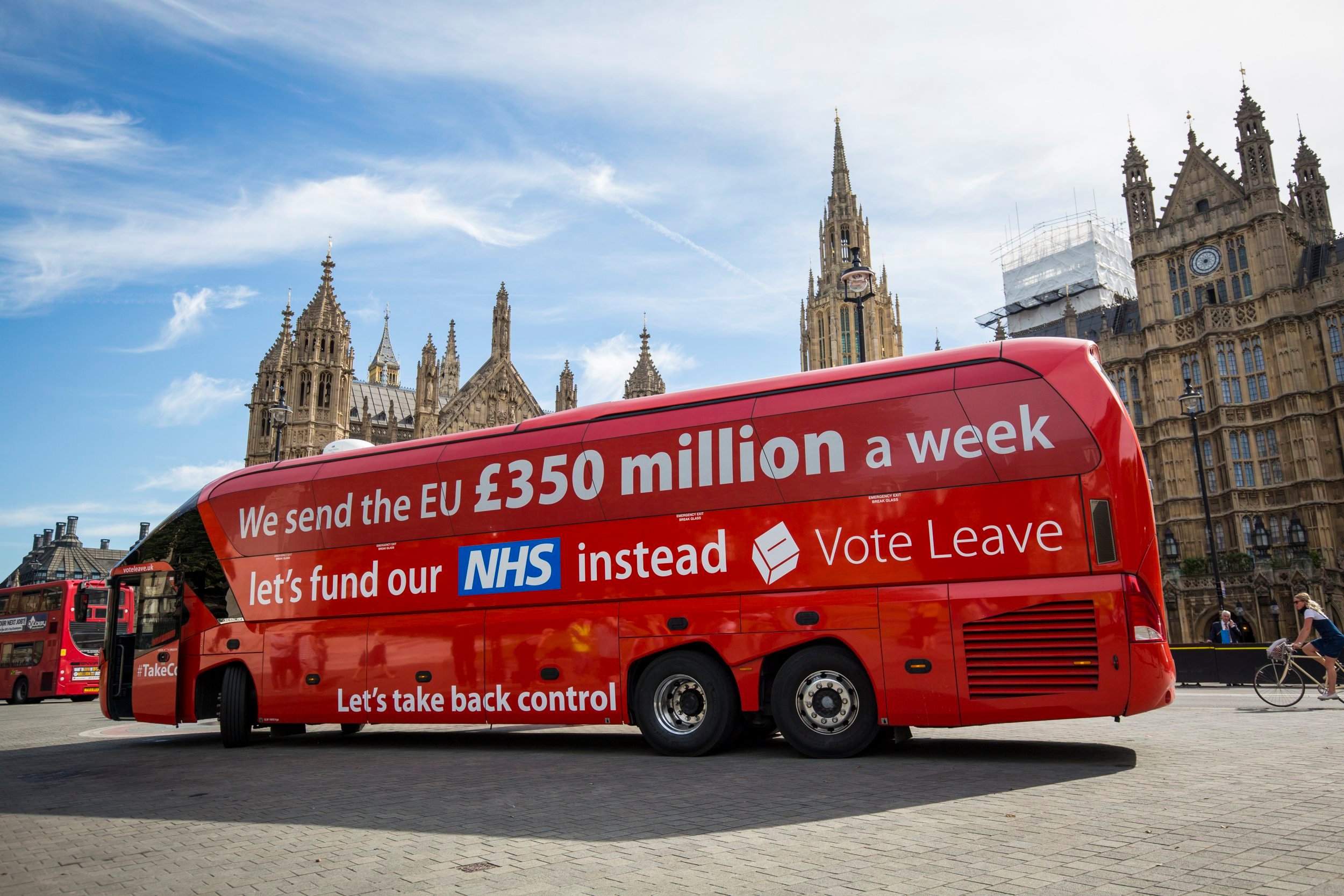 Advertised lies by opponents during referendums have also directly impacted on the electoral reform movement.
During the UK referendum on Alternative Vote (AV),  strategists noted that the advertisement featuring a baby claiming AV would cost £250m marked the turning point in their favour during the campaign. According to NO strategists:
The first part of the strategy was to make the argument about the cost of AV. This proved an instant winner with the friendlier newspapers. The mid-markets, tabloids and even the broadsheets began to run stories about our £250 million figure. And when that interest began to die down, the YES campaign strode into the argument and started talking about it all over again!
In focus groups in October 2010 not one person had talked about cost. When we re-ran the groups in March 2011, every group repeated the £250 million cost of AV back to us.
The NO side later admitted they made the figure up.
In Canada, support for the principle of a proportional system has remained between 60-70% in polls for almost two decades, and 13 commissions, assemblies and committees have recommended PR. Every evidence-based and deliberative process has concluded that Canada needs a proportional voting system. 
Unfortunately, what voters are led to believe through advertising can have a much greater influence than dispassionate facts available in official reports.
During the BC referendum, the opponent group ran print and social media advertisements with factually incorrect messages that were later shown in an exit poll to have directly influenced the decisions of many voters.
Fair Vote Canada believes that voters deserve to make informed decisions based on accurate information.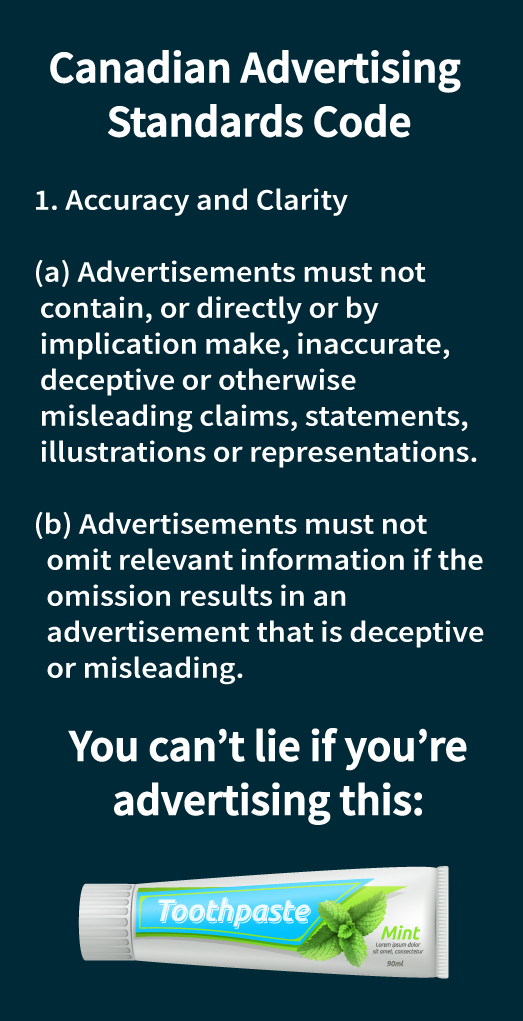 What remedies are available now, if a political or referendum advertisement contains a black and white lie?
Unfortunately, none.
Regardless of how inaccurate content is, and the impact of that, there is no body with which to even file a complaint in Canada.
The Advertising Standards Code regulates advertising in Canada. For example:
(a) Advertisements must not contain, or directly or by implication make, inaccurate, deceptive or otherwise misleading claims, statements, illustrations or representations.
(b) Advertisements must not omit relevant information if the omission results in an advertisement that is deceptive or misleading.
Unfortunately, the Advertising Standards Council exempts political advertising from its code. Basically, you can't lie to people about toothpaste, but if you're running advertisements on anything political, you can lie with impunity.
The Government of Canada voluntarily submits some of its government advertising to the Advertising Standards Council for review, but not all governments choose to do this, and political parties do not do this.
The Competition Act, which also prohibits misleading or deceptive advertising, also does not apply to political advertising.
The Elections Canada Act does not regulate the content of political advertising.
Can truth in political advertising be regulated?
Yes.
In South Australia, the Electoral Commission is responsible for regulating advertising.
In 2018, the Liberal Party and the Labour Party both ran advertisements that were found in violation of the Electoral Act.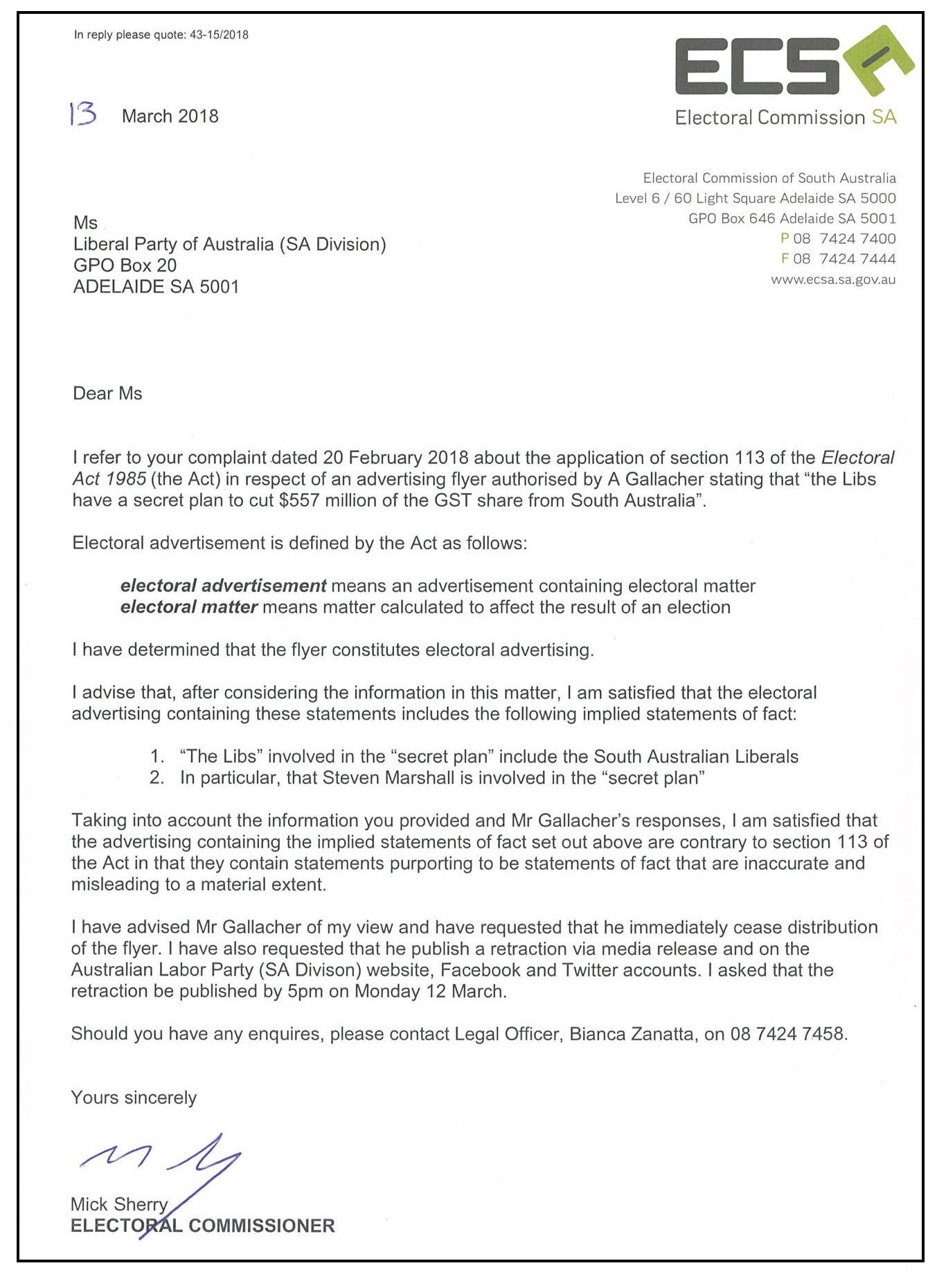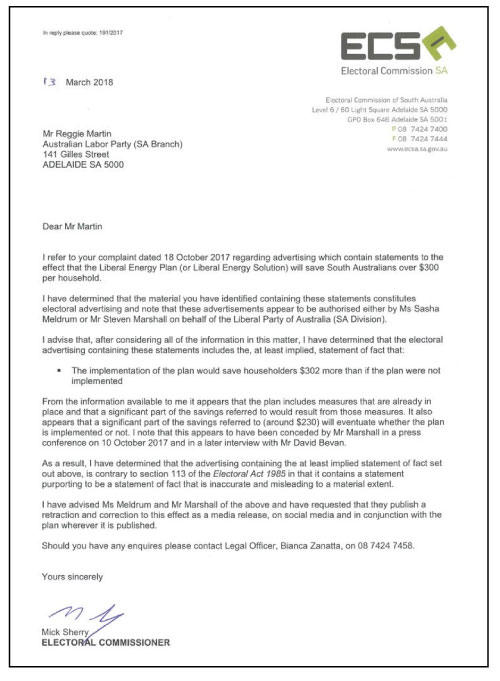 The Labour Party's ad stated "the Libs have a secret plan to cut $557 million of the GST share from South Australia".
The Liberal Party's ad stated that their energy plan would save South Australian's over $300 per year.
The Electoral Act states:
(2) A person who authorises, causes or permits the publication of an electoral advertisement (an advertiser) is guilty of an offence if the advertisement contains a statement purporting to be a statement of fact that is inaccurate and misleading to a material extent.
Parties who violate the ad can be ordered to remove the ad and issue a public retraction.
According to the UK Independent Commission on Referendums:
In the 2014 election, the (South Australia) Electoral Commission received ninety complaints under this provision and it requested eleven withdrawals or retractions. The requirement for retraction can in itself constitute a severe penalty. For example, where a party has been found to have made a misleading statement in a leaflet delivered to households, the Commission has required the party to deliver a further leaflet to all of those households containing nothing but a retraction. This is costly to the party both financially and reputationally.
The UK Commission noted broad support for the legislation from the current Electoral Commission, journalists, politicians and the public:
In evidence from interviews, Constitution Unit researchers found strong support in the current Electoral Commission, and among politicians and journalists, for maintaining the provision. Most interviewees took it for granted that truth in politics matters and that a mechanism to enforce it is therefore needed. The only criticisms of the provision found in the South Australian media suggest it is too weak, rather than too strong.
How can political advertising be regulated in Canada?
There appear to be three potential mechanisms for regulating political advertising in Canada:
* making it subject to oversight by the Commissioner of Canada Elections;
* having election advertising fall under the Advertising Standards Code;
* creating a stand-alone body for this specific purpose.
Fair Vote Canada recommends a citizens' reference panel (similar to a citizens' assembly, but smaller) to consider the following questions:
Should Canada adopt truth in advertising legislation which applies to political and election advertising?

If so, what should the scope of the legislation be?

What is the most appropriate body to regulate political and election advertising?

What remedies would the body be able to enforce during and after an election or referendum campaign?
To learn more, read the detailed backgrounder: