Opposition to Bill 23, the  "More Homes Built Faster Act" which opens up building on the Greenbelt,  continues to increase. A new poll by Mainstreet shows that eight months after the bill passed, a strong majority of Ontarians continue to oppose it: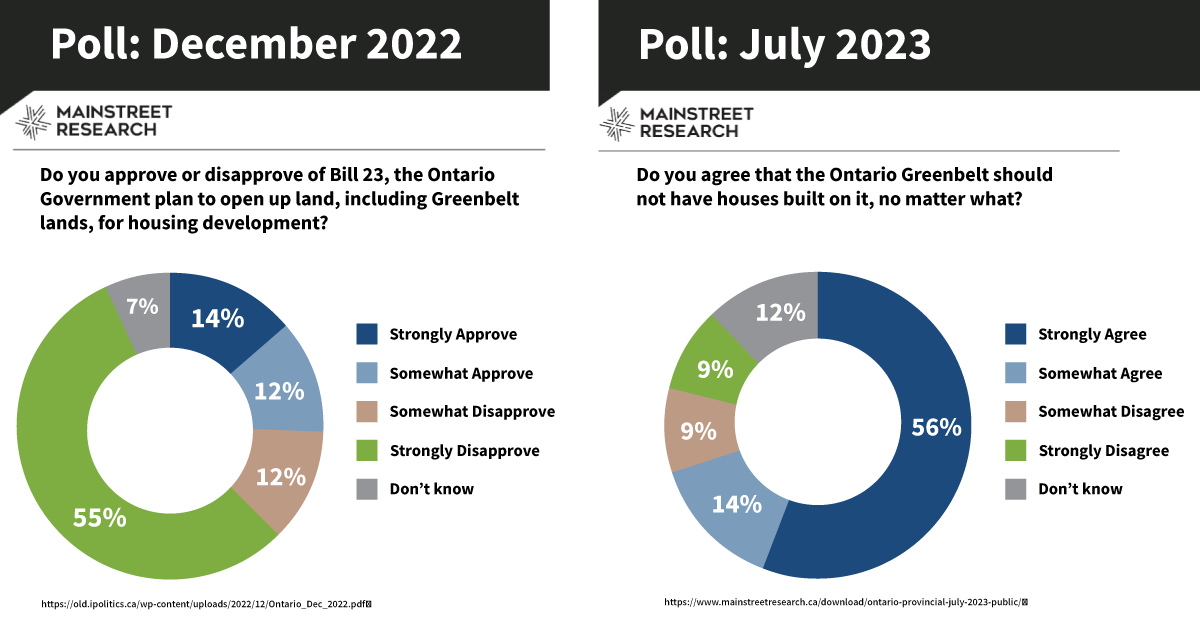 Why is Ontario being subjected to legislation almost nobody wants?

In June, 2022, Ford's PCs were elected to a "majority" government. They received only 41% of the popular vote.

Ontario's first-past-the-post voting system gave them 67% of the seats and 100% of the power.

What would have changed with proportional representation?
Imagine the last election was run using proportional representation.

41% of the vote for the PCs would have gotten them approximately 41% of the seats. 
There's no doubt that building more housing, faster, is a priority for all the parties at Queen's Park. If Ontario had proportional representation, the PCs would have had to compromise with other parties to create a plan with majority support. 
If they refused to find common ground with other parties, based on how the MPPs voted on Bill 23 and how many seats each party would have won with proportional representation, here is the outcome: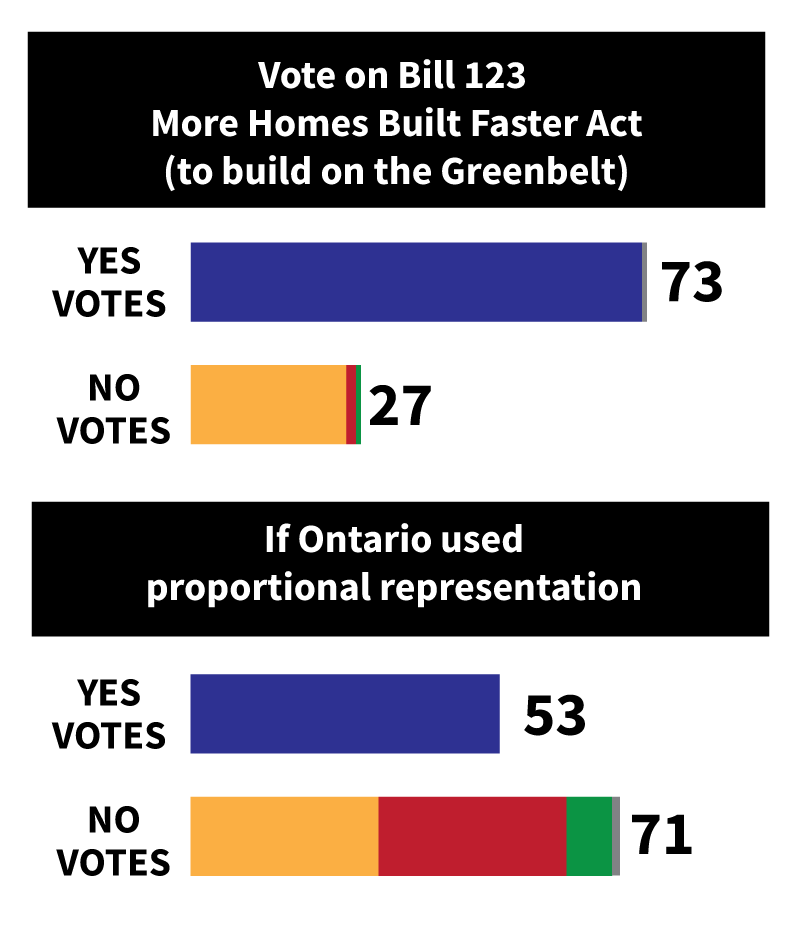 Ironically, it may be Canada's federal minority government – where policies are required to have the support of more than one party – that could step in to protect the Greenbelt from Bill 23.

Even if that happens, a year has elapsed since the 2022 Ontario election, and Ontario will be left with no plan to "get homes built fast".

What else would have changed with proportional representation?
Of course a simulation of proportional representation doesn't take into account that people would vote differently with PR.
A pathetic 43% of Ontarians showed up for the last provincial election. Many rightly concluded that the same party was going to win all the power again anyway, and their votes in a first-past-the-post system just didn't matter. 
Decades of research has shown that countries with proportional representation have stronger records of environmental protection and use more renewable energy.
Most importantly, countries are less likely to see their environmental plans drastically changed – or paved over – when governments change.

Ontarians value cooperation. Research shows that around the world, proportional representation is achieved when parties are willing to negotiate and compromise. 
A majority of Ontarians do not support a single party imposing a new system, but they do back a new Citizens' Assembly on Electoral Reform. If we want policies supported by a majority, we need a voting system where all our voices are heard.
---
Mainstreet polls:

https://old.ipolitics.ca/wp-content/uploads/2022/12/Ontario_Dec_2022.pdf
https://www.mainstreetresearch.ca/download/ontario-provincial-july-2023-public/