FOR IMMEDIATE RELEASE
Steven Del Duca's pledge to force through winner-take-all ranked ballots in Ontario—favoured by the Ontario Liberal Party only—may meet with more backlash than support from voters.
A poll of Ontarians conducted October 29th to November 1 by Leger shows that 74% oppose the idea of one political party unilaterally bringing in its preferred electoral system. Only 8% would support this approach: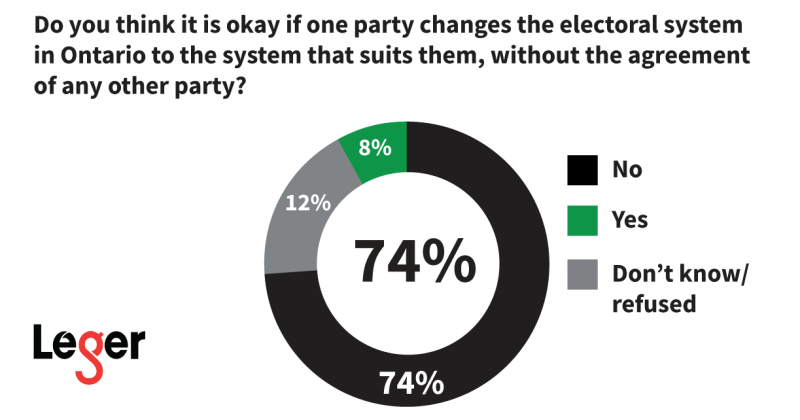 This includes 75% of Ontario Liberal Party voters, 72% of NDP voters, 78% of PC voters and 87% of Green voters who oppose one-party decision-making on electoral reform.
The poll also showed majority support for an independent, non-partisan Citizens' Assembly on Electoral Reform: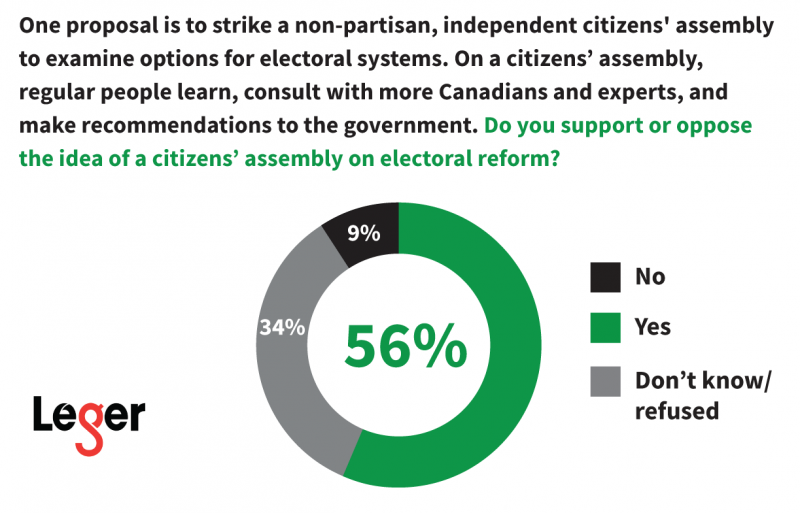 This includes support for a Citizens' Assembly on Electoral Reform from 60% of Ontario Liberal Party voters, 70% of NDP voters, 61% of PC voters and 71% of Green voters.
Asked to choose between the prospect of a single party which forms a government deciding on a voting system, or taking advice from a citizens' assembly, support for citizens' assembly was almost seven times higher. "Support for one-party decision-making was barely on the radar" said Anita Nickerson, Executive Director of Fair Vote Canada, which published the Leger poll.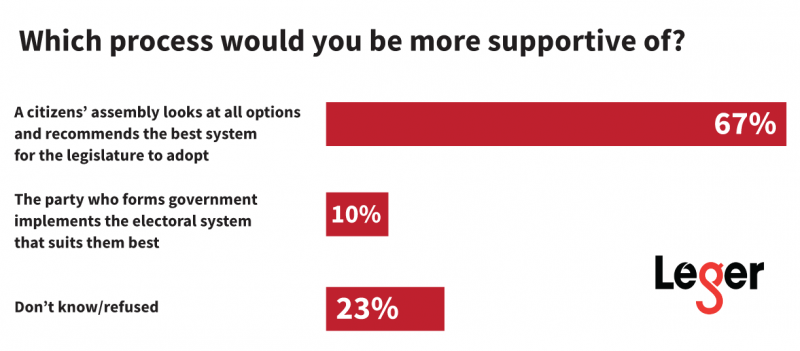 A Citizens' Assembly on Electoral Reform was the option supported by 67% of Ontario Liberal voters, 77% of NDP, 69% of PC and 74% of Greens. 
Citizens' assemblies are gaining traction around the world as a trusted and effective way to deal with challenging questions, from abortion to climate change. A 2020 OECD report looking at 279 such processes recommended them especially for complex problems involving trade-offs―problems that need to be removed from political interests and short-term electoral cycles.
Just a few weeks ago, a majority of MLAs in PEI's legislature voted for a motion to establish a Citizens' Assembly on Proportional Representation. 
A second poll conducted by Leger November 12-14 asked about detailed levels of support for proportional representation (PR).
Support for proportional representation included 79% of Ontario Liberal voters, 86% of NDP, 77% of PC voters and 72% of Green Party voters. 
"This poll shows strong support for moving forward with electoral reform in Ontario," says Nickerson. 
"It also shows that Ontario Liberal Leader Steven Del Duca is on the wrong track. Del Duca was 100% correct that voters have developed a deep distrust of political parties on electoral reform. They want to see action that actually leads to a real improvement in our legislature, not empty promises or a partisan-driven train wreck.
"Too often, parties are seen pushing electoral reform that will benefit their party at the expense of other voters. When a party's preference doesn't line up with the evidence, voters lose. That's why it's crucial that any recommendation for a new system be based on a process we can trust. 
"A non-partisan Citizens' Assembly on Electoral Reform is strongly supported by a majority of voters of all parties and is by far the best way to get the informed, trusted recommendation that Ontarians need."
###
Leger poll October 29-November 1 and November 12-14

Recent related media releases:
Simulations of "ranked ballot" show consistent advantage for Ontario Liberal Party
Del Duca's promise to force through "ranked ballot" should be slammed by all Ontarians