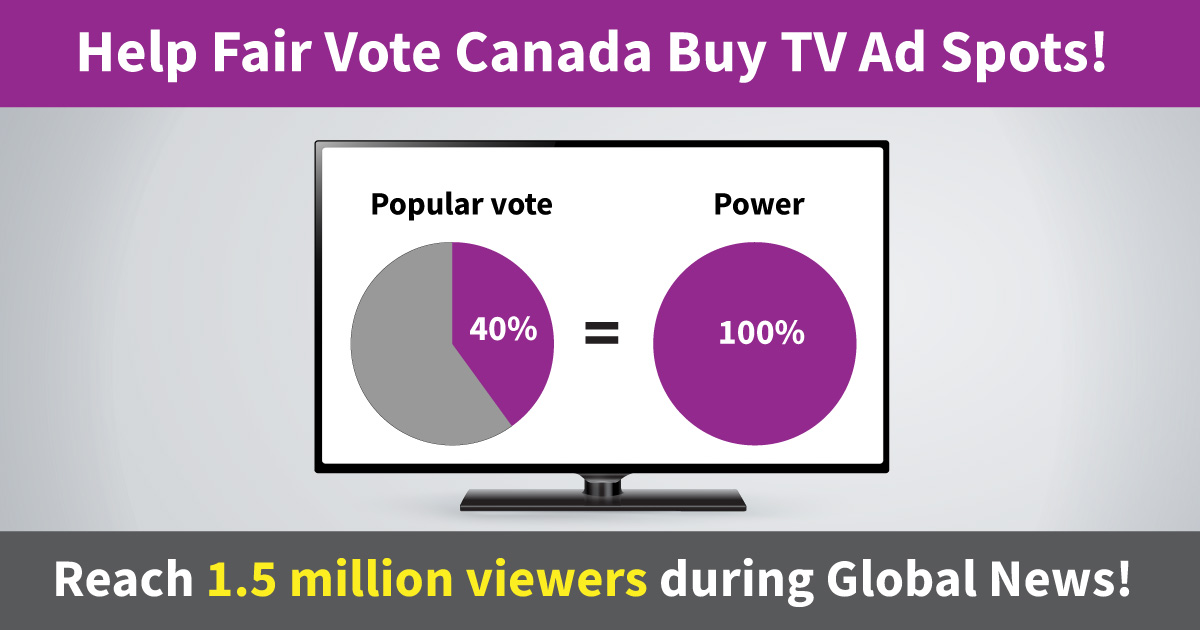 This snap election was called for one reason: an unquenchable and unchecked thirst for power.
Only with a winner-take-all voting system can a party with 39% of the vote – or even less – be rewarded with 100% of the power.
When the polls show that a false "majority" is just a few empty promises away, it's a rare politician who will resist the temptation. Even during a pandemic.

Canada needs proportional representation more than ever. It's time to get the message out and push the party leaders now!

For the first time in Fair Vote Canada's history, we have the chance to run a federal TV ad that will be shown during Global News – Canada's most watched news program!
The ad would run twice during the late news after the national leader's debate on September 9. And twice during the 6:30 PM Prime Time news spot on September 10 – the day the advance polls open.
In Canada, almost nobody wanted this election – but thanks to first-past-the-post, Canadian voters are being dragged along for the ride.
Meanwhile, parties in 29 OECD countries with proportional representation continued to work together in minority or coalition governments during the pandemic. No early election power-grabs!
Just one year ago, a whopping 97% told Leger polling that they want a system that encourages parties to work together in the public interest.  
80% – voters from all parties – told Leger polling that we need a National Citizens' Assembly on Electoral Reform!
You won a victory in June 2021 when MPs from all the parties but one (including the Liberal MPs) on a Parliamentary committee voted to study setting up a National Citizens' Assembly on Electoral Reform.
Their recommendation would have gone to a vote of the whole House of Commons!
That crucial first step went down the drain when the government called an early election.

It's time to reach out to millions of Canadians, and let party leaders know that we demand action!
Will you chip in for TV ads to reach voters about electoral reform now?
Proportional representation isn't about political parties – and it's not about numbers.
It's about representing the voices of Canadians on issues that affect our lives and our future.
It's about expecting our representatives to really work together – even when it's not easy.
We know from decades of research that countries with proportional representation are leading the way on the things Canadians care about most: health care, environment, economy, equality.
For 100 years, Canadians have been brushed off, stonewalled, and lied to about electoral reform.
Proportional representation has been sabotaged by self-interested politicians at every turn.
That's why we're demanding a National Citizens' Assembly on Electoral Reform. We must let citizens lead!
There are just 17 day left until Election Day to get our message out about proportional representation.
Can you can help us seize this chance to get a TV ad in front of millions of people watching Global News?
Please chip in for TV ads now.
Sincerely,
Anita Nickerson
Executive Director, Fair Vote Canada
On behalf of the Fair Vote Canada team