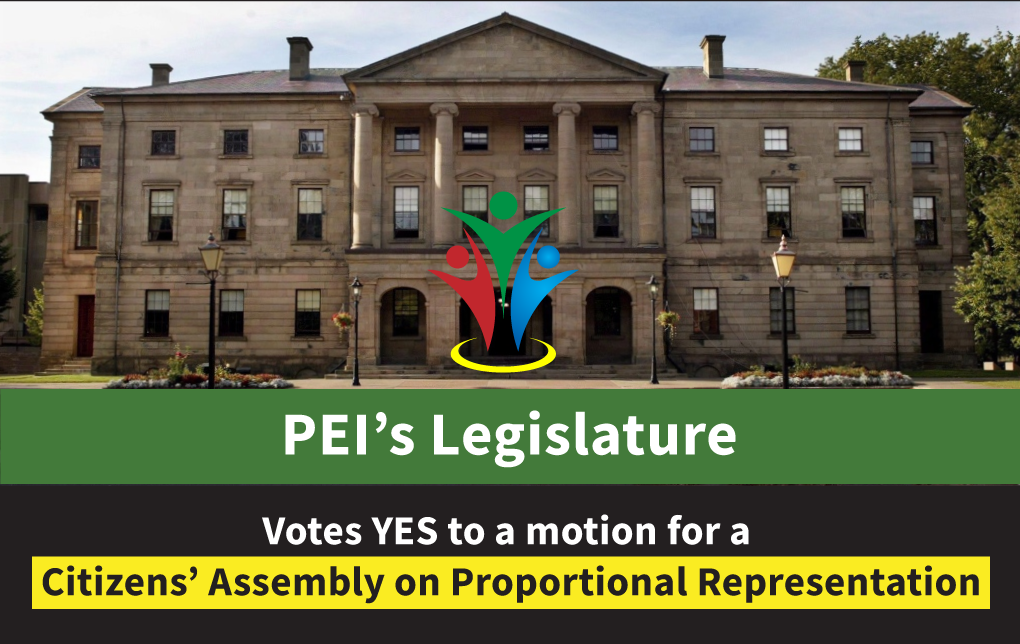 FOR IMMEDIATE RELEASE
PEI Legislature votes YES to a motion for a Citizens' Assembly on Proportional Representation!
On October 28, the PEI Legislature voted yes to a motion by the PEI Greens (the Official Opposition) for a Citizens' Assembly on Proportional Representation.
All 8 Green MLAs, 2 Liberal MLAs (including the Leader of the Liberal Party) and 3 Progressive Conservative MLAs voted yes in a vote of 13-11.
MLA Stephen Howard, who introduced the motion, stated: 
"The reason it hits so dear to my heart is that I have children who need legislators who can build consensus on a path forward. The major issues of our time, like climate change, need a sustained, shared effort from our elected officials. We don't get that from the partisan politics that first-past-the-post fuels…."
PC Premier Dennis King was not present, but has been on record in the past supporting proportional representation. 
Watch the speeches from the debate by the Green MLA introducing the motion, Stephen Howard, and Green Party Leader Peter Bevan Baker at 3:01 of the October 28 video from the PEI Legislature (Hansard not available yet). 
Citizens' assemblies are gaining traction around the world as a way to tackle tough problems. A July 2020 OECD report on best practices for deliberative democracy looked at 289 citizen-led processes and recommended them particularly for complex problems that involved trade-offs and issues that needed to be separated from the political self-interest attached to electoral cycles.

In June 2021, electoral reform supporters won a victory at a federal committee of Parliament when all the parties present except the Conservatives voted to study a National Citizens' Assembly on Electoral Reform. A National Citizens' Assembly offers a non-partisan, evidence-based approach to look at all options fairly, from the perspective of citizens.

In Ontario, Fair Vote Canada is asking all parties to show leadership by championing an Ontario Citizens Assembly on Electoral Reform.