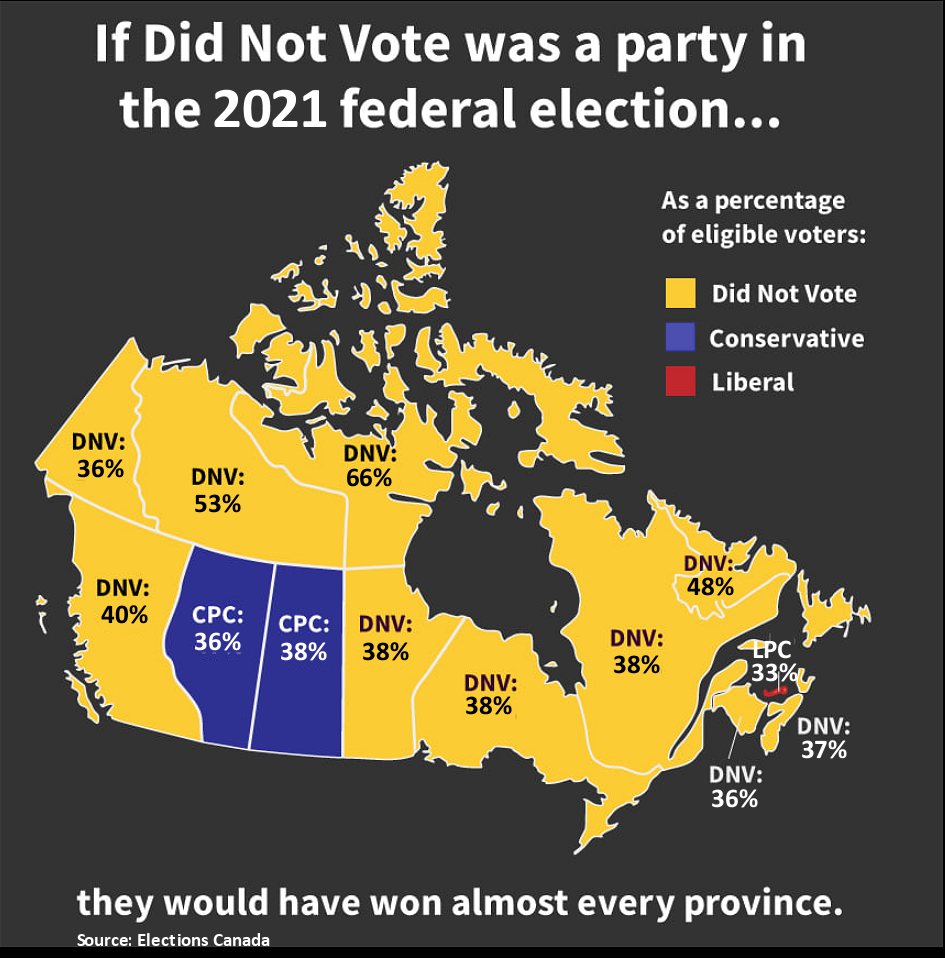 Did Not Vote won the election—again.
For the second election in a row, if Did Not Vote were a party, they would have won in almost every province.
While support for most parties remained stagnant, or even declined—such as the Liberal Party which received an historic low of only 32.6%—Did Not Vote clearly has the momentum!
It should surprise no-one that in a system where the majority of voters have had zero impact, in an election nobody wanted, that voter turnout has hit a near-record low.
It should surprise no-one that countries with proportional representation have on average 7% higher voter turnout. And they didn't have a snap election during a pandemic. 
As Andrew Coyne so aptly pointed out, support for Canada's big two parties has been on the decline for decades.
Yet our two big parties continue to prop up first-past-the-post, to shoehorn our diverse electorate—which now supports six parties—into a voting system built for two.
Justin Trudeau has indicated he's open to discussing electoral reform again—so long as the discussion is limited only to his pet non-proportional system. A system which lacks the support of the experts, evidence, or any other party—and just happens to benefit the Liberals.
Clearly, the solution for the democratic malaise does not lie with the parties alone. 
In the last Parliament, the Procedure and House Affairs Committee passed a motion to study a National Citizens' Assembly on Electoral Reform. 
It's time to get back to work! 
If you haven't already sent your letter to our party leaders calling for a National Citizen' Assembly on Electoral Reform, please do so now!