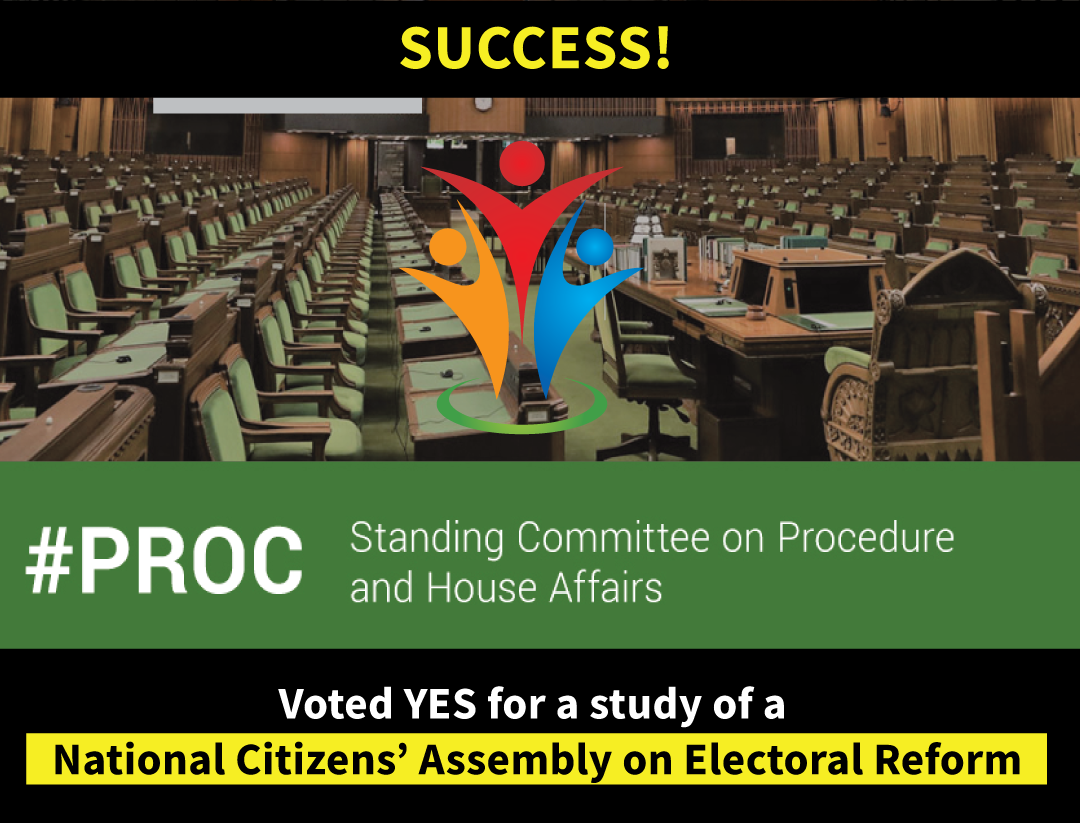 PARTIES MADE THE RIGHT CALL ON CITIZENS' ASSEMBLY AT PROC
Liberals, NDP and Bloc made the right call on voting yes to a motion to study a National Citizens' Assembly on Electoral Reform. The vote passed with only the Conservatives voting against it.

A National Citizens' Assembly on Electoral Reform would be an historic next step to continuing the conversation started when three parties promised in 2015 to end first-past-the-post and make every vote count. A Leger poll conducted in September 2020 showed that 80% of Canadians, including supporters of all parties, support this initiative. The idea is backed by prominent Canadians such as Lloyd Axworthy and Kevin Page. 
Fair Vote Canada congratulates the committee on passing the motion made by NDP MP Daniel Blaikie, and urges swift action to begin the study when Parliament resumes in the fall.
Unfortunately, our winner-take-all voting system tempts minority governments to roll the dice and try for false majorities with only 38% of the vote, so there are rumblings about a possible fall election. In the event of an early election, we urge the parties to reaffirm this important multi-party consensus to study a Citizens' Assembly immediately in this next Parliament.

MOTION PASSED
"That, pursuant to Standing Order 108 (3)(a)(vi), the committee undertake a study on the advisability of establishing a National Citizens' Assembly on Electoral Reform to make recommendations about how to improve Canada's electoral system, including the question of how Canadians elect Members of Parliament and how the make up of Parliament reflects the votes cast by Canadians; 
that the committee's study shall include an examination of: 
(a) the terms of reference for such as assembly; 
(b) the composition of such an assembly; 
(c) a timeline for the completion of such an assembly's work; 
(d) public reporting requirements for such an assembly; 
(e) the resources required to support the work of throughout the process; 
(f) any other matters the committee deems pertinent to voting reform, including the need for a national referendum in order for Canadians to have the opportunity to approve any proposed changes to Canada's democratic system;
that the committee report back to the House, and; 
that the committee's report either (l) recommend not to proceed with such an assembly or (II) recommend to proceed with such an assembly and include a detailed plan for how to proceed that provides for the issues raised in items (a)-(f); 
and that the committee, in the course of this study, also examine the question of how citizen assemblies can be used more generally as a tool to drive citizen engagement in the policy-making process on a wide variety of issues and report its findings to the House in a separate report."