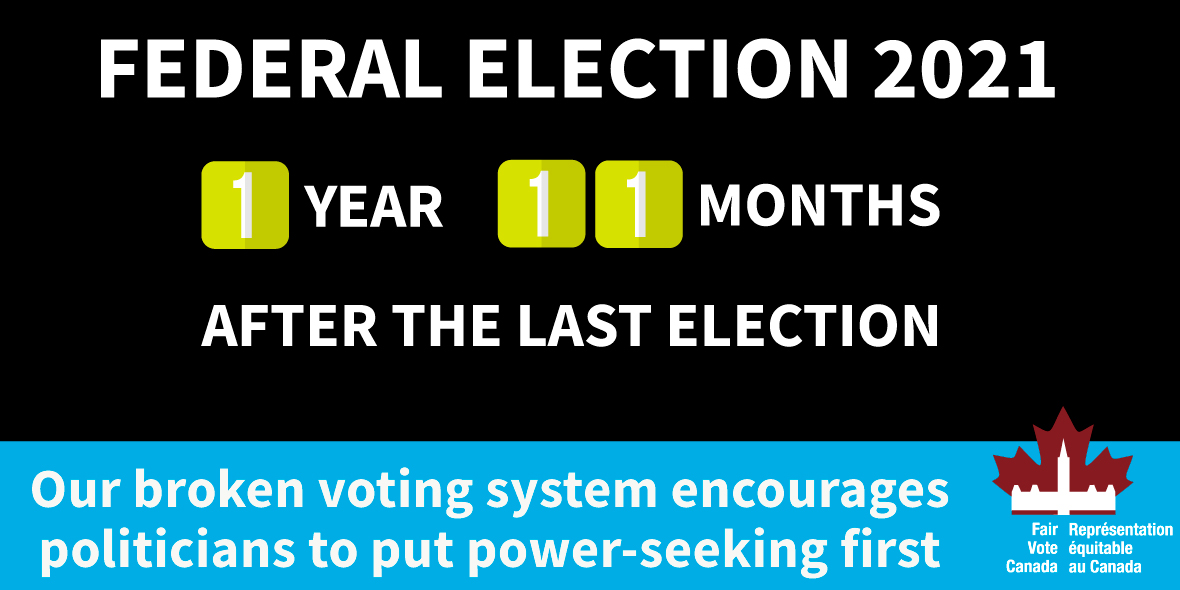 FOR IMMEDIATE RELEASE
Early election is a first-past-the-post power grab
First-past-the-post is the only reason Canadians will be heading to the polls a full two years before the next scheduled election. 
This will be the third snap election in Canada during the pandemic, with the BC NDP and the NB PC's also pulling the plug on their minority governments, despite the pleas of opposition parties to continue working across party lines. 
The lure of obtaining a "majority" government―with far less than half the vote―is a powerful incentive to roll the dice and pull the plug, even on a well-functioning minority government.
A quick look around the democratic world shows opportunistic snap elections during the pandemic are the exception, not the norm.
Of the 29 OECD countries with minority or coalition governments, only two called an early election during the pandemic: Canada and Israel.

Every single one of those 29 governments except Canada was elected by proportional representation.

With proportional representation, politicians whose parties are polling a few percentage points higher have little to gain with an early election. In most of those countries, meaningful collaboration with other parties on legislation is a daily reality, not a temporary inconvenience.

The solution to snap elections called purely for political self-interest is at the fingertips of our leaders. 
In June 2021, they made a start when the Procedures and House Affairs Committee passed a motion to study a National Citizens' Assembly on Electoral Reform. A National Citizens' Assembly on Electoral Reform is an independent, non-partisan process that takes electoral reform out of the hands of politicians and gives it to informed citizens. 
The motion was supported by all parties except the Conservatives, who objected to an amendment to write a second report about what could be learned about citizens' assemblies in general.
"A Leger poll last year confirmed that 80% of Canadians from all political stripes are in support of an independent, arms-length Citizens' Assembly on electoral reform," says Anita Nickerson, Executive Director of Fair Vote Canada. "This unnecessary election campaign will be an opportunity for all of us to press politicians for public commitments to implement one. It's time for politicians to acknowledge their conflict of interest on this issue, and get out of the way to let citizens lead."