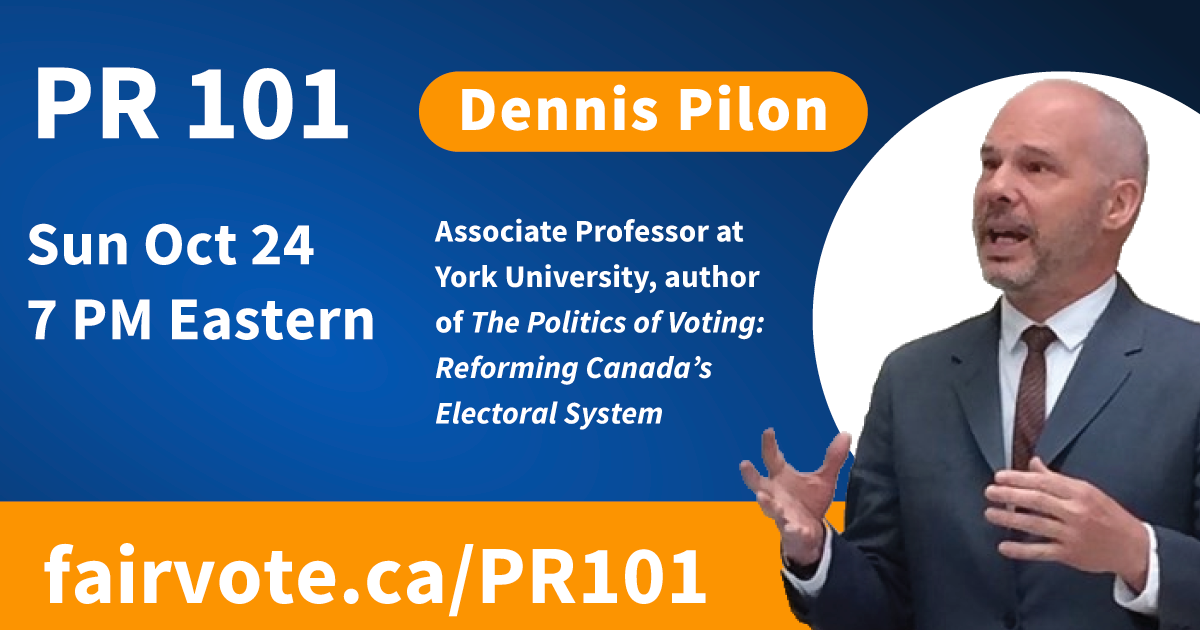 Proportional Representation 101: With guest expert Dennis Pilon! Sunday October 24, 7 PM Eastern. REGISTER HERE
Are you new to Fair Vote Canada and want to get up to speed on the basics of the campaign for proportional representation? 
What is proportional representation? Why do we need it? How would PR make a difference?
Join our PR 101 webinar on Sunday October 24 at 7 PM Eastern!
Special guest:  Dennis Pilon is an Associate Professor at York University and Canadian electoral reform expert. He has written numerous journal articles, newspaper articles, book chapters, and books, including "The Politics of Voting: Reforming Canada's Electoral System" and "Wrestling with Democracy: Voting Systems as Politics in the Twentieth Century West". To learn more about Dennis, click here.
Learn how winner-take-all voting is failing us, what proportional representation is and the research behind it.
How would the election results have been different with PR? How would it change politics?
Bring your questions!
Following the presentation, we will have Q+A where you can ask questions via the question box. We will try to answer as many as we can!
Only proportional systems can deliver on our most important values: effective votes, fair representation, collaborative politics, voter choice, diversity, regional balance, and more accountable government. 
Please share this webinar widely with friends who may be interested by sharing this link or by sharing on Facebook or Twitter.