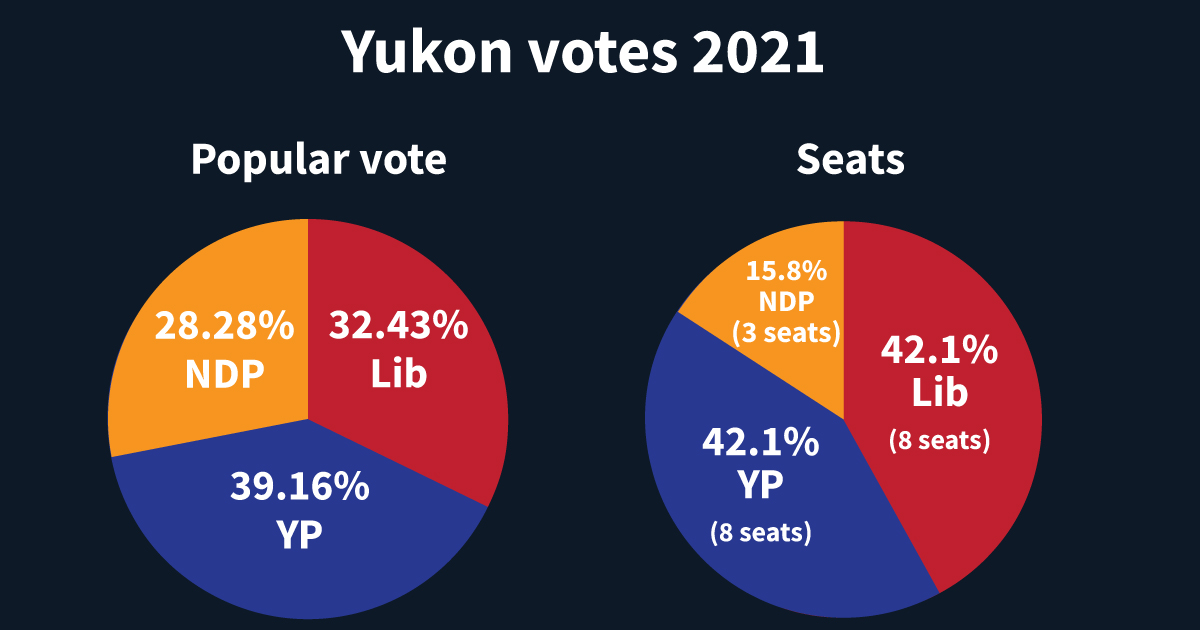 Yukon's election has delivered a stark lesson in the failings of first-past-the-post―and a golden opportunity for action on electoral reform in a minority legislature.
The governing Yukon Liberals won eight seats with only 32.43% of the vote, while the Yukon Party also won eight seats with 38.16% of the vote, and the Yukon NDP won three seats with 28.28% of the vote.
Electoral reform was on the agenda in the last legislature, but the "independent commission" was a boondoggle, with accusations that the Liberals had stacked it with their cronies. 
Public consultation revealed strong support for proportional representation, with 61.5 percent of respondents saying "options to ensure our electoral system captures the intentions of voters as well as possible" were the top priority. Sadly, but unsurprisingly, no changes were made.

The Yukon Liberals pledged in this election's campaign platform to:

Consult with Yukoners about their vision for what comes next for electoral reform within six months of re-election  
The Yukon NDP promised:
The Yukon NDP will work to ensure our current system moves towards representing all votes equally through the introduction of a proportional voting system. We will work to ensure that every vote counts through a proportional representation system that benefits all Yukoners
"This election underscores the urgent need for electoral reform in the Yukon," says Fair Vote Canada Executive Director Anita Nickerson. "Clearly, the voting system has failed citizens. The process set up by politicians in the last election to address the issue ran into a wall of partisan self-interest. Fair Vote Yukon is calling for a Yukon Citizens' Assembly on Electoral Reform. It's time for evidence-based decision making, and we know we can trust citizens and experts, working together, to lead the change."