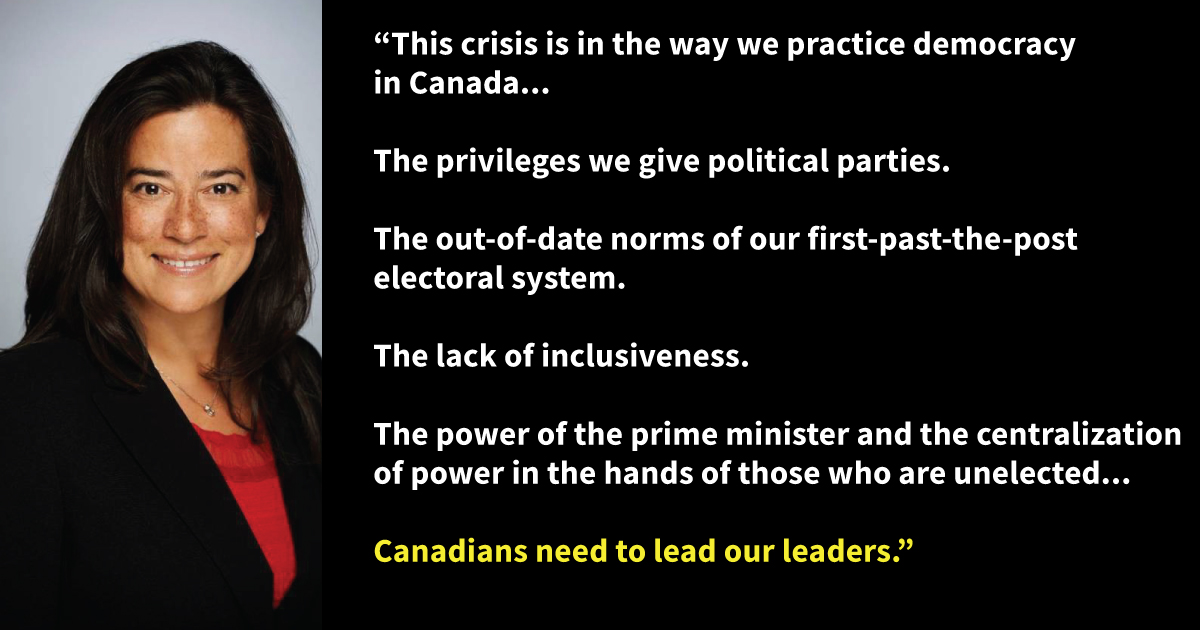 Jody Wilson-Raybould's parting letter to constituents today slammed the dire state of Canada's political system:
"Toxic"
"Ineffective"
"Marginalizing individuals from certain backgrounds"
"A disgraceful triumph of harmful partisanship over substantive action"

She called out the utter failure of the first-past-the-post as one of the fundamental reasons for the crisis:
"The privileges we give political parties. The out-of-date norms of our first-past-the-post electoral system. The lack of inclusiveness. The power of the prime minister and the centralization of power in the hands of those who are unelected…"
NDP MP for Nunavut, Mumlilaaq Qaqqaq, reacted to Raybould's decision— asking all Canadians to reflect.
Just weeks ago, Qaqqaq announced she won't be seeking re-election either. Her powerful farewell speech laid bare the brutal flaws of our institutions, condemning those with power for "the refusal and unwillingness for change."
Their words reinforced the urgent and heartfelt appeal of former Conservative Senator Hugh Segal to keep up the fight for proportional representation. Winner-take-all politics is holding us back from tackling the biggest challenges of our times:
"First-past-the-post has really become a burden on democracies that want to be inspired, who want to make substantive cases based on facts and evidence and science…
If Canada wants to step forward in a way that allows public policy progress on critical issues—and we still have a lot of areas in this country where the gap between what needs to happen and what's happening is very, very large—first-past-the-post will not get us there."
"Canadians need to lead our leaders" – Raybould
Transformational change needs citizen leadership.
That's why it was a groundbreaking win for all Canadians on June 22, 2021, when the Liberals, NDP and Bloc voted YES at a committee of Parliament to a motion by NDP Democratic Reform Critic Daniel Blaikie to study a National Citizens' Assembly on Electoral Reform.
Liberal MP Ryan Turnbull spoke passionately in favour of the motion:
"The point that I want to make here—and why this has so much potential that I feel really strongly about—is that I think it starts to get at the root causes of the issue in a unique way."
Are the politicians serious about letting citizens lead?
Will this commitment be ditched without a second thought when a snap election is called in a blatant attempt to grab all the power?
It's a question that Canadians should be asking every party leader.
One thing we can promise you:
Working together, we will do everything in our power to make sure Canadians know about this three-party commitment to action on electoral reform—and to hold them to it.