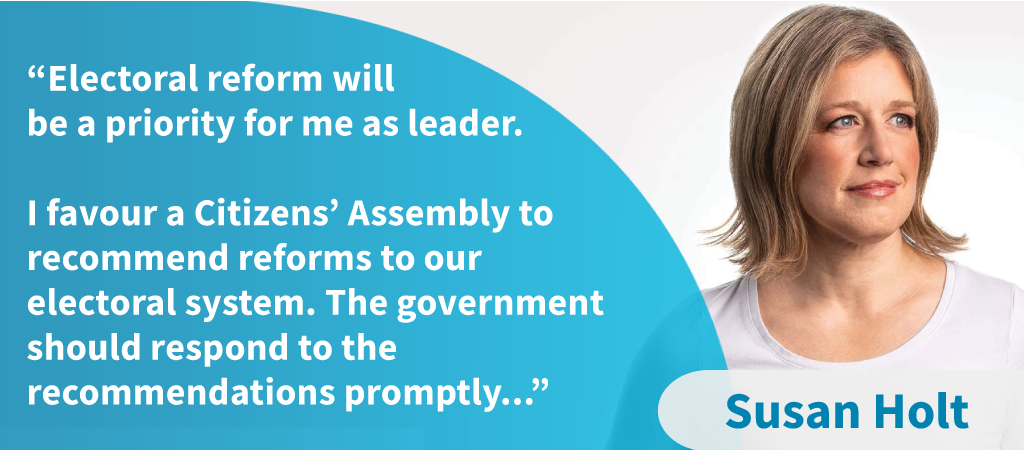 Fair Vote Canada congratulates Susan Holt on winning the leadership of the New Brunswick Liberal Party
FOR IMMEDIATE RELEASE
Fair Vote Canada congratulates Susan Holt on becoming leader of the New Brunswick Liberal Party.

New Brunswick Liberal Party members have elected a leader with an exciting and ambitious plan to improve democracy in New Brunswick.
Fair Vote Canada's Fredericton chapter asked the leadership candidates where they stand on proportional representation and a Citizens' Assembly on Electoral Reform, an independent, non-partisan process supported by Fair Vote Canada.

On electoral reform, Susan distinguished herself from the other candidates.

Leadership candidate Susan Holt responded that she does not feel the current system accurately reflects the will of New Brunswick voters. She would make electoral reform a priority. Susan supports a Citizens' Assembly on Electoral Reform, and would move forward quickly with its recommendations.
A Citizens' Assembly brings together a representative group of citizens to study the evidence for different electoral systems, hear from fellow citizens, deliberate, and recommend the best path forward for New Brunswick. More information about citizens' assemblies can be found here.

Vivian Unger, who attended the leadership convention in person, said, "It was an exciting race, very down-to-the-wire. I'm thrilled that Susan won. She's the first woman ever elected as leader of the Liberal Party of New Brunswick. I look forward to her bringing about another first: the first Citizens' Assembly on electoral reform in the province!"

As Susan Holt told media, "I'm very interested in changing our electoral system, I think that's one of the things that contributes to the fact that people feel disconnected from the government, because we are represented by people who received 30% of the votes."
In the last provincial election, 39% of New Brunswick voters chose the Progressive Conservatives, but first-past-the-post handed them 55% of seats in the Legislative Assembly. 
###
Fair Vote Canada is a national citizens' campaign for proportional representation. We support a National Citizens' Assembly on Electoral Reform, as well citizens' assemblies on electoral reform at the provincial level.