Proportional Representation for Quebec
News
August 19, 2019
Jean-Pierre Charbonneau No Longer Ruling Out a Referendum on Electoral Reform
(In French.) Charbonneau, president of MDN, continues to question the need for a referendum, to be held in tandem with the 2022 provincial election. "Why not have a a referendum in 2020, since there has been intense debate for months?" he said during an interview on QUB radio.
He also stated that there are two types of people who want a referendum: people who want to avoid any change, and representatives who fear losing their seats under a proportional election.
July 12, 2019
Sonia LeBel: Finding Her Balance in the District
(In French.) Whatever waffling François Legault may be doing, it appears that Sonia LeBel, Minister of Justice, remains committed to introducing her electoral reform bill by October 1st. This piece quotes her as saying, "I hope to get people to understand the importance of this on the ground. The goal is to make their vote more relevant, more representative. We have done trans-partisan work with Québec solidaire and the Parti québécois… I think we have found the consensus zone. I am trying to find a way that everybody can come to an agreement and make significant change."
July 3, 2019
Who is Afraid of Electoral Reform?
(In French.) According to Le Devoir, François Legault "has begun to procrastinate dangerously on his electoral reform promise. Not an umpteenth promise little known to the public—no, a key promise of the last election campaign."
June 18, 2019
Legault: "I want to respect 100% of our election promises"
(In French.) François Legault says, "We promised to table a bill by Oct. 1 to have a new voting system, and it will be done." But he also says, "Part of our population likes the current system and wants a referendum. So we're examining the process."
June 13, 2019
MDN: Most Quebecers want government to keep its electoral reform promise
Movement Democratie Nouvelle (MDN) had Léger do a poll. Results: 59% think that the current system is a problem, and 69% want the CAQ government to change the voting system as promised. Scroll down the page a bit to see the article, and click on the top button to read the report (both in French).
June 5, 2019
François Legault isn't ruling out a referendum on electoral reform
Legault does an about-face after a meeting with his caucus. Now he's open to the possibility of a referendum on electoral reform. This comes 3 weeks after he told the Journal de Montréal that he made a commitment not to have a referendum.
May 16, 2019
Possible delays in implementing a new Mixed Member Proportional system
(In French.) Quebec's Chief Electoral Officer sent a letter to Justice Minister Sonia LeBel estimating that it would take 42 months for Elections Quebec to implement the new system. That's 3 1/2 years. Meanwhile, the bill is only scheduled to be presented on Oct. 1 of this year, and the next election is scheduled for Oct. 3, 2022, which leaves less than 3 years for implementation (depending on how long it takes for the bill to become law). This leaves open the discouraging possibility that reform could be thrown out if a different party, say the QC Liberals, takes power in 2022. But there's still hope: the Chief Electoral Officer adds that they may be able to do it in 30 months (2 1/2 years) if all stages are accelerated and everything goes according to plan.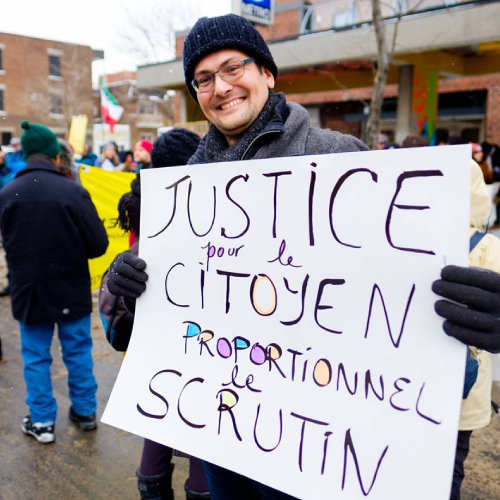 Quebec is on the way to adopting proportional representation for their 2022 election.
Quebec is on the final stretch of a long road to proportional representation. See timeline.
On May 9, 2018, four opposition parties – Parti Québécois, de la Coalition Avenir Québec (CAQ), de Québec solidaire and Parti Vert du Québec – signed an agreement (in English here) to introduce legislation for Mixed Member Proportional Representation by October 2019. Watch the press conference in the video below. The only party opposed to this change are the Quebec Liberals.
Annonce de l'entente trans-partisane sur la réforme du mode de scrutin du 9 mai 2018

Les chefs du Parti Québécois, de la Coalition Avenir Québec, de Québec solidaire et du Parti Vert du Québec – Green Party of Quebec ont procédé à l'annonce conjointe, le 9 mai 2018, d'une entente trans-partisane qui mènera au dépôt d'un projet de loi réformant le mode de scrutin selon un mode proportionnel mixte compensatoire avec listes régionales au plus tard le 1er octobre 2019.Pour suivre les développement de la campagne #chaquevoixcompte et prendre connaissance des recommandations citoyennes: www.chaquevoixcompte.com#reformeelectorale #meilleuredemocratie #AssNat #polqc

Posted by Mouvement démocratie nouvelle (MDN) on Wednesday, May 9, 2018
In October, 2018, the CAQ won a false majority government with 37% of the vote. Premier François Legault has reaffirmed his commitment to implement proportional representation, stating after his election, "We will not do a Justin" (referring to Justin Trudeau's broken promise on electoral reform) and "the Liberals do not have a veto." The parties who are signatories to the agreement collectively represent 71% of voters and hold 74% of seats in the Quebec Assembly. Legislation for proportional representation is expected by October, 2019.
This groundbreaking progress in Quebec has been facilitated by Mouvement pour une démocratie nouvelle (MDN). MDN is an ally of Fair Vote Canada. To get involved in their campaign, please visit their website here!
Quebec: The Journey to Proportional Representation
1922: the Quebec Conservative Party, which has been disadvantaged by Quebec's first-past-the-post system for the past 36 years, was the first party to call for a proportional electoral system.
1944 and 1966: Wrong winner elections in which one party wins more of the popular vote but another party wins more seats and forms government occurred in both 1944 and 1966.
1976: The Parti québécois is elected for the first time Reform had been a part of its platform since 1968.
1979: Under the Parti québécois, Minister Robert Burns' submits the Green Book One Citizen, One Vote in the National Assembly.
1984: In June 1983, the Commission on Electoral Representation, headed by the Chief Electoral Officer was charged with exploring the reform of the electoral system. The Commission submitted its report in March 1984, Pour un mode de scrutin équitable: la proportionnelle territoriale, recommending a regionally-based proportional system. The government drafted a bill and had the backing of the opposition leader, Claude Ryan. However, the PQ caucus decided not to proceed. The model emerging from this process became the foundation for other attempts to bring in electoral reform since that time.
1998: Another wrong winner election.
1999: Mouvement pour une démocratie nouvelle (MDN) (Movement for a New Democracy) is founded.
2002: Quebec Government published a discussion paper in October 2002 on The Reform of the Voting System in Quebec.
2002-2003: Estates General on the Reform of Democratic Institutions (the Béland Commission) visited 20 towns in Quebec and held 27 public hearings. They voted, by a 90% vote of those 825 people, for proportional representation. Their preferred model was Mixed Member Proportional. In March 2003 they presented their Report. In July 2003 the new government of Jean Charest began work on a mixed member system, aided by the 140-page Report of Prof. Louis Massicotte.
2004: The Quebec government presented a draft bill proposing an MMP system with very small regions. The 127 Members of the National Assembly (MNAs) would be 77 members elected locally, and 50 in "top-up" regions. The regions would mostly comprise only five MNAs each: three constituencies and two regional seats. Voters would still cast only one vote. The candidate with the most votes in the local riding would be elected, as is currently the case. The remaining regional seats would be awarded to under-represented parties.
2005-2006: A Select Committee of the National Assembly began proceedings in November 2005, and sat jointly with a randomly selected Citizens' Committee. They were to study and make recommendations on the draft bill introduced in December 2004. They held public consultations in 16 cities across Quebec.
In April 2006 the Citizen's Committee presented to the National Assembly a detailed report in which it rejected the government bill and proposed a MMP system similar to that used in Germany, with a two-vote system. The Citizens' Committee faulted the bill particularly for proposing very small regions with high thresholds which would not accurately reflect the popular vote, and a single-vote system that would perpetuate the practice of strategic voting.
2007: The Report of Quebec's Chief Electoral Officer on a compensatory mixed system was made public. It reviewed a number of options for the design of a mixed proportional model for Quebec, leaning towards a nine-region model with an open list system giving voters the choice of using their second ballot to vote for a party or one regional candidate. Electoral reform is abandoned due to opposition from the PLQ (Quebec Liberal Party) caucus and municipal councillors.
May 2018: Following the efforts of MDN to bring together civil society groups and opposition parties, all opposition parties sign an agreement committing to drafting legislation in the year following the election of Oct. 1, 2018.
October 2018: The CAQ elected and formed a false majority government. The government has reiterated its commitment to introduce a bill for proportional representation by October 2019.
2019: The Government of Quebec funds MDN to do education. All parties in the Quebec legislature pass a motion affirming core principles to guide electoral reform:
Reflect the popular vote
Maintain a link between electors and representatives
Respect every region's current political weight
Promote stable governments by measures regulating motions of non-confidence
Offer an accessible system that is easy to apply and understand
Contribute to a better representation of women, youth and ethnocultural communities.