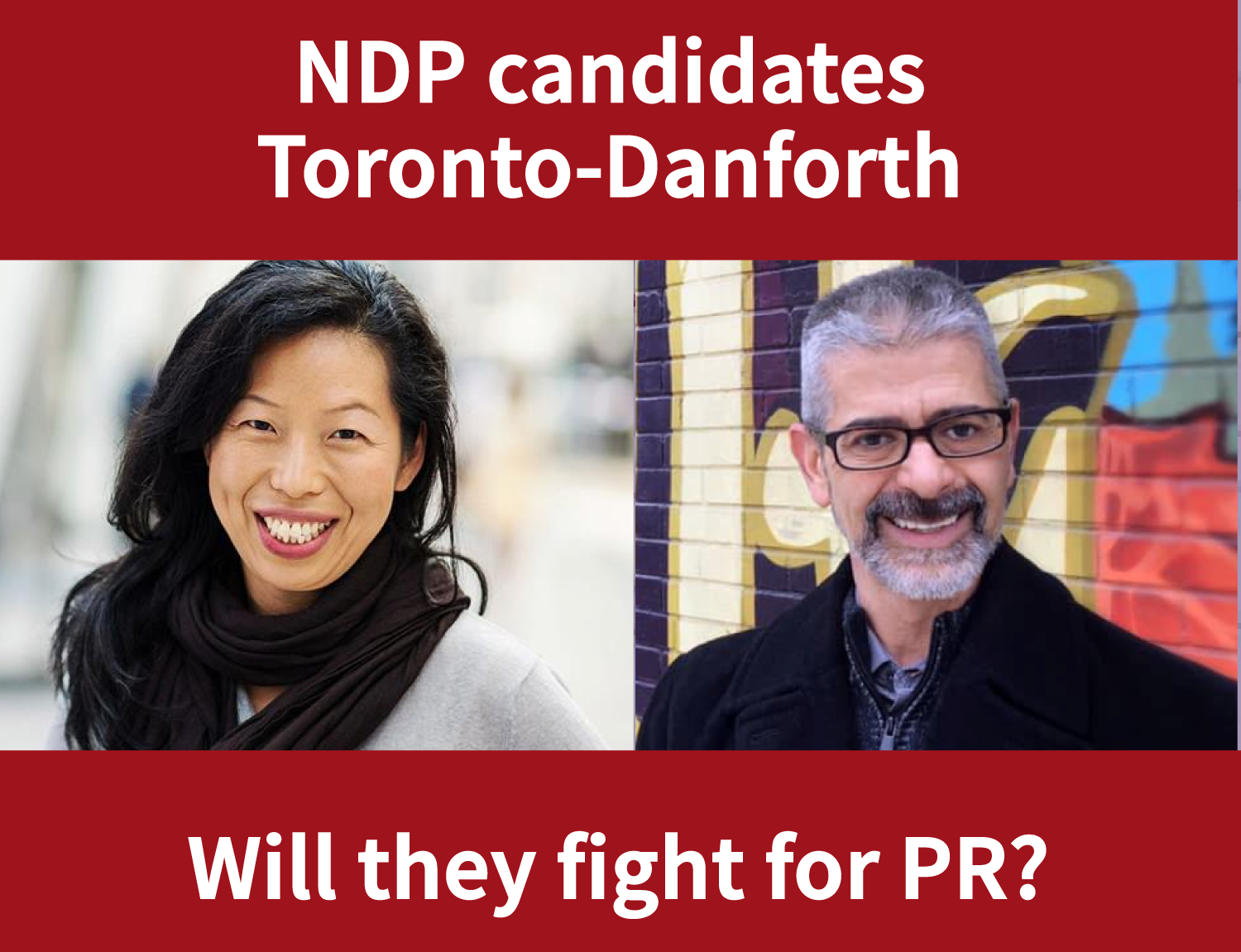 We Asked the Candidates Seeking the NDP Nomination in Toronto-Danforth About Their Commitment to Fight for Proportional Representation
In 2019, Fair Vote Canada will be focusing its resources on a few target ridings where we can elect MPs who will be vocal champions of proportional representation, and who will push to make PR a condition of supporting a minority government. Toronto Danforth is one of those ridings. We need MPs who will fight for PR.
That's why we're inviting you to get involved early with the nomination meetings of the party of your choice. (Page with the positions of the candidates seeking the nomination for the Green Party to follow when that information is available).
Fair Vote Toronto volunteers have met with each of the three candidates seeking the nomination for the NDP. All three were supportive and welcoming. Each was sent a questionnaire. We encourage you to read their answers over at links below.
Here are the Questions We Asked the Candidates


a
Outline your position on proportional representation


a

How high a priority is achieving proportional representation for you compared to other issues?


a

In negotiations to support a minority government, how high a priority is PR compared to achieving other policy concessions?


a

How easy do you find it to talk to voters about electoral reform? How confident are you with this issue – and how often do you do it?


a

What you are you prepared to do as a candidate in the 2019 election to help make proportional representation an election issue?


a

Liberals claim there is "no consensus" on electoral reform. How would you respond to that?


a

What do you see as the next step to build political consensus for PR after the October 2019 election?


a

What do you see as the next step to build public support for PR?
a
If you would like to register with the NDP so you can vote in the nomination contest, the
deadline to register as a member is April 30. The nomination vote is on May 30.