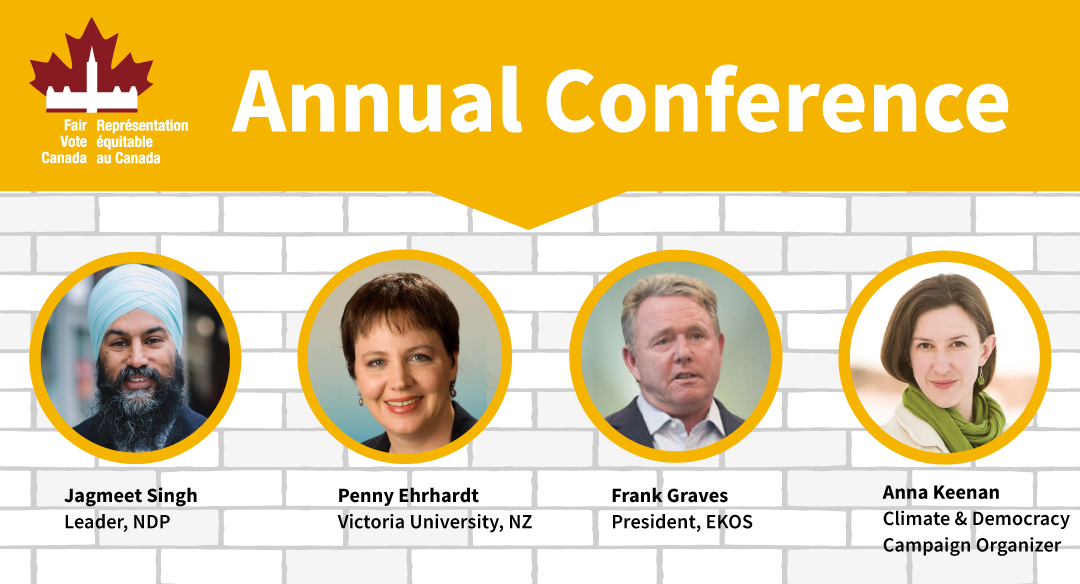 You're Invited to Fair Vote Canada's Annual Conference!

Every year, Fair Vote Canada holds an annual conference – to learn from experts, to connect with each other and to build our movement for proportional representation.
This year, with COVID-19, we're going online! It's an exciting opportunity for proportional representation supporters all across Canada to join us.
This year's theme is democracy in a time of crisis―and beyond. What is the state of our democracy in Canada? How can we improve the "new normal" in democracy after the upheaval of COVID-19? How can we strengthen our campaigning skills to win proportional representation?
REGISTER FOR THE CONFERENCE HERE. Once you register, you will receive a link to join that you can use at any time during the conference to join our speaker sessions or workshop.
SPECIAL NOTE: The Annual General Meeting for members (BUSINESS MEETING) is from 12 noon to 1 pm Eastern
The annual business meeting has a separate (additional) registration from the rest of the conference. The agenda for the business meeting and additional important information for members is here. Only members can vote at the business meeting (if you received a link to vote in our recent council elections, you are a member). Business items will be preceded by a report highlighting Fair Vote Canada's activities over the past year. REGISTER HERE if you would like to attend the business meeting.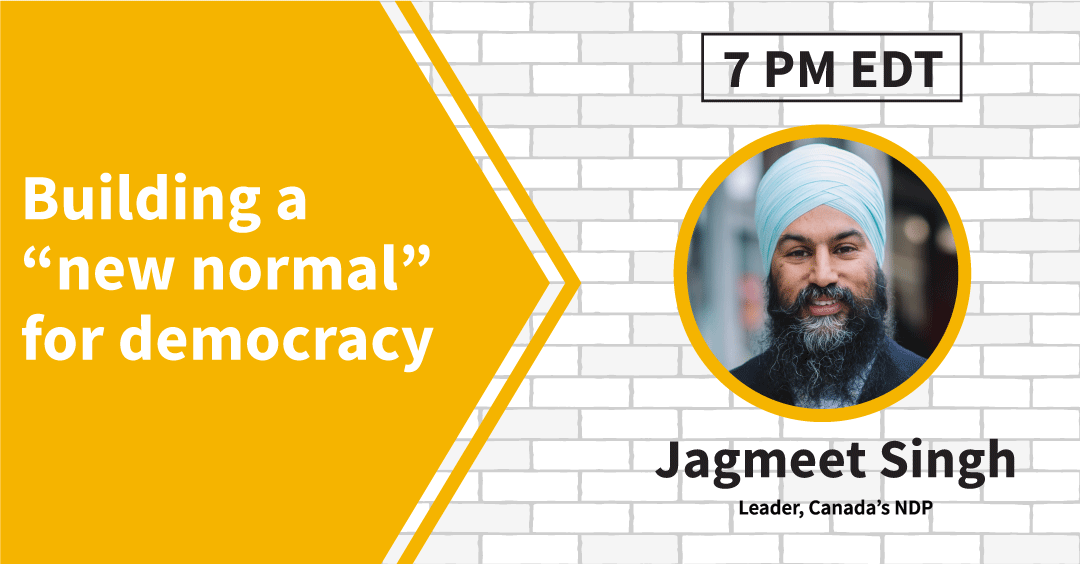 Jagmeet Singh, 7 PM Eastern
Jagmeet Singh is the leader of the federal NDP and the Member of Parliament for the riding of Burnaby South. He was previously an Ontario NDP Member of Provincial Parliament for Bramalea—Gore—Malton from 2011 to 2017 and Deputy Leader of the Ontario NDP from 2015 to 2017.
Jagmeet will speak about why he supports PR, the benefits of a minority government and how we can make progress towards Building a Better Democracy in this Parliament. The presentation will be followed by a Q+A from the audience.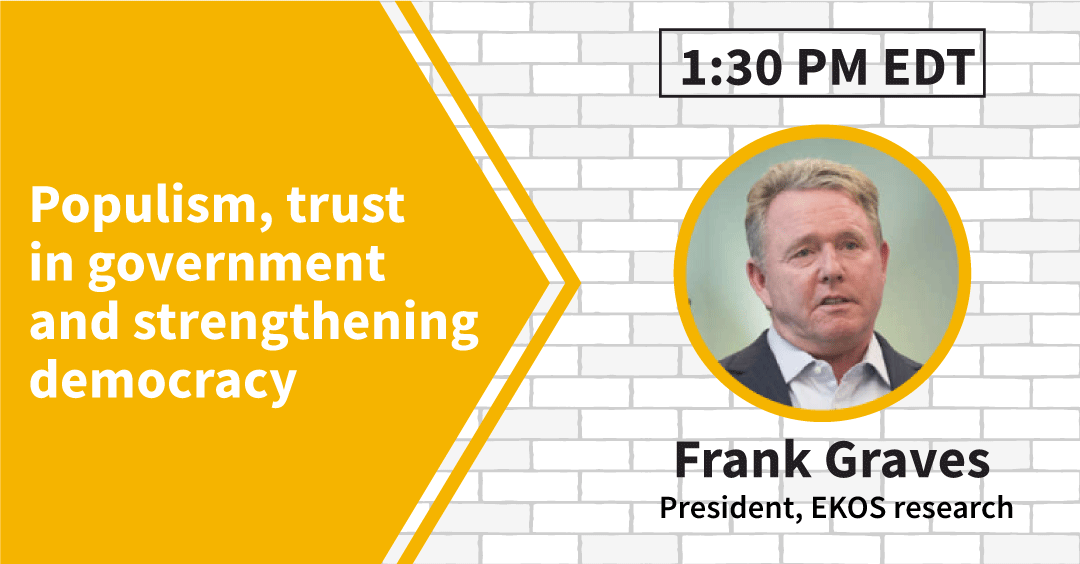 Frank Graves, 1:30-2:30 PM Eastern
Frank Graves is the founder and President of EKOS Research Associates. Frank is a frequent commentator in Canadian and American media. He has directed a number of public opinion research projects on behalf of the CBC, the Toronto Star, The Globe and Mail, and La Presse. In 2016, he delivered an insightful presentation on the Public Outlook on Electoral Reform to the federal all-party committee on electoral reform (ERRE).
Frank will speak about the current state of democracy, including voter trust and the emergence of populism in Canada. The presentation will be followed by a Q+A from the audience.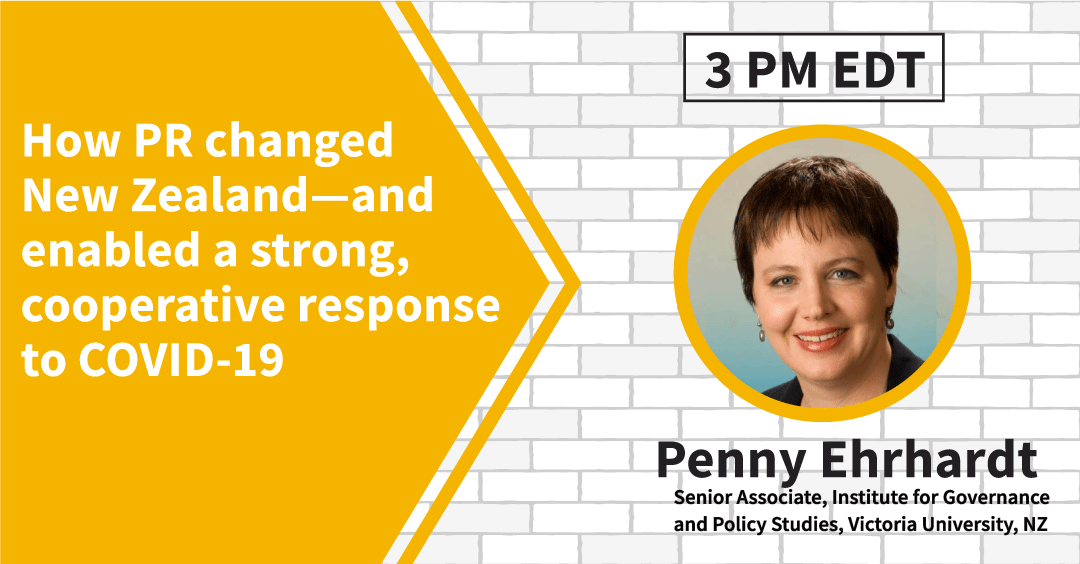 Penny Ehrhardt, 3-4 PM Eastern
Penny Ehrhardt is a Senior Associate at the Institute for Governance and Policy Studies in the School of Government at Victoria University of Wellington and a (non-practising) Barrister and Solicitor of the High Court of New Zealand. She served on the Secretariat supporting the Ministerial Expert Advisory Group on the electoral law reform referendum at the NZ Ministry of Justice. Her research interests include the practice and implementation of policy-making, social movements and human rights.
Penny will speak about the impacts of replacing first-past-the-post with MMP on democracy in New Zealand and how proportional representation enabled a strong cooperative response to the current pandemic. The presentation will be followed by a Q+A from the audience.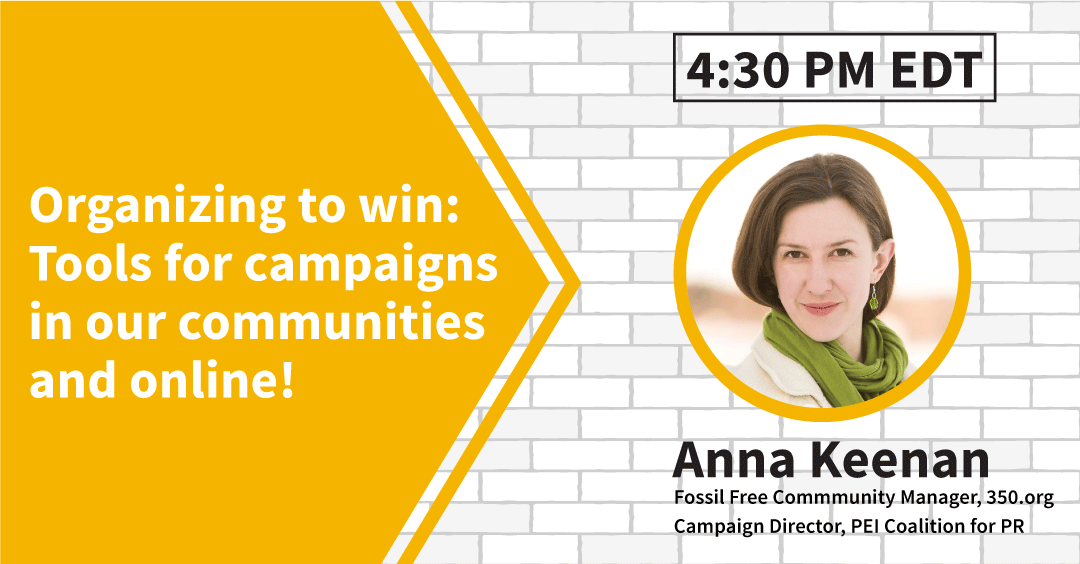 Anna Keenan, 4:30-6 PM Eastern
Anna Keenan has been a climate and democracy campaigner for over a decade. She has worked as an organizer for the Australian Conservation Foundation, Avaaz in Europe and Greenpeace International. Anna was the Campaign Director for the Coalition for PR on PEI, which won the 2016 plebiscite on proportional representation. Anna currently works for 350.org as a Fossil Free Community Manager, expanding locally-led climate campaigning, coaching regional staff and using online spaces to scale up their network. Anna has been a member of Fair Vote Canada's National Council.
This interactive workshop on organizing and campaigning is for all PR supporters and volunteers! This session will involve a combination of teaching and small group workshops where you'll meet other Fair Vote Canada supporters to learn skills that we can carry into our future campaigns.