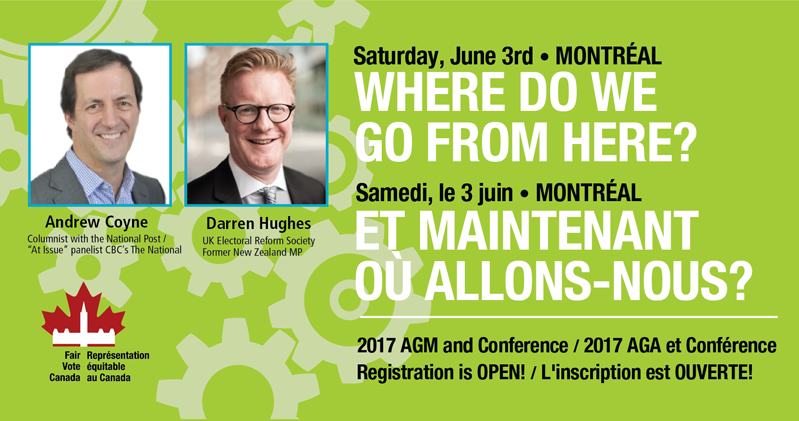 Français suivre
Join us for Fair Vote Canada's 2017 AGM!


A look at the Electoral Landscape in Canada and abroad.



Registration is Now Open!
Saturday, June 3rd, 2017
Concordia University – Loyola Campus
7141 Sherbrooke St W
Richard J. Renaud Science Complex — SP S110
Doors open at 8:45am
Register here: https://www.eventbrite.com/e/2017-fair-vote-canada-agm-aga-et-congres-2017-tickets-33986098335
Over the past 4 years, we have done more to bring the issue of Fair Voting to the forefront of Canadian Politics and we've planted seeds that are growing our movement exponentially across the Country.
Many Canadians do not accept Justin Trudeau breaking his promise to make every vote count. We will use our disappointment to fuel the next leg of the campaign. We have a long list of initiatives designed to take back our power and achieve our collective goal of Making Every Vote Count.
The Trudeau Government underestimated us – our passion, our capacity for organizing, our size and our strength. We have done extremely well. We won victory after victory. At the end of the process, the five Liberal MPs on the Electoral Reform Committee acknowledged that nobody wanted the winner-take-all preferential voting system used in Australia's lower house and that there was consensus to move to a proportional voting system. It was only when Trudeau was defeated on all fronts that he decided the only way out was to renege on his promise. This was beyond our control.
And, we have a long list of achievements to celebrate including a surprise win in PEI, a move to add PR to Vancouver city councils and solid coalition of high ranking political players working to change the voting system in Quebec. And, you will have an opportunity to add your voice and opinion to the way forward in our afternoon workshops. A win is within our grasp.
Join us in Montreal on June 3rd to look to the future. We'll look at where we've been and where we're going.
We will host two amazing keynote speakers!
Andrew Coyne will bring all of his wit and integrity to the issue of electoral reform in his opening remarks. As a compelling member of CBC's At Issue Panel and columnist at the National Post, Coyne has been a stalwart supporter of changing Canada's electoral system for over a decade.
We have invited Darren Hughes, Deputy Chief Executive of the UK Electoral Reform Society. Originally from New Zealand, he was elected to the House of Representatives at age 24 and served across three parliaments. He worked as a Labour Government Minister in a coalition with the Progressive Party with confidence and supply agreements with New Zealand First, United Future and the Greens. New Zealand has had proportional representation for around 20 years and Darren is a firm believer in its ability to represent people more fairly and for the culture of politics to change more positively. He will talk to us about how PR has worked for citizens in New Zealand and around the world.
We will also have the opportunity to hear from Quebec politicians who have formed a coalition to change the voting system in that Province. The NDP's Nathan Cullen along with Deputy Green Leader, Daniel Green will join us for our partisan panel. And, we will get a report from the PEI Campaigners who achieved great things this past year!
Register Now!: https://www.eventbrite.com/e/2017-fair-vote-canada-agm-aga-et-congres-2017-tickets-33986098335
Also Note: Loyola Campus has kindly offered us a special rate on dorm rooms:
To reserve individual rooms at the reduced rates use the online booking platform .
When asked "Do you have a group code?" type FVC2017  Each room requires an individual reservation.
The rates are:
Single room with shared washroom $35 per night plus taxes
Double room with shared washroom $50 per night plus taxes
Single with private washroom $55 per night plus taxes
Double with private washroom $65 per night plus taxes
---
---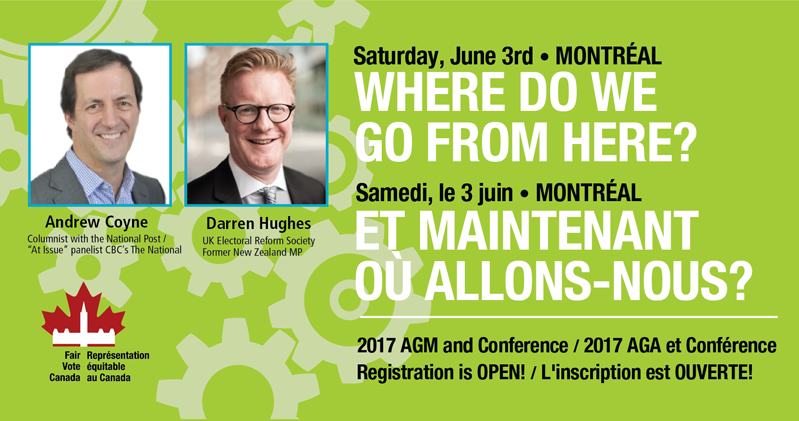 ---
Et maintenant, où allons-nous?
Un survol du paysage électoral au Canada et à l'étranger!
Joignez-vous à nous pour l'AGA 2017 de Représentation équitable au Canada!!
Samedi, le 3 juin
L'Université Concordia – Loyola
7141 Rue Sherbrooke Ouest
Richard J. Renaud Science Complex — SP S110
Portes ouvertes à 8h45
Inscrivez-vous ici: https://www.eventbrite.com/e/2017-fair-vote-canada-agm-aga-et-congres-2017-tickets-33986098335
Durant les 4 dernières années, nous avons travaillé à amener l'enjeu du vote équitable au premier plan de la politique canadienne et nous avons semé des idées qui aident notre mouvement à croître exponentiellement à travers le pays.
Nous avons construit un mouvement qui grandit d'une manière formidable.
Il est vrai que nous avons souffert d'un revers. Nous utiliserons notre déception pour nourrir la prochaine manche de la campagne. Nous avons une longue liste d'initiatives pensées en vue de reprendre notre pouvoir et d'atteindre notre but collectif de faire que chaque vote compte.
Le gouvernement Trudeau nous a sous-estimés – notre passion, notre capacité organisationnelle, notre taille et notre force. Nous nous en sommes très bien tirés. Nous avons remporté victoire sur victoire. À la fin du processus, les cinq députés libéraux du comité spécial sur la réforme électorale ont admis que personne ne voulait du système préférentiel australien et qu'il y avait un consensus envers la nécessité d'implanter un système électoral proportionnel. C'est seulement lorsque Trudeau a été défait sur tous les fronts qu'il a décidé que la seule manière de s'en sortir était de renier sa promesse. C'était hors de notre contrôle.
Nous avons une longue liste de réalisations à célébrer, incluant une victoire surprise à l'Île-du-Prince-Édouard, un appel à ajouter la représentation proportionnelle aux conseils municipaux de Vancouver et une coalition solide entre des joueurs politiques majeurs qui travaillent à changer le système électoral au Québec. Vous aurez une occasion d'ajouter votre voix et opinion sur la marche à suivre pour la suite de nos activités lors de nos ateliers en après-midi. Une victoire est à portée de main.
Joignez-vous à nous à Montréal le 3 juin, le regard tourné vers l'avenir. Nous prendrons un moment ensemble pour observer le chemin parcouru et le chemin qui nous attend.
Nous aurons l'honneur de recevoir deux conférenciers de marque!
Andrew Coyne nous fera profiter de sa sagesse et de son intégrité lors de son allocution d'ouverture. En tant que membre du panel d'expert pour l'émission « At Issue » de CBC et éditorialiste pour le National Post, Coyne est un pilier parmi les partisans du changement du système électoral canadien, et ce, depuis plus d'une décennie.
Nous avons aussi invité Darren Hughes, directeur général délégué de la Société pour la réforme électorale du Royaume-Uni. Originaire de la Nouvelle-Zélande, il a été élu à la Chambre des représentants à l'âge de 24 ans et a servi sous trois parlements. Il a été ministre du travail d'un gouvernement de coalition avec le Parti progressiste, avec des accords de confiance et de soutien de New Zealand First, United Future et les Verts. La Nouvelle-Zélande exerce la représentation proportionnelle depuis près de 20 ans et Darren est un partisan convaincu de sa capacité à représenter le peuple de manière plus juste et à entraîner un changement positif de la culture politique. Il nous entretiendra de la manière dont la représentation proportionnelle a profité aux citoyens de la Nouvelle-Zélande et d'ailleurs dans le monde.
Nous aurons aussi l'opportunité d'entendre des politiciens du Québec qui ont formé une coalition afin de changer le système électoral de cette province. Finalement, nous aurons un compte rendu des dirigeants de campagne de l'ÎPE qui ont accompli de grandes choses l'an dernier!
Réservez votre billet maintenant! https://www.eventbrite.com/e/2017-fair-vote-canada-agm-aga-et-congres-2017-tickets-33986098335
Aussi:
Pour réserver une chambre individuelle à l'Université Concordia à un tarif préférentiel, utilisez la plateforme de réservation en ligne. À la question « Avez-vous un code de groupe? », entrez FVC2017. Chaque chambre nécessite une réservation individuelle.
Les tarifs sont :
Chambre simple avec salle de bains partagée : 35$ + taxes par nuit
Chambre double avec salle de bains partagée : 50$ + taxes par nuit
Chambre simple avec salle de bains privée : 55$ + taxes par nuit
Chambre double avec salle de bains privée : 65$ + taxes par nuit