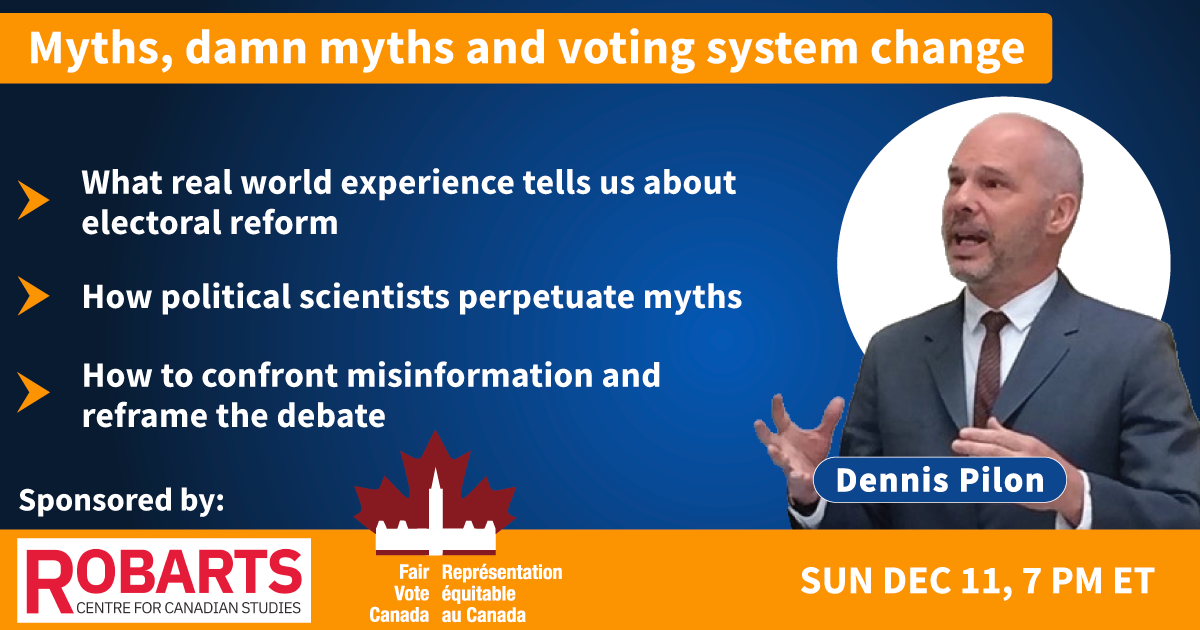 FOR IMMEDIATE RELEASE

Robarts Centre for Canadian Studies and Fair Vote Canada co-present a webinar with electoral reform expert Dennis Pilon to launch his new work. December 11, 7 PM ET.
Dennis Pilon, Associate Professor at York University, has launched a new work challenging Canadian political scientists to reframe the debate on electoral reform:

Myths, damn myths and voting system change: How Canadian political scientists misrepresent democratic reform
On Sunday December 11 at 7 PM Eastern, Robarts Centre for Canadian Studies and Fair Vote Canada are co-hosting a webinar launch of Pilon's policy intervention. The event will feature a presentation by Pilon where he will lay out how political scientists get voting system reform wrong. Pilon will make the case for a historically-informed, evidence-based perspective from political scientists to advance the public debate. Everyone is welcome.

Myths, damn myths and voting system change
Sunday December 11, 7 PM Eastern

REGISTER HERE:

https://us02web.zoom.us/webinar/register/8916702693866/WN_lTfTR-WRSd-Vtk1t7t4J3g
"By highlighting the need to frame public debates about key Canadian institutions differently in order to achieve equity goals, Dr. Pilon' scholarship aligns very well with the mission of the Robarts Centre for a critical and collaborative study of Canada. We are delighted to sponsor a virtual event during which this important part of the conversation on electoral reform can be heard."
-Jean Michel Montsion, Director, Robarts Centre for Canadian Studies
"Dennis Pilon is a master of incisively sorting fact from fiction on electoral reform. His new work pushes us to move beyond the phony conversation about "trade-offs" and embrace an honest perspective of electoral reform as the struggle by citizens to wrestle more power from elites in Canada's democracy."
– Anita Nickerson, Executive Director, Fair Vote Canada
Dennis Pilon is an associate professor in the Department of Politics at York University and is one of Canada's preeminent experts on voting system reform. He is the author of The Politics of Voting: Reforming Canada's Electoral System and Wrestling with Democracy: Voting Systems as Politics in the Twentieth Century West.