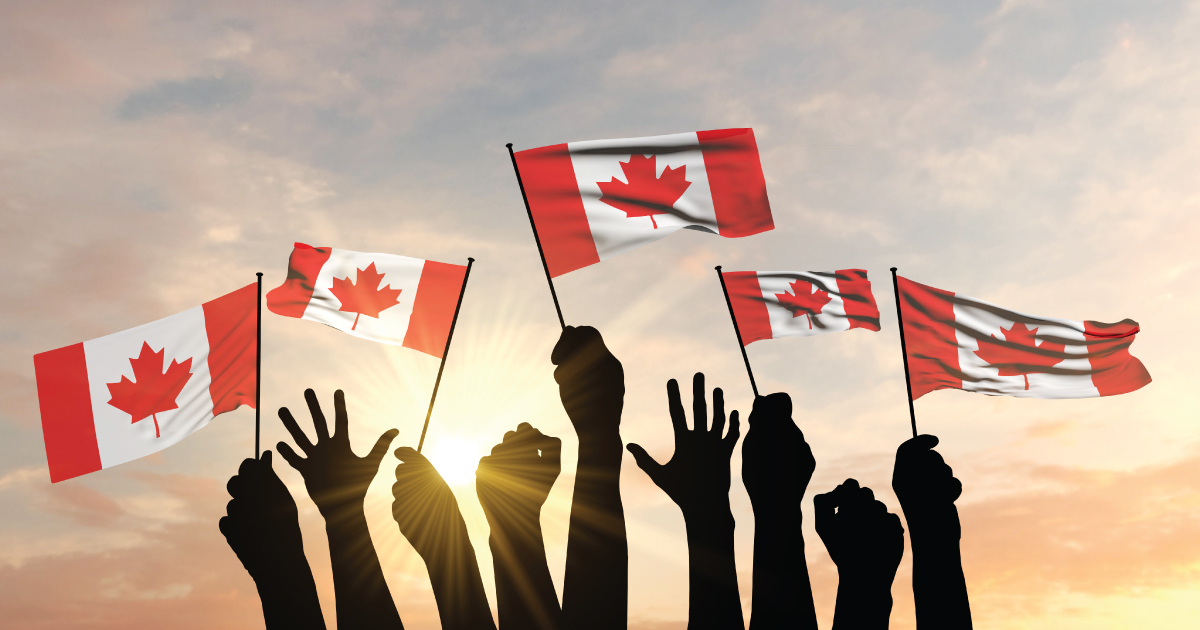 National Poll: What do Canadians think about electoral reform?
In December, 2022, Fair Vote Canada commissioned EKOS Research to run a poll to assess Canadians' opinions on electoral reform. 1229 people were polled on their support for the principles of proportional representation, whether they think it's okay if a single party alone changes the electoral system, and whether they would support a National Citizens' Assembly on Electoral Reform. The results are below. Read EKOS report. See the data tables.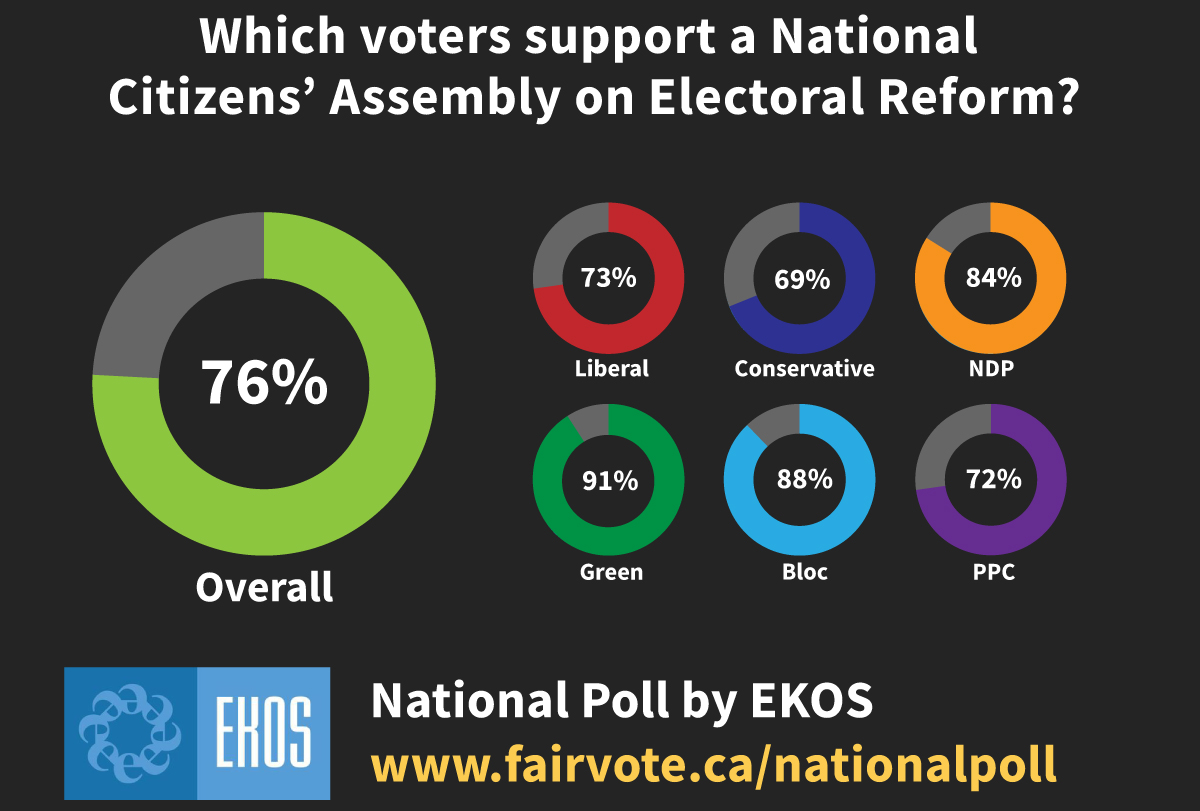 A strong majority of Canadians—including supporters of all parties—back a National Citizens' Assembly on Electoral Reform. A citizens' assembly is an independent, non-partisan body. Participants are selected like a jury, to ensure they are representative of the Canadian population by characteristics such as age, gender, region, and education. They spend up to a year learning from experts, consulting with Canadians and deliberating before making an informed recommendation. Learn more about a National Citizens' Assembly on Electoral Reform.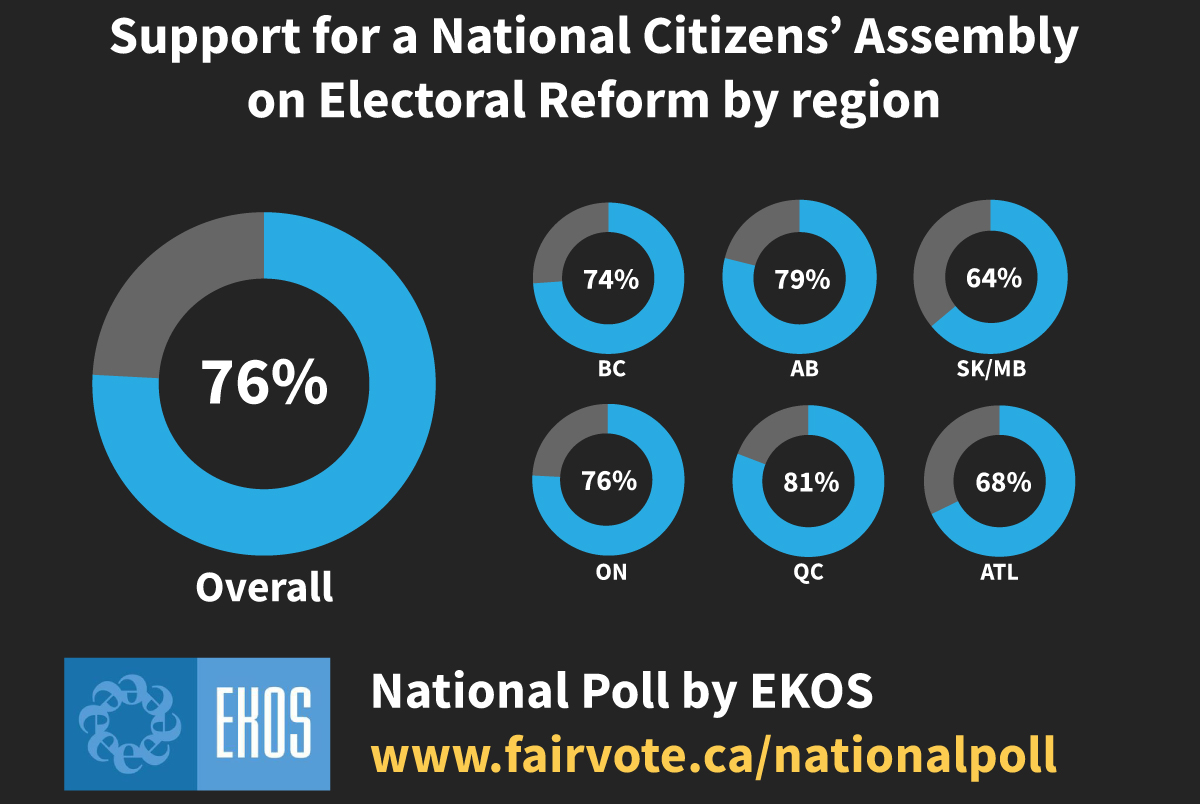 Canadians from regions across Canada back a National Citizens' Assembly on Electoral Reform.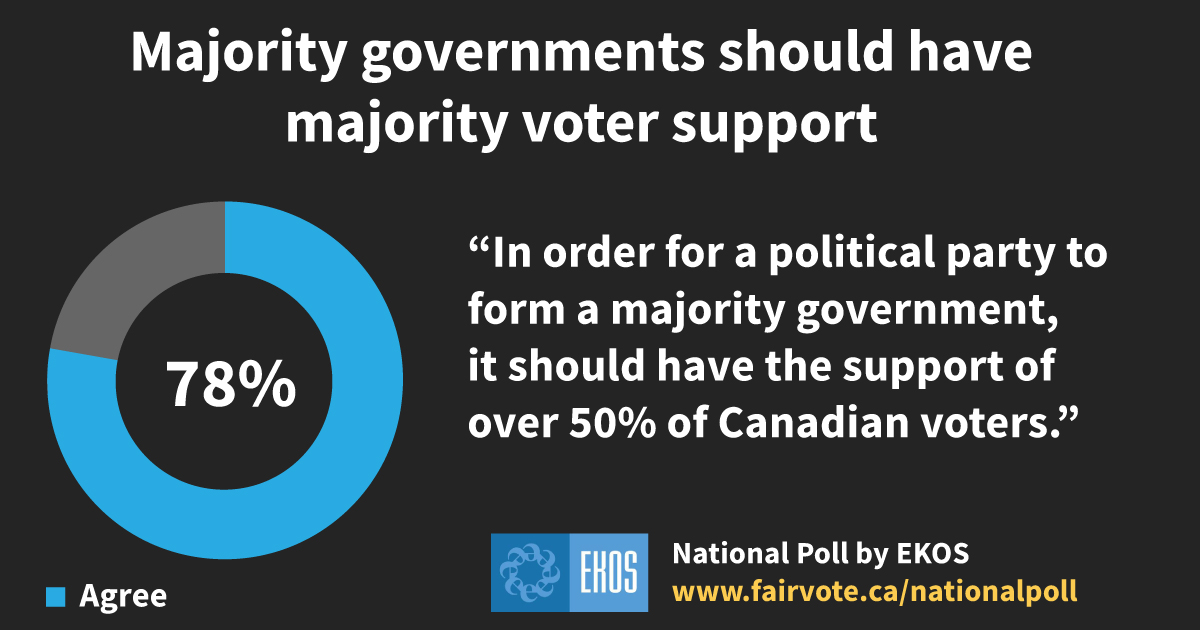 Canadians think that majority governments should have a majority of the popular vote. Often in Canada, "majority" governments are formed with only 39% of voters behind them.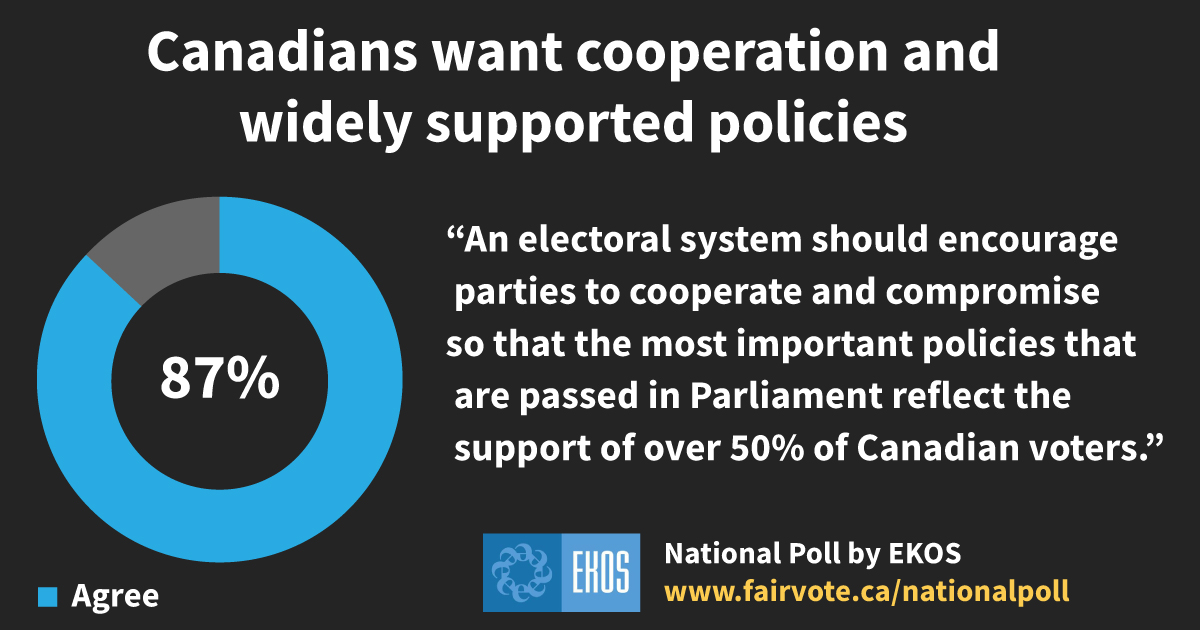 Canadians want an electoral system that encourages parties to work together, so the tone of politics improves and we all get better policy.
Winner-take-all systems (like first-past-the-post or the winner-take-all ranked ballot) discourage cooperation. When one party can seize all the power with 39% of the vote, it's not in their self-interest to share credit with other parties. They are more likely to discredit or demonize other parties.
With proportional representation, parties seek to find common ground—cooperation is the norm. Cooperation can occur between parties from all parts of the political spectrum.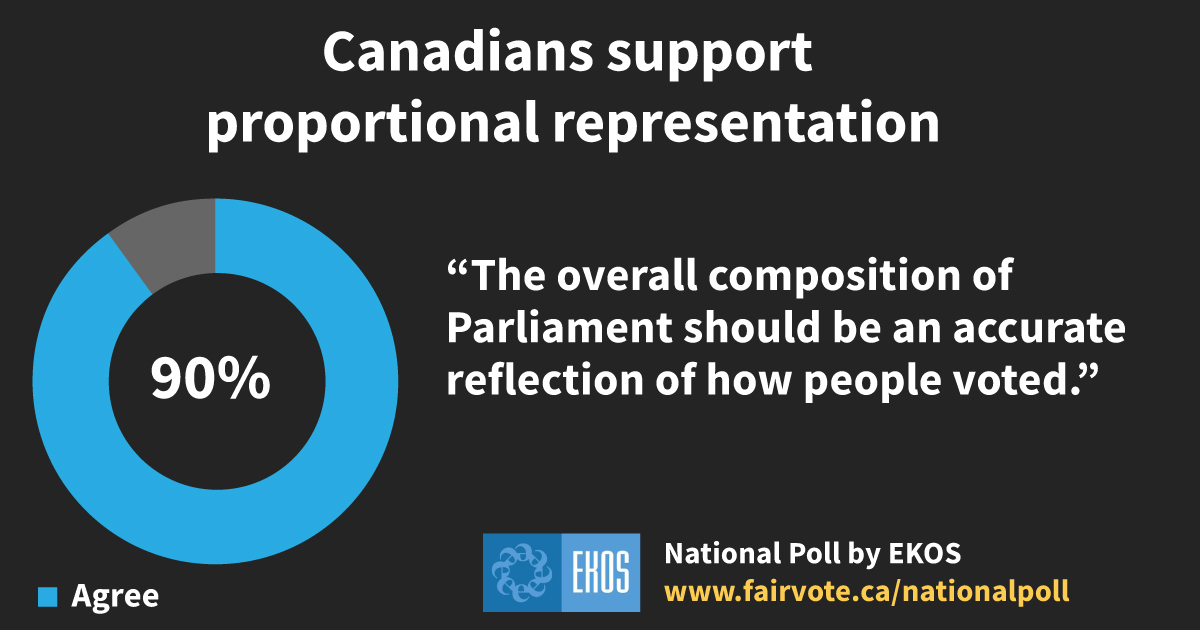 Canadians agree with the fundamental principle of proportional representation: if 30% of voters choose Party A, then Party A should get about 30% of the seats.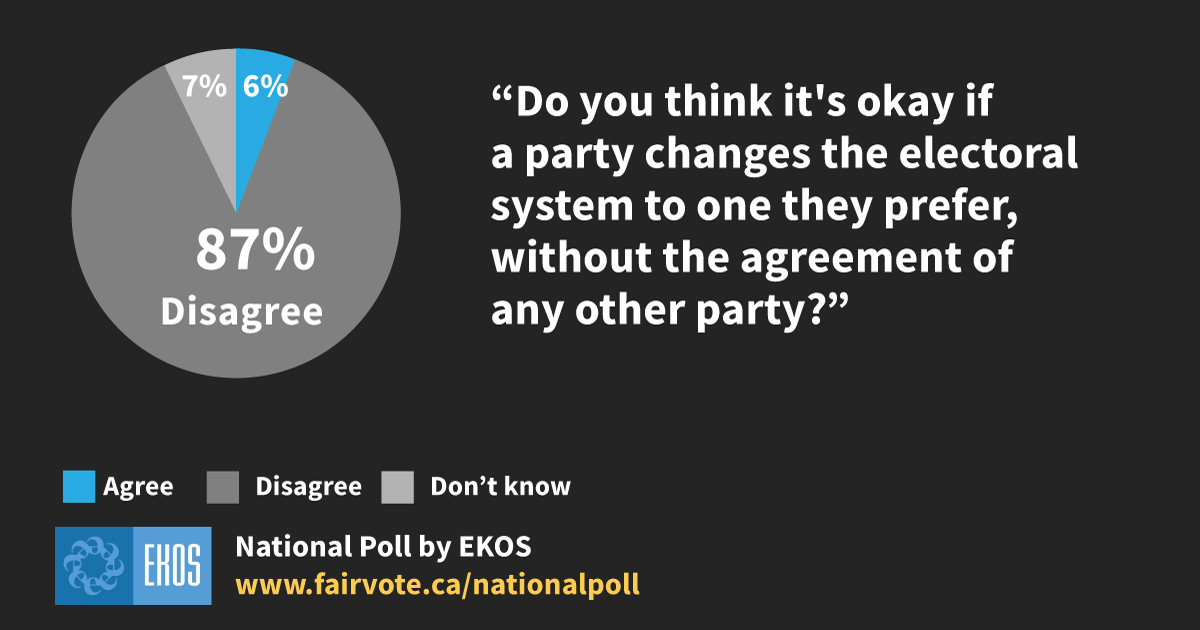 Canadians are firmly opposed to any single party unilaterally changing the electoral system. Politicians are distrusted on electoral reform, because time and again they have shown that when it comes to electoral reform, they will put their own self-interest ahead of the common good. We need an independent, non-partisan National Citizens' Assembly on Electoral Reform to look objectively at all the options, and make a recommendation in the best interest of all Canadians.