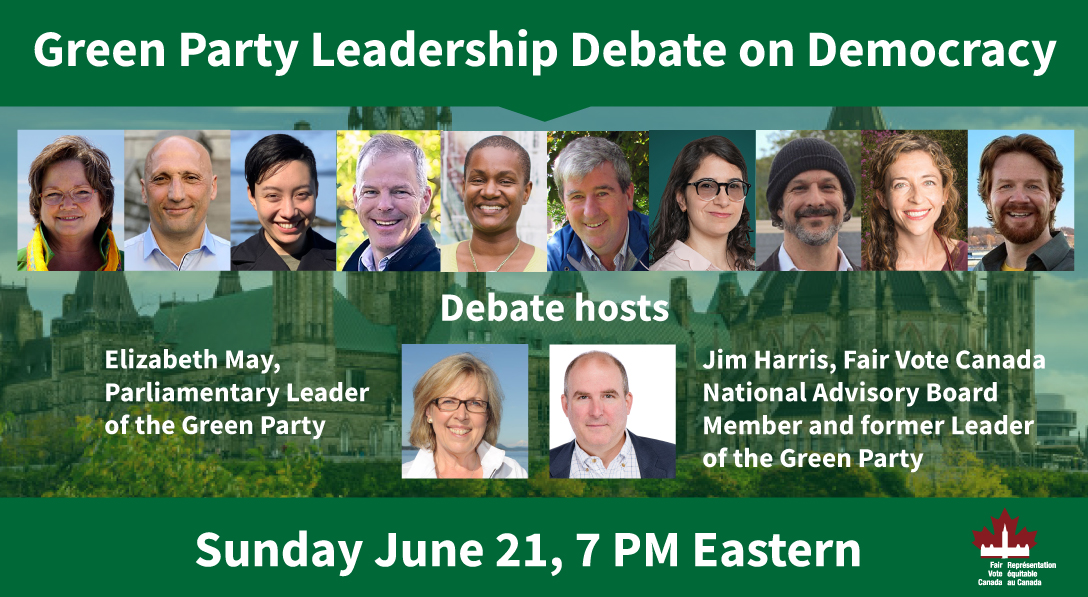 Green Party Leadership Debate on Democracy – June 21, 7 PM Eastern!

On Sunday October 4, the Green Party of Canada will vote for a new leader.
Fair Vote Canada has invited all of the federal Green Party candidates to a Leader's Debate on Democracy! 
The debate will be co-hosted by Green Parliamentary Leader Elizabeth May and Jim Harris, member of Fair Vote Canada's National Advisory Board and former leader of the Green Party. Elizabeth will give a special introduction to the debate, talking about why improving our democracy is crucial right now!
Of course, we know the Green Party supports proportional representation⁠—that's not up for debate! But HOW do the leadership candidates think we can get there? What's their plan? We're going to ask them!
This debate won't be limited to electoral reform⁠—it's about our democracy! Voter turnout, youth engagement, cooperation with other parties and more⁠—it's all on the table.
Do you have a question about electoral reform or democracy you want to ask? Submit it here. We'll ask the candidates some of the questions you have sent in, and we'll also have a live chat during the debate where you can submit more.
Fair Vote Canada is a non-partisan campaign. Regardless of which party you support, all parties need to hear that many people care about proportional representation. Our campaign is stronger with party leaders who are passionate champions for PR.