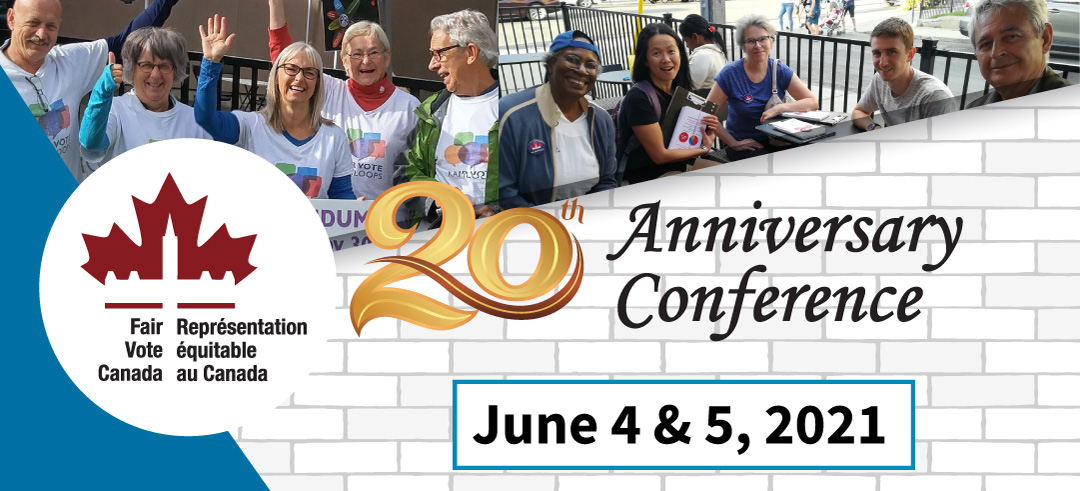 You're Invited to Fair Vote Canada's 2021 Conference!
It's time for Fair Vote Canada's annual conference on Friday June 4th and Saturday June 5th―and we hope you can make it.

We'll review the past year, learn from expert guests, connect with supporters across the country, and build our movement for proportional representation!

2021 is a special year for Fair Vote Canada.

Two decades ago, three ordinary Canadians came together with a big idea: an organization to campaign for proportional representation in Canada. On July 27, 2001, that organization was officially incorporated as Fair Vote Canada. 
It's been 20 years packed with hard work, excitement, heartbreak, important lessons and renewed hope. Fair Vote Canada is driven by passionate volunteers and supported by Canadians from coast to coast to coast. Thanks to you, we're bigger and more determined than ever! 
Click the buttons below to register for the conference sessions.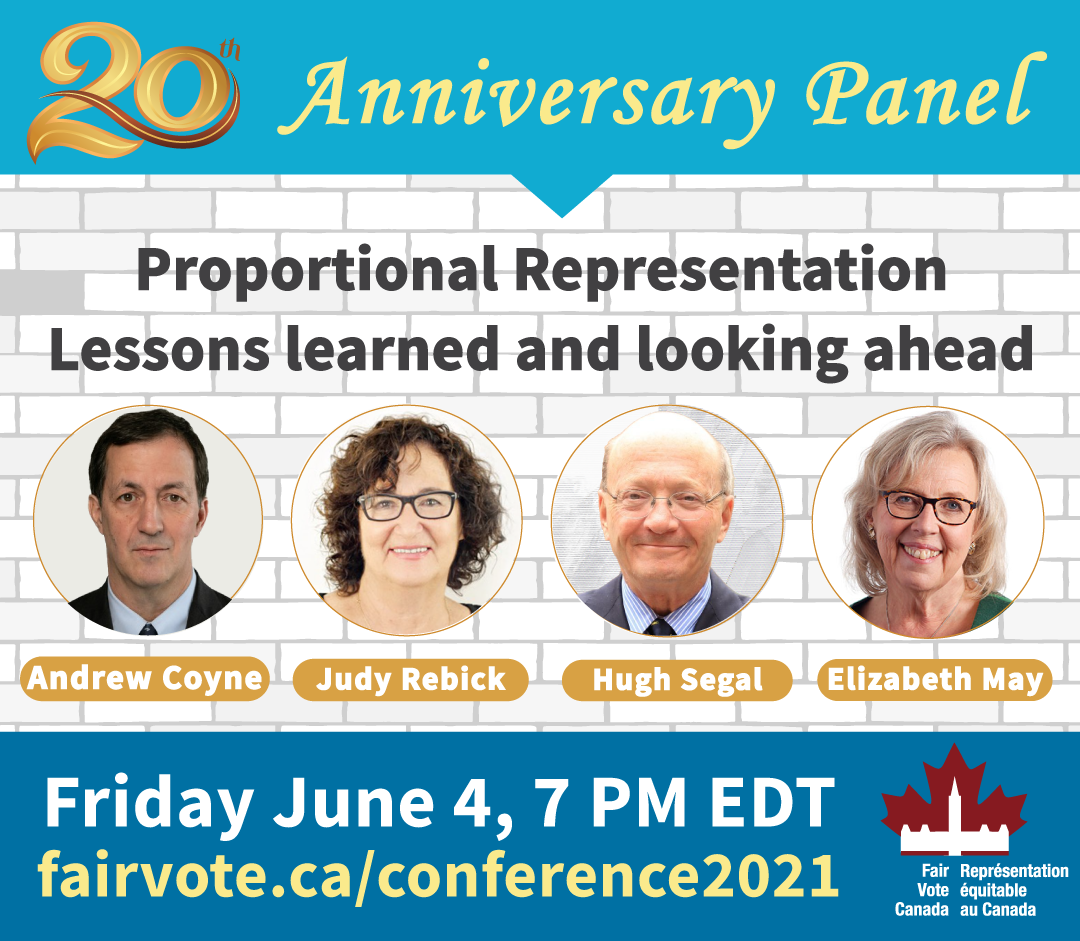 Friday June 4, 7 PM
Panel: Andrew Coyne, Judy Rebick, Hugh Segal and Elizabeth May: Lessons Learned and Looking Ahead

On the 20th anniversary of Fair Vote Canada, our guests will reflect on why PR matters more than ever and lessons learned from decades of advocacy.
Andrew Coyne is a columnist with The Globe and Mail, member of the At Issue panel on CBC's The National, former national editor for Maclean's and former columnist with the National Post. As Canada's best known proportional representation advocate in the mainstream media, Andrew has written countless articles on the absurdities of first-past-the-post elections and the need for PR. 
Judy Rebick is a journalist, political activist and feminist. Judy is the former president of the National Action Committee on the Status of Women, former co-host of Face Off on CBC Newsworld and was a frequent commentator on CBC. She is the founding publisher of rabble.ca and author of Ten Thousand Roses, Occupy This, and Heroes in My Head. Judy co-authored one of the first op-eds in a major newspaper (Globe and Mail) in support of PR as Fair Vote Canada was in its formative stages: "We vote to scrap the system."
Hugh Segal (Officer of the Order of Canada) is a former Progressive Conservative senator, author and political strategist. He served as Chief of Staff to Ontario Premier Bill Davis and Canadian Prime Minister Brian Mulroney and as Principal of Massey College in Toronto. Hugh is a lifelong advocate for Basic Income. His most recent book is called: Bootstraps Need Boots: One Tory's Lonely Fight to End Poverty in Canada. Hugh has advocated for proportional representation for decades, arguing that PR is not only fairer, but good for Canada's economic health. In 2018, he co-authored an op-ed for PR in the Globe and Mail with Ed Broadbent: The evidence is clear: Canada needs electoral reform.
Elizabeth May (Officer of the Order of Canada) is an environmentalist, author, activist, and lawyer. She was the leader of the Green Party of Canada from 2006 to 2019 and is the MP for Saanich—Gulf Islands since 2011. Elizabeth was the executive Director of the Sierra Club Canada from 1989 to 2006. She has written eight books including her memoir, Who We Are: Reflections of my Life and Canada. Elizabeth has been a tireless and continuous advocate for proportional representation and supporter of Fair Vote Canada since she began her career in politics. The last time she pointed out the failings of our electoral system was in her response in Parliament to the 2021 federal budget. 
Annual General Meeting for Members
12 PM-1 PM EDT
The agenda for the business meeting and additional important information for members is here. Anyone can attend the meeting but only members can vote at the meeting. The business meeting will also include a report highlighting Fair Vote Canada's activities over the past year. The business meeting has a separate Zoom registration from the rest of the conference. REGISTER HERE if you would like to attend the business meeting.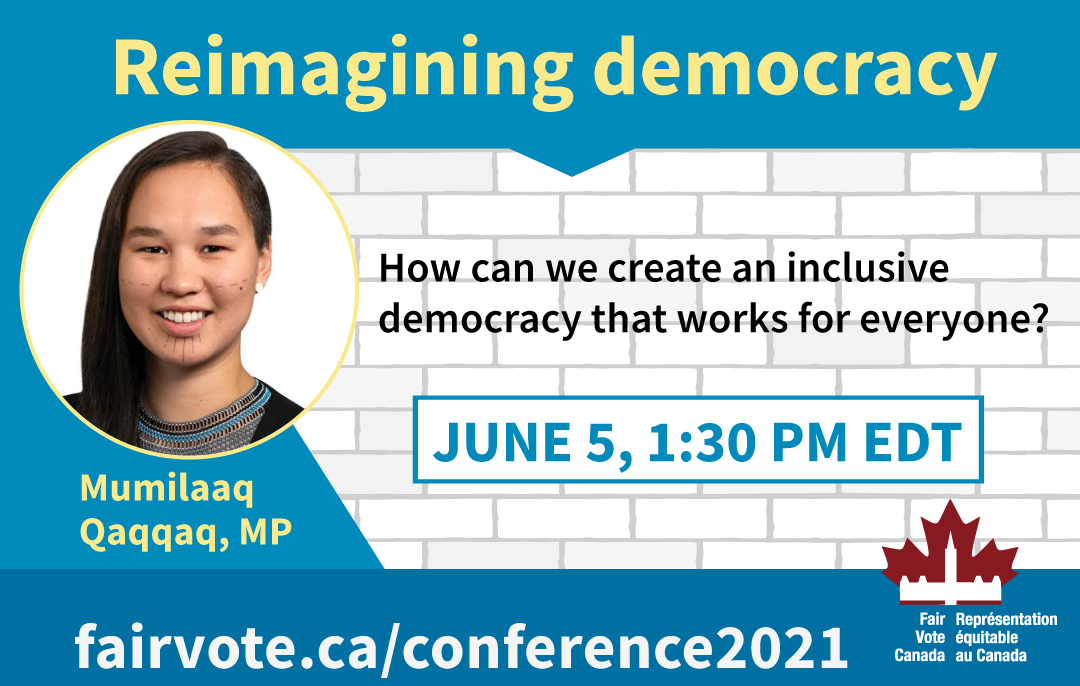 Saturday June 5, 1:30 PM EDT
Mumilaaq Qaqqaq: Creating an Inclusive Democracy that Works for Everyone!
Mumilaaq Qaqqaq is an activist, MP for Nunavut, and the NDP's critic for Northern affairs and the Canadian Northern Economic Development Agency. She has been an outspoken advocate on issues of suicide, housing, food security and democracy in Nunavut. 
As a first-term MP elected in 2019, Mumilaaq will speak about:
Her experience as an MP and her perspective of our democratic institutions as an Inuk woman and youth

How she maintains hope and continues fighting for change in the face of long-term and ongoing injustices

What needs to change so Parliament can truly represent all people and work together for solutions to our most pressing problems

How citizens can use their voices to improve our democracy
Following Mumilaaq's talk there will be a Q+A period.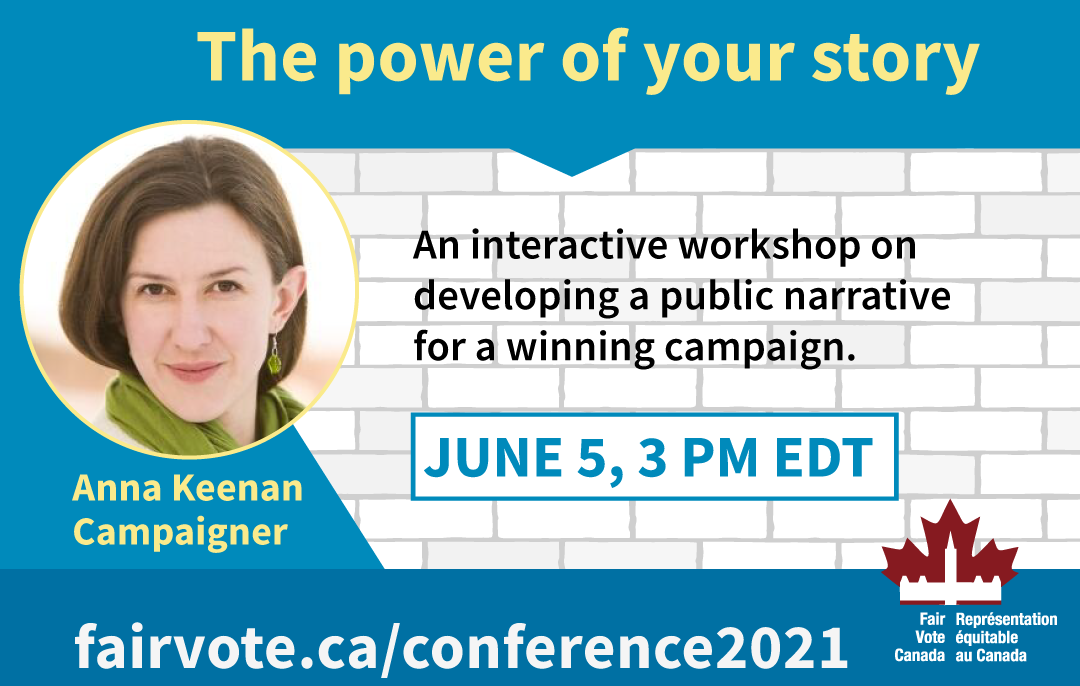 Saturday June 5, 3-4:30 PM
Anna Keenan: The Power of Your Story in the Campaign for Proportional Representation
Anna Keenan has been a climate and democracy campaigner for over a decade. She is currently a Global Digital Organizing Manager for 350.org. Anna has worked as an organizer for the Australian Conservation Foundation, Avaaz in Europe and Greenpeace International. Anna was Campaign Director for PR on PEI, which won the 2016 plebiscite on proportional representation and has been a member of Fair Vote Canada's National Council.

In this workshop, Anna will teach us about the role of storytelling in a winning campaign, based on the groundbreaking model developed by Marshall Ganz. Ganz's model outlines three core, connected elements of storytelling in a campaign: The story of self, the story of us, and the story of now.

Anna's workshop will focus on the first element: The story of self. Learn to tell your personal story about how you came to support proportional representation in a way that connects with the experiences, emotions and values of others. 
This interactive and practical workshop is for all PR supporters and volunteers! It will involve a combination of teaching and small-group interactions where you'll meet other Fair Vote Canada supporters and learn skills to use in current and future campaigns.