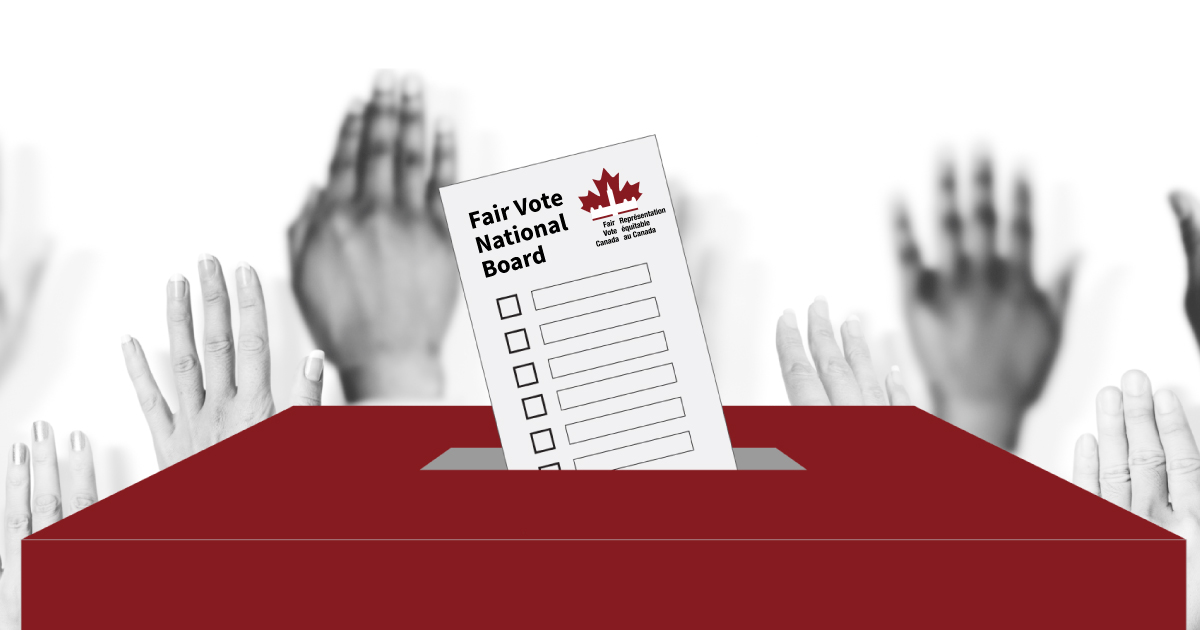 National Board Elections
National Board Elections
SCROLL DOWN TO READ CANDIDATE STATEMENTS WHEN THEY ARE AVAILABLE
Would you consider taking your support for proportional representation to the next level? We need six passionate and energetic individuals to join our national Board of Directors! As a voting member of Fair Vote Canada, you can stand.
Are you good at teamwork and establishing relationships with allies? Are you interested in strategic planning? Are you 18 or older, computer-literate and able to use Google Drive and Zoom? Do you have time and energy to devote to overseeing the organization that has advocated for fair, proportional elections in Canada for more than 20 years? This is your chance to influence our direction, set priorities and build the movement. It can be very rewarding!  
Fair Vote Canada is guided by a volunteer Board of 15 Directors. Six Directors are to be elected this year: the first five elected will serve three-year terms, the sixth will serve a one-year term.
The team of Directors meets monthly via Zoom, plus once a year at the online Annual General Meeting. Board committee work (e.g. Governance, Human Resources, Finance) is a chance to contribute further, depending on your skills and interests.
This year, we are looking for folks with experience facilitating meetings and/or previous experience on a governance board. As a national Board, we'd like to have members from all provinces and territories, specifically more representation from Yukon, Northwest Territories, Alberta, Quebec, and Atlantic Canada. We especially encourage people from equity-deserving groups e.g. women, Indigenous Peoples, Black Canadians, other racialized communities, people with disabilities, and 2SLGBTQIA+ as well as young adults and those of disadvantaged socio-economic background to consider participating in this election. 
Find out more about what's expected of Board members at our online Information Session for Prospective Candidates on April 5, 2023.
Candidates may self-nominate by completing this form.
Candidates must demonstrate a willingness and commitment to support Fair Vote Canada's purposes and proportional representation.
If the number of eligible candidates exceeds 15, candidates will be selected by the board members whose terms are not expiring, based on their skills, involvement with Fair Vote Canada, experience, and the current needs of the board.
The election will be conducted online using the Single Transferable Vote, a proportional voting system (of course!) In 2022, candidates elected to the Board all had at least 15 first preferences on the first count. Serious candidates may want to help sign up new members by March 17. All members are encouraged to participate, and to join us as well on Saturday, June 10 for our AGM (mark the date!)
Thanks for supporting proportional representation in Canada, and thanks for considering this opportunity! Feel free to forward this email to others who might fit the bill.
Important Dates:
March 17: Last date for new members to join in order to be eligible to run or to vote. To be a member, you must have donated $25 to Fair Vote Canada over the year (or $5 if you are a low income/youth/equity-seeking group) or donate at least $5 monthly. Donate here.
April 5: Online Information Session for Prospective Candidates to ask questions of current board members, at 8:00PM Eastern. Sign up here.
April 17: Deadline for nominations (candidates are self-nominated). Candidates stand for election by completing this form.
May 13: Online Q&A with Declared Candidates. Members can sign up here to attend.
May 17: Voting begins. New members who contribute by March 17 are eligible, as are all existing members in good standing as of Feb. 18. We use an easy online voting service at opavote.com.
May 27: Voting closes. Results announced. 
June 10: Election results are ratified by members at our Annual General Meeting (by Zoom). Details of the speakers and discussion will be posted on our website.
Valerie Brooks & Michelle Clifford, Co-chairs
on behalf of Fair Vote Canada National Board
PS: If you've opted out of most FVC emails and are wondering why you're getting this, it's because we are legally required to inform all members in good standing of their right to participate in elections. Thanks for your support and your understanding!
PPS: Pre-register for upcoming Zoom events: Learn the basics of proportional representation at PR 101 this Wednesday, February 15 at 8 pm Eastern. Board Town Hall for members & active volunteers at 7 pm Eastern on Sunday, April 2. 

Élections au Conseil national
Envisageriez-vous de faire passer votre soutien à la représentation proportionnelle au niveau supérieur ? Nous avons besoin de six personnes passionnées et énergiques pour se joindre à notre conseil d'administration national ! En tant que membre votant de Représentation équitable Canada, vous pouvez vous présenter.
Êtes-vous doué pour le travail d'équipe et l'établissement de relations avec des alliés ? Êtes-vous intéressé par la planification stratégique ? Avez-vous du temps et de l'énergie à consacrer à la supervision de l'organisation qui milite pour des élections justes et proportionnelles au Canada depuis plus de 20 ans ? C'est votre chance d'influencer notre orientation, de définir les priorités et de faire progresser le mouvement. Cela peut être très gratifiant !
Fair Vote Canada est dirigé par un conseil d'administration bénévole de 15 membres. Six administrateurs doivent être élus cette année : les cinq premiers élus auront un mandat de trois ans, le sixième aura un mandat d'un an.
L'équipe d'administrateurs se réunit tous les mois via Zoom, et une fois par an lors de l'assemblée générale annuelle. Le travail au sein des comités du conseil d'administration (par exemple, gouvernance, ressources humaines, finances) est une occasion de contribuer davantage, en fonction de vos compétences et de vos intérêts.
Nous encourageons tout particulièrement les femmes, les jeunes, les Noirs, les Autochtones, les personnes racialisées et les personnes défavorisées sur le plan socio-économique qui ont traditionnellement été sous-représentées ou exclues de la politique à envisager de participer à cette élection. 
Découvrez ce que l'on attend des membres du conseil d'administration lors de notre séance d'information en ligne pour les candidates et candidats potentiels le 5 avril 2023.
Les candidats peuvent présenter leur propre candidature en remplissant ce formulaire.
Les candidats doivent démontrer leur volonté et leur engagement à soutenir les objectifs de Fair Vote Canada et la représentation proportionnelle. 
Si le nombre de candidats éligibles est supérieur à 15, les candidats seront sélectionnés par les membres du conseil dont le mandat n'expire pas, en fonction de leurs compétences, de leur engagement envers Fair Vote Canada, de leur expérience et des besoins actuels du conseil.
L'élection sera menée en ligne au moyen du vote unique transférable, un système de vote proportionnel (bien sûr !). En 2022, les candidats élus au conseil d'administration avaient tous au moins 15 premières préférences au premier décompte. Les candidats sérieux voudront peut-être aider à inscrire de nouveaux membres d'ici le 17 mars. Tous les membres sont encouragés à participer, et à se joindre à nous le samedi 10 juin pour notre AGA.
Merci de soutenir la représentation proportionnelle au Canada et merci de considérer cette opportunité ! N'hésitez pas à transmettre ce courriel à d'autres personnes qui pourraient être intéressées.
Dates importantes :
17 mars: date limite d'adhésion pour les nouveaux membres afin de pouvoir se présenter ou voter. Pour être membre, vous devez avoir fait un don de 25 $ à Fair Vote Canada au cours de l'année (ou 5 $ si vous êtes un groupe de personnes à faible revenu, de jeunes ou de personnes à la recherche d'un emploi) ou donner au moins 5 $ par mois. Faites un don ici.
5 avril: Session d'information en ligne pour les candidats potentiels afin de poser des questions aux membres actuels du conseil d'administration, à 20h00 (heure de l'Est). Inscrivez-vous ici.
17 avril: Date limite pour les nominations (les candidats se présentent d'eux-mêmes). Les candidats se présentent aux élections en remplissant ce formulaire.  (Seuls les candidats ayant fait une demande d'adhésion et ayant payé leur cotisation au plus tard le 17 mars sont éligibles).
13 mai: Questions-réponses en ligne avec les candidats déclarés. Les membres peuvent s'inscrire ici pour y participer.
17 mai:  Début du vote. Les nouveaux membres qui ont cotisé avant le 17 mars sont éligibles, ainsi que tous les membres existants en règle au 18 février. Nous utilisons un service de vote en ligne facile à utiliser sur opavote.com.
27 mai:  Clôture du scrutin. Les résultats sont annoncés. 
10 juin: les résultats des élections sont ratifiés par les membres lors de notre assemblée générale annuelle (par Zoom). Les détails concernant les intervenants et la discussion seront publiés sur notre site web.