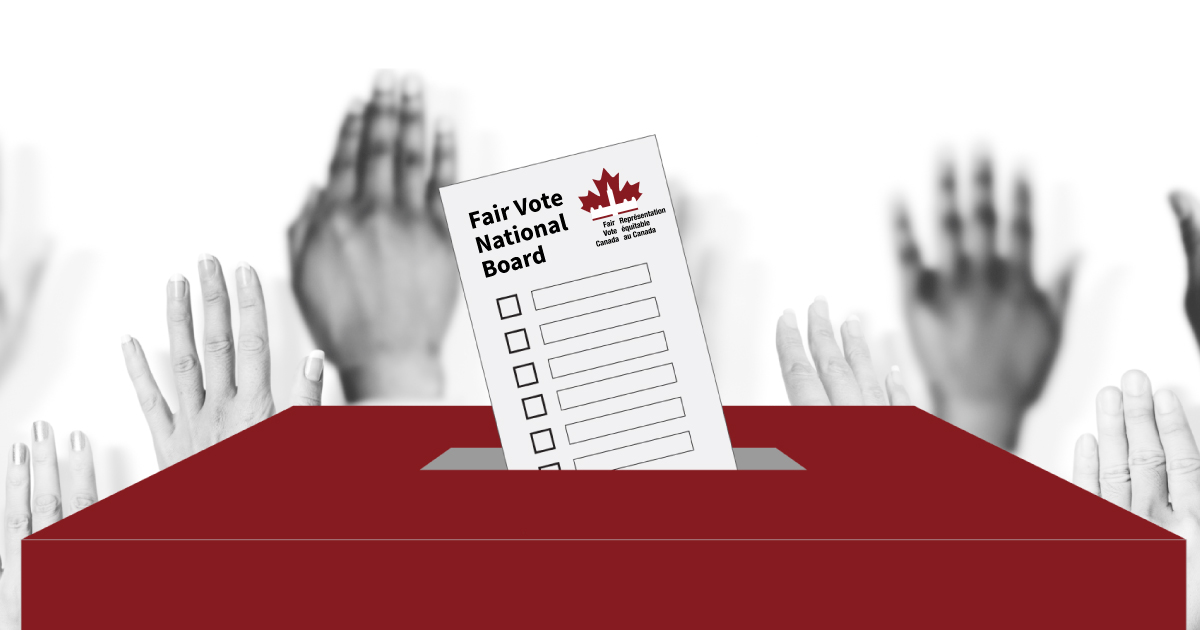 National Board Elections
Voir ci-dessous pour la version française de ce message.
Fair Vote Canada (FVC) is looking for outstanding leaders in the proportional representation movement to stand for its Board of Directors (was National Council). Six members of the 15-member board are to be elected this year. The first five members elected will serve 3-year terms, and the sixth will serve a one-year term.
Please use this form to self-nominate for election to Fair Vote Canada (FVC) National Board by April 12
Directors of FVC help set our strategic direction and spend whatever time desired advancing the work of the organization. We encourage women, youth, equity-seeking groups, and others who have traditionally been underrepresented in politics to consider participating in this election. We need candidates from all walks of life, all provinces and regions, and all points on the political spectrum!
Only those who are FVC members by April 12, 2021, are eligible to stand and to vote in this election. For those who are not already a member, membership is obtained by making a one-time donation of $25, or $5 for those who are 26 or under, unemployed or under-employed, or members of equity seeking groups. Since the election is by STV, candidates may want to sign up some friends as members by April 12, to be sure to receive enough first preference votes to survive the first counts.  
Directors are expected to attend the Annual General Meeting on June 5, the Annual Board Meeting on June 6, and subsequent monthly Board meetings, held on Zoom. Directors are encouraged to join at least one committee, but can decide for themselves what more to do; such as serving on the executive, other committees, and working groups as required. More information about Directors' duties can be found in our Board Manual.
Important Dates:

April 8: Online meeting for prospective candidates to ask questions of current board members, at 8:00PM Eastern.  Sign up here.
April 12: Last date for new members to join in order to be eligible to run or to vote. To be a member, you must have donated $25 to Fair Vote Canada over the year or donate $5 monthly. Donate here.
April 12: Deadline for nominations (candidates are self-nominated). Candidates stand for election by completing this form in English, French or both.
May 8: Online meeting for members to ask declared candidates questions. Sign up here to attend as a member.
May 12: Voting begins. New members who contribute by April 12 are eligible, as are all existing members in good standing as of Feb. 12.
May 22: Voting closes. Results announced.
We use an easy online voting service at opavote.com. If, for some reason, you are unable to vote online and prefer to vote by mail, you can request a mail-in ballot. Please contact [email protected].
June 5: Election results are ratified by members at our Annual General Meeting (by Zoom). Details of the speakers and discussion will be posted on our website.
Thank you,
FVC's Recruitment Committee: Wilf Day, Chardaye Bueckert, Michelle Clifford, Dolly Cepeda, and Jonathan Cassels
---

Élections au Conseil national
Représentation équitable au Canada est à la recherche de cinq bonnes personnes! Serez-vous l'une d'entre elles?
Cherchez-vous à faire passer votre soutien à notre cause au prochain niveau? Nous avons besoin de six personnes passionnées et énergiques pour rejoindre notre équipe au Conseil d'administration national. En tant que membre votant de Représentation équitable au Canada, vous pouvez vous présenter.
Avez-vous un talent pour le réseautage et le travail d'équipe? Vous êtes intéressé par la planification stratégique? Aimeriez-vous consacrer du temps et de l'énergie à une organisation qui prône des élections proportionnelles équitables au Canada depuis plus de 18 ans? C'est votre chance d'influencer notre orientation pour les trois prochaines années. Construire le mouvement, fixer les priorités et planifier les campagnes, cela peut être très gratifiant!  
Représentation équitable au Canada est guidé par une équipe de 15 directeurs, notre Conseil national. Chaque année, nos membres élisent cinq directeurs pour un mandat de trois ans. Les membres du conseil se réunissent chaque mois par conférence téléphonique et une fois par an en personne lors de l'assemblée générale annuelle. Les groupes de travail offrent la possibilité de contribuer davantage en fonction de vos propres compétences et intérêts.
Nous encourageons les femmes, les jeunes, les personnes racialisées et les autres personnes qui ont traditionnellement été sous-représentées en politique à envisager de participer à cette élection.
Pour en savoir plus sur ce que l'on attend des membres du Conseil, consultez notre Manuel du Conseil, et joignez-vous à nos questions-réponses en ligne pour les candidats potentiels.
L'élection se fera en ligne en utilisant le vote unique transférable, un système de vote proportionnel (cela va de soi!) Nous encourageons tous les membres à participer, et vous invitons également à notre AGA le 5 juin.
Merci de soutenir la représentation proportionnelle au Canada, et merci de considérer cette opportunité! N'hésitez pas à transmettre ce courriel à d'autres personnes ayant le bon profil.
Dates importantes:
8 avril: Réunion en ligne pour les candidats potentiels. Posez vos questions aux membres actuels du conseil d'administration! Cliquez ici pour en savoir davantage.
12 avril: Le dernier jour pour devenir membre et avoir le droit de se présenter aux élections ou de voter. Pour être membre, vous devez avoir fait un don de 25$ (ou 5$ pour membres des groupes vises par l'équité) à Représentation équitable au Canada au cours de la dernière année. Vous pouvez faire un don ici: www.fairvote.ca/donate.
12 avril: Échéance pour les nominations et déclarations des candidates et des candidats (les candidat(e)s se désignant soi-mêmes), en complétant le formulaire à votre choix en anglais, en français, ou les deux.
8 mai: Réunion en ligne pour les membres afin de poser vos questions aux candidats déclarés. Inscrivez-vous ici pour y assister en tant que membre.
12 mai: Début du vote. Pour être éligible, on doit être membre en date du 29 janvier, qu'on ait déjà renouvelé depuis ou pas; les nouveaux membres ont jusqu'au 28 février pour s'inscrire (conformément aux dons payés).
22 mai: Fin du vote. Annonce des résultats.
Nous utilisons un service de vote en ligne très simple nommé opavote.com. Si, pour une raison quelconque, vous ne pouvez pas voter en ligne et préférez voter par la poste, vous pouvez demander un bulletin de vote postal en contactant [email protected].