Contents
Introduction 

What we looked at
Summary of findings
Finding by newspaper group and individual papers
Recognition of media who have added the most quality to the conversation
Can We Do Better? What Voters Need from their Media in the Next 60 Days
Appendix 1: Analysis – A Critical Look at Themes and Framing
Appendix 2: Link to Table with Results


a
Introduction
In 2016, about 8 of 10 Canadians were reading newspapers, with just over half reading them online.
According to Vivadata's summer 2018 research, 81% of Canadians agree that "the health of our democracy depends on journalists reporting the facts accurately." Printed national daily newspapers were rated as one of the most trusted sources of information, with 70% rating them very highly for trustworthy news. 
73% rated print newspapers as the most trustworthy source for "in depth commentary and analysis."
These statistics suggest the print media is highly influential, trusted, and has a crucial role to play – both informing citizens (reporting) and generating meaningful discussion about the key issues in this fall's referendum on proportional representation.
In this report, we look at the opinion coverage from BC's mainstream print media in the BC referendum on proportional representation during May, June and July 2018.
Three academic studies of Ontario's 2007 referendum, a study of BC's 2009 referendum, and a study of the UK's 2011 referendum showed a consistent slant by the mainstream media against proportional representation.
In this report, we describe what the coverage has looked like so far as we head into BC's third referendum on electoral reform, and comment on how the media can contribute to helping voters consider the issues involved in deciding how to vote.a
What we looked at
We looked at opinion columns from May, June and July 2018 in the following mainstream newspapers that offer print editions in BC:
Postmedia owned papers
Vancouver Sun

The Province

National Post
According to Vividata, in 2016 weekday readership of the Vancouver Sun and the Province – which both publish daily except Sundays –  was 1.1 million. The National Post has an average 142,000 BC readers of it's weekday editions.
That's about ¼ of BC's population reading at least one of these three papers, either in print or online.
2) Globe and Mail
According to Vividata, in 2017 the Globe and Mail had a print and digital readership of 211,000 for its weekday editions.
3) Glacier Media
Glacier media owns 15 local newspapers in BC, including the Victoria Times Colonist, Vancouver Courier, Prince George Citizen, Burnaby Now and North Shore News. The combined circulation of these newspapers is 581,597.
4) Black Press
Black Press owns about 75 local newspapers in BC, with a combined circulation of 924,814.
Most print media in BC is owned by the above corporations. Due to lack of resources, we did not look closely at the coverage by the few independently owned smaller papers (such as the Rossland Telegraph, which has been running an in-depth series on PR), online-only papers such as Tyee or online blogs, or TV coverage.a
Key Findings By Newspaper Group and Overall

a
Key Findings Summary
The majority of opinion columns published by the newspapers with large readership numbers vocally opposed the process to decide the referendum questions and/or proportional representation itself.

There was significant overlap between columnists opposing the process and those opposing proportional representation.

Most regular columnists for the papers with larger circulation were vocally opposed to one or both. Only one was in favour of pro rep, with just one column by that columnist.

There was a tendency by regular columnists to focus on dissension between parties (NDP and Liberal) or to claim that the Green Party was driving the NDP's decisions, rather than focusing on the ballot choices before the voters.

There was little in-depth investigation of whether claims made by either the proponent or opponent side held up to scrutiny.

There was almost no meaningful discussion of the main implications for voters of the current system versus proportional representation. For example, that with proportional representation, most voters would be represented by more than one MLA, including an MLA they helped elect (rather than a single MLA currently) and that most governments would be a cooperative arrangement between two or more parties representing a majority versus one party representing a plurality. There was little meaningful discussion of how these changes would affect the quality of our democracy, voter themselves, decision making or the policy choices adopted by government.

The local papers associated with Glacier Press provided the most diverse opinion coverage whereas the Postmedia and Black Press provided the least.

Results by Media Group during the 3 months studied (May, June, July 2018)a
National Post
The National Post printed 3 columns about the BC referendum.
Opposing the process: 2 (regular columnists) 66%
Slanted against PR and the process: 1 (regular columnist) 33%
Total negative: 3 – 100%
Total positive: 0
The Province 
The Province printed 10 columns about the BC referendum.
Opposing the process: 4 (2 regular columnists, 2 guest op-eds) – 40%
Slanted against PR and the process: 2 (guest op-eds) – 20%
Slanted against PR: 2 (guest op-eds) – 20%
Slanted for PR: 1 (guest op-ed) – 10%
Balanced: 1 (mainly talking about uncertainty around referendum rules in June) – 10%
Total negative: 8- 80%
Total positive: 1 – 10%
Total balanced: 1 – 10%
Vancouver Sun
The Vancouver Sun printed 8 columns about the BC referendum.
Opposing the process: 5 (all regular columnists) – 63%
Slanted against PR and the process: 1 (guest op-ed) – 13%
Slanted against PR: 1 (guest op-ed) – 13%
Slanted for PR: 1 (a regular columnist) – 13%
Total negative: 7 – 87.5%
Total positive: 1 – 12.5%
Totals for Postmedia Newspapers
Opposing process: 11 – 52%
Opposing PR: 3 – 14%
Opposing process and PR: 4 – 19%
In favour of PR: 2 – 10%
Balanced: 1 – 5%
Total negative: 18 – 86%
Total positive: 2 – 10%
Total balanced: 1 – 5%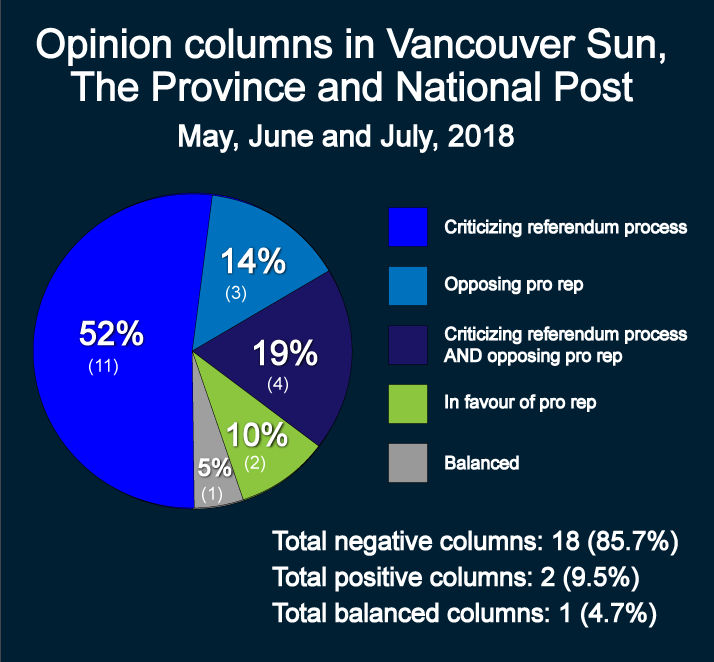 Globe and Mail
The Globe and Mail ran four opinion pieces on the referendum.
Opposing the process: 3 – 75%
Slanted for pro rep: 1 – 25%
Total negative: 3 – 75%
Total positive: 1 – 25%
a
Black Press
Black Press is providing almost no opinion columns about the referendum except those of columnist Tom Fletcher, whose columns are carried in many of their 75 community papers across BC. There were three opinion columns by Fletcher. The Goldstream Gazette published an opinion column on June 6, but unfortunately that column was limited to their readers and is no longer searchable online.
Slanted against PR and the process: 2 (Fletcher) – 50%
Slanted for PR and the process: 1 (Goldstream Gazette editorial) – 25%
Balanced: 1 (Fletcher – mainly just reporting reactions to the referendum question) – 25%
Total negative: 2 – 50%
Total positive: 1 – 25%
Total balanced: 1 – 25%
Glacier Media
Glacier media community newspapers ran the most opinion columns during the months studied – 23.
However, unlike Fletcher's columns for Black Press papers which are widely carried in their community papers, most columns in Glacier papers would only be seen by local readers of one smaller newspaper. The newspaper with a higher circulation (Times Colonist) only ran one piece.
Opposing the process: 3 (including the one piece in the Times Colonist) – 13%
Slanted against PR and the process: 7 – 30%
Slanted against PR: 1 – 4%
Slanted for PR: 4 – 17%
Slanted for PR and the process: 1 – 4%
Balanced: 7 (Four out of the seven balanced pieces were by a single columnist in the Prince George Citizen) – 30%
Total negative: 11- 48%
Total positive: 5 – 22%
Total balanced: 7 – 30%
a

Continental Newspapers Limited
The only newspaper in this group to print an opinion piece was the Penticton Herald.
Opposing the process: 1 – 100%
Summary of BC Mainstream Media Opinion Coverage
Opposing the process: 18- 34%
Slanted against PR and the process: 13 – 25%
Slanted against PR: 4 – 8%
Slanted for PR: 7 – 13%
Slanted for PR and the process: 2 – 4%
Balanced: 9 – 17%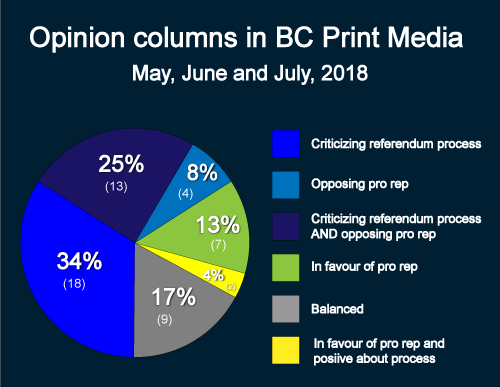 Summary of BC Mainstream Media Opinion Coverage – Positive and Negative
Total negative: 35 – 66%
Total positive: 9 – 17%
Total balanced: 9 – 17%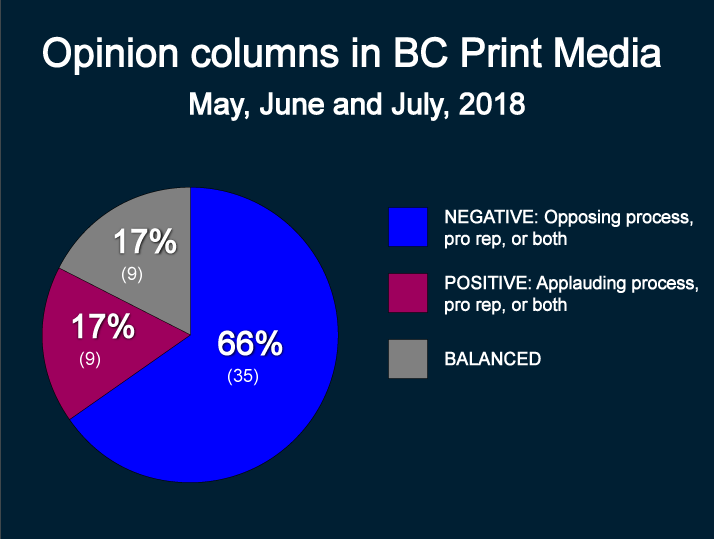 The total number of opinion columns included in this three month study is 53. Thirty-four out of the 53 opposed either proportional representation or the process.
Only 8 were positive towards proportional representation.
However, these numbers do not tell the full story, because the negative columns dominated the newspapers with high circulation – Postmedia papers, or Tom Fletcher's columns reaching community papers across BC – while the positive columns were more likely to appear in a smaller local Black Press paper. Obviously each article does not carry equal weight.
While the majority of the opposition appeared to be about the process, there was a significant overlap between columnists opposing the process and proportional representation. In no case was a columnist who opposed the process speaking out for proportional representation itself.
Often the arguments being used against the process (the Green party allegedly having too much power – the tail wags the dog argument) are the same argument opponents use against proportional representation.
a
Recognition of media who have added the most quality to the conversation
Recognition goes to the Prince George Citizen. This local newspaper printed 8 opinion columns – equal to the much larger Vancouver Sun. Of those columns, 4/8 were by Tracy Summerville, a local opinion columnist who used her columns not to provide an opinion, but to inform voters in a balanced and factual way about the systems on the ballot. Of remaining four columns, two were negative, one was positive, and one was balanced. While this is not ideal, it shows more balance than many of the larger papers.a

Can We Do Better? What Voters Need from their Media in the Next 60 Days
On October 22, BC voters will begin receiving their mail-in ballots. They will be asked if they prefer first-past-the-post or proportional representation, and given the option to rank three proportional systems.  Elections BC will provide information about the three systems to all voters by mail in 14 languages.
Unfortunately this referendum in some respects has become divided along partisan lines, with newspaper chains thought of as "conservative" reinforcing BC Liberal talking points about proportional representation and the process to decide the ballot. 
However, proportional representation is not a partisan issue.
Here's why:
Fundamentally, proportional representation is about ensuring that if a party gets 30% of the vote they receive about 30% of the seats. It's fair to all parties.


a

It ensures that almost all voters–

BC Liberal voters in metro Vancouver, BC Green voters in northern BC–are fairly represented by someone they helped elect, both in their region and in the legislature.


a



The number of voters from each party whose votes didn't help elect an MLA is very similar for each of BC's 3 major parties, about 300,000.


a



Proportional representation ensures that policy has the support of parties representing over 50% of voters, regardless of whether that majority is comprised of left or right leaning MLAs.


a



Proportional systems are used by over 80% of OECD countries and are in fact the most common type of electoral system in the world. In many cases proportional representation was brought in by right-leaning governments.


a



Proportional systems are used in countries governed by the left, centre and right. Governments change with voter preferences.


a




13 Canadian assemblies, commissions and committees over the years have recommended proportional representation.
None of this is partisan.
The second challenge is the predominant focus on the process that was used to decide the ballot question.
BC voters rely on media to expose government bias, praise, criticize and shine a light on government processes. Acting as a mouthpiece for any party is not serving BC voters well.
The ongoing provision of subjective opinions about the quality of the process being used to decide the question (see analysis below) is using space that could be used to help voters understand the bigger issues they will be voting on.
How can the media help?
a
BC voters of all stripes need the help of influential mainstream media columnists to understand the implications of both first-past-the-post and proportional representation on representation, decision making and policy.
Decades of research is available on the implications of proportional systems on the quality of representation, decision making and policy, and Canadian electoral reform experts are willing to provide insight on  it.
Helpful investigation by journalists can include anecdotal stories, but must go beyond them to provide context. Choosing certain facts which bolster the argument but are not representative of overall trends does a disservice to readers who are seeking to inform themselves. For example, the statement "It has taken Belgium so long to form governments after an election" ignores the fact that the average time to form government in countries with pro rep is 29 days, and Belgium is an exception. Similarly, the statement "New Zealand now has a coalition that includes a populist party" needs to be expanded upon to look at how that is working out and its relevance to the BC context.
BC's media can provide a valuable service to voters through exploration and insightful analysis of the changes which would come under a proportional system
What will it be like for voters when they have more than one MLA they can contact about issues? (How does this affect me?)
How is decision making affected when two parties must work together?
What impact do voting systems have on the quality of democracy?
What are some of the longer term implications of ongoing compromise and cooperation between parties supported by research
These are the types of conversations that assist BC voters to cast a meaningful vote for or against a change this fall.
We encourage BC's mainstream media to honour the trust most voters place in it and raise the level of debate by providing balanced, fact-based, in-depth coverage of the core issues in this referendum.
a
Appendix 1


a
Analysis: A Critical Look at Themes and Framing


a



We were unable to systematically evaluate how many opinions were backed up by evidence or the validity of that evidence within the limited scope of this study. However, even without that systematic evaluation, several themes were obvious.
In this analysis we'll cover a few of the most common themes we observed, their validity and contribution to the public's understanding and weighing of the choices in this referendum.
1) Theme One: "The Deck is Stacked" (for pro rep)
The most common commentary was not about what voters will be voting on directly, but the process to decide the ballot question.
Background on the process:
The public consultation by the BC Attorney General's office ended on February 28. It consisted on an online survey that over 91,000 citizens participated in, submissions by over 40 institutions/ stakeholder groups and an IPSOS panel which, compared the responses of a representative group to the submissions received online.
Content for the website and survey was informed by four academic electoral reform experts.
The ballot question was announced by the Attorney General on May 30, 2018
On June 7, 2018, the Chief Electoral Officer pronounced the questions simple and clear.
However, the criticism of the process continued unabated by many regular columnists.
The comments below are a representative sample of opinion expressed in many of the columns:
"deck-stacking exercise" – Vaughn Palmer, April 24, Vancouver Sun
"Eby and his colleagues are reluctant to provide any concrete description or clarity of what the versions of PR will look like in practice" – Keivin Hirji, July 12, The Province
"doing it without even presenting maps of the vast multi-member constituencies, cooking the whole thing up in future leader David Eby's office." – Tom Fletcher, June 10, Black Press
The specific claims against the process have been:
Attorney General David Eby decided the ballot question but he is not really "neutral" and the question should have been decided by a neutral body.




a

The ballot question itself is biased for proportional representation by asking voters to choose between first-past-the-post and proportional representation (instead of just one pro rep system).


a



Maps of riding boundaries for the three proposed systems are not provided.


a




Some design options for each system will be left to an all party committee in consultation with citizens and experts after the referendum, so BC voters don't know now exactly how each system will work.
Is the vehemence by which the process is being attacked by opinion columnists justified?
Consider the following:
In the 2009 referendum the BC Liberal Party cabinet decided the ballot question–not an Attorney General who has removed himself from partisan discussions.


a




There were no consultations with the public or experts about the wording of the question. The BC Liberals chose to replace the 2005 question suggested by the BC Citizens Assembly with a new question. Whether this was a "stacked" process or not,

the media columnists were not nearly so vocal in their opposition to the new question or how it was decided.




a




In every referendum process on electoral reform so far except the 2005 BC Citizens Assembly – Ontario (2007), PEI (2005 and 2016), New Zealand (1992, 1993, 2011), the UK (2011)  and BC (2009) – the government has chosen the question.




a




A variety of questions have been used in electoral reform referendums in Canada and around the world. The question on BC's ballot is a combination of the question used in New Zealand (mandate for change) and PEI (rank your options).




a




There is no researched consensus indicating what kind of question "stacks the deck" either way in an electoral reform referendum. In New Zealand's first referendum, with a similar question to the one on the ballot in BC, pro rep supporters felt the question was biased

against

change.




a




Most countries which have changed their electoral system have done it through an act of legislation (majority vote), not a referendum, so comparisons between questions and processes are limited. This has also been the case for all previous electoral system change in Canada.




a




There is abundant research, however, that the status quo enjoys a significant advantage in any referendum.




a




The question was chosen after the largest public consultation in BC's history, including submissions from 40 stakeholder groups, including those who work with most of Canada's academic electoral reform experts.




a




The systems on the ballot are not unfamiliar. MMP was the second choice of the BC Citizens' Assembly and the system recommended by the most commissions/committees in Canada. The concept of Rural-Urban PR was used for 30 years in two provinces, recommended by Canada's former Chief Electoral Officer (Jean-Pierre Kingsley) and includes STV and MMP (both of which are used in other places). The most unfamiliar system on the ballot is Dual Member PR, which was recommended for inclusion by an academic symposium in BC and garnered the most second place votes on PEI's ballot in 2016.




a




The Attorney General did

not adopt the recommendation of the electoral reform groups to have a question that asked only about the principle of proportional representation, with guaranteed criteria attached to any new system. Instead, voters will also be able to choose between three specific systems.


a



Some design options for each of the systems will be chosen by an all-party committee in consultation with experts and citizens. No single party will have a majority on the committee. The oft-repeated claim that the NDP and Greens together form the majority on the committee is correct, because they represent 57% of BC voters. Since no party will have a majority on the committee, all decisions will need to be made by at least two parties representing a majority of voters. It is hard to argue this is undemocratic.



a




Most electoral reform referendums have not provided detailed boundary maps in advance. 2009 was an exception. For Elections BC to do this work for three systems may not have been possible in the time frame available to have this referendum and implement a proportional system for 2021 – which was what the campaign promise was.




a




Boundaries for a new system will be determined by an impartial boundaries commission that is largely trusted by BC voters.




a




According to electoral reform expert Dennis Pilon, looking at electoral reform processes around the world, "

The NDP government is bending over backwards to offer B.C. a fair referendum process, one that more than passes the smell test when compared to historical or comparative experience."




a




There has been no public opinion polling done on voter attitudes towards the

process

since a

poll

in early April showed 56% were unconcerned about the NDP's process – with the split being mainly along

partisan

lines.
In sum, although most would probably agree the process could have been improved, the opinion held by most columnists that the "deck is stacked" and the "game is rigged" are subjective and aren't backed up by historical or comparative experience.
A good deal of print space about the referendum has been taken up by a mainly subjective, partisan issue that won't be the issue on the ballot for voters.
a
2) Anti-PR themes: The influence of small "extremist" parties and how party lists will work
Fact checking is badly needed in this referendum. Many opinions are being printed as valid arguments that actually are either examples of "cherry picking", i.e. don't reflect overall research or are inconsistent with the Attorney General's report.
Example 1 – Extremist Tail Wags the Dog
"under a PR system, "the tail wags the dog." Fringe elements on both the left and the right take advantage of a system that encourages a proliferation of parties with often wildly radical views and rewards them with a platform in an elected assembly and huge negotiating power with moderates who'd like to form government but need their support to form a government." – Rick Peterson, Vancouver Sun
In fact, electoral reform experts would say that while there are always exceptional events, in general, representatives elected from small parties in proportional systems have small power.

Mainstream parties also tend to exclude "wildly radical" parties with little public support from government because cooperation would carry a political price. Therefore, the influence of these outlier groups is severely restricted.

Arend Lijphart, author of the the most comprehensive research into electoral systems to date – 36 countries over about 55 years – concludes:
"The assertion that PR leads to small extremist parties wielding enormous power is pure nonsense.  What the experience of the many democracies using PR shows is that most of the time small parties have very little negotiating power, and if they're too extreme they have almost zero chance of entering a government." – Arend Lijphart, personal communication, Sept 2/2018
Secondly, the average number of parties in places using the type of proportional systems designed for BC that maintain local representation – with moderately proportional results – is not much more than we see in our current system federally, tending to range between four and six parties.
All of the "fringe" parties combined didn't get 2% of the vote in BC's last election. A party with "wildly radical" views would have a very difficult time winning a seat with the proportional models on the ballot.
Example 2: Party Lists are appointed with less geographical connection/accountability
"Suffice it to say that two of the alternatives involve "list" candidates. These listed lovelies would be picked by parties and stuck into big multi-member districts to top up their popular vote totals, without the bother of actual people running for an actual seat." – Tom Fletcher, Black Press
These assertions are factually incorrect or misleading.
Candidates on a party list would usually be selected to run by party members in nomination meetings. If this means they are "picked by parties" it is in the same sense candidates on the ballot are picked by party members now when there is only one candidate for voters to choose today.
With Mixed Member Proportional (on its own or as part of Rural-Urban PR), the regional candidates are almost always the same candidates also running for local seats.
In the urban areas using Single Transferable Vote, there are no party lists.
With Dual Member Proportional, the candidates are all running locally and there is no list.
a

Conclusion
The assertion that "the deck is stacked" is a subjective opinion with little to support  it when compared to other processes in Canada and around the world.
Fact checking is badly needed. Opinion columnists would better assist voters by accurately reporting how the proposed systems may work and their implications for us here in BC based on what is provided by Elections BC and the ample body of academic research available.
Appendix 2
Summary Table of Results:
https://docs.google.com/spreadsheets/d/1fcyufDs-cji6PDvGnUC7kFh9jcKRV-UJl-TO7IjH5ow/edit#gid=0
References
Attorney General of BC (May 30, 2018). How We Vote: Electoral Reform Referendum Report and Recommendations. https://engage.gov.bc.ca/app/uploads/sites/271/2018/05/How-We-Vote-2018-Electoral-Reform-Referendum-Report-and-Recommendations-of-the-Attorney-General.pdf
Hoff, George. Covering Democracy: The coverage of FPTP vs. MMP in the Ontario Referendum on Electoral Reform, Canadian Journal of Media Studies, Vol. 5(1)  2009.
http://cjms.fims.uwo.ca/issues/05-01/hoff.pdf
Laycock, Renwick, Stephens and Vowles (2012). The UK's electoral reform referendum of May 2011. Electoral Studies, 32, 211-214.
Leduc, Lawrence (2002). Opinion change and voting behaviour in referendums. European Journal of Political Research, 41, 711-732.
http://onlinelibrary.wiley.com/doi/10.1111/1475-6765.00027/full
LeDuc, Lawrence (2006). Referendums and Deliberative Democracy. Prepared for presentation at the International Political Science Association World Congress, Fukuoka, Japan. Retrieved July 6, 2017 from http://paperroom.ipsa.org/papers/paper_5268.pdf
LeDuc, Lawrence. "Referendums and Elections: How Do Campaigns Differ?", in David M Farrell and Rüdiger Schmitt-Beck, Do Political Campaigns Matter?  Campaign Effects in Elections and Referendums (London: Routledge, 2001), pp. 145–62.
LeDuc, Lawrence, Bastedo, Heather and Baquero, Catherine (2008). The Quiet Referendum: Why Electoral Reform Failed in Ontario. Retrieved from:
https://www.researchgate.net/publication/241761020_The_Quiet_Referendum_Why_Electoral_Reform_Failed_in_Ontario
Lijphart, Arend (2012). Patterns of Democracy. Government Forms and Performance in 36 Countries. New Haven, CT: Yale Press
Lupia, Arthur. Special Committee on Electoral Reform, Evidence, October 25, 2016. Retrieved July 6, 2017 from http://www.ourcommons.ca/DocumentViewer/en/42-1/ERRE/meeting-45/evidence
Pilon, Dennis (2009). Investigating Media as a Deliberative Space: Newspaper Opinions about Voting Systems in the 2007 Ontario Provincial Referendum. Canadian Political Science Review, 3(3).
Pilon, Dennis (2010). The 2005 and 2009 Referenda on Voting System Change in British Columbia. Canadian Political Science Review. Retrieved July 7, 2017 from https://ojs.unbc.ca/index.php/cpsr/article/viewFile/251/301

Renwick, Alan. (2014). Scotland's Independence Referendum: Do We Already Know the Result? Retrieved July 6, 2017 from:
http://blogs.reading.ac.uk/readingpolitics/2014/01/15/scotlands-independence-referendum-do-we-already-know-the-result/
Renwick, Alan and Lamb, Michael (2012). The quality of referendum debate: The UK's electoral system referendum in the print media. Electoral Studies, 32, 294-304.
Vowles, Jack (2012). Campaign claims, partisan cues, and media effects in the 2011
British Electoral System Referendum. Electoral Studies, 32, 253-264.
Weichelt, Marion (2013). Switzerland: Where the people co-govern via referenda & initiatives. New Zealand Centre for Political Research. Retrieved July 6, 2017 from
http://www.nzcpr.com/switzerland-where-the-people-co-govern-via-referenda-and-popular-initiatives/
Background
In 2015, three parties - the Liberals, the NDP and the Greens, representing 63% of voters - promised that if elected, 2015 would be the last election under first-past-the-post.
The NDP and Greens promised to implement proportional representation. The Liberals promised to end first-past-the-post, listen to expert advice and follow evidence-based policy on electoral reform, and to "make every vote count."