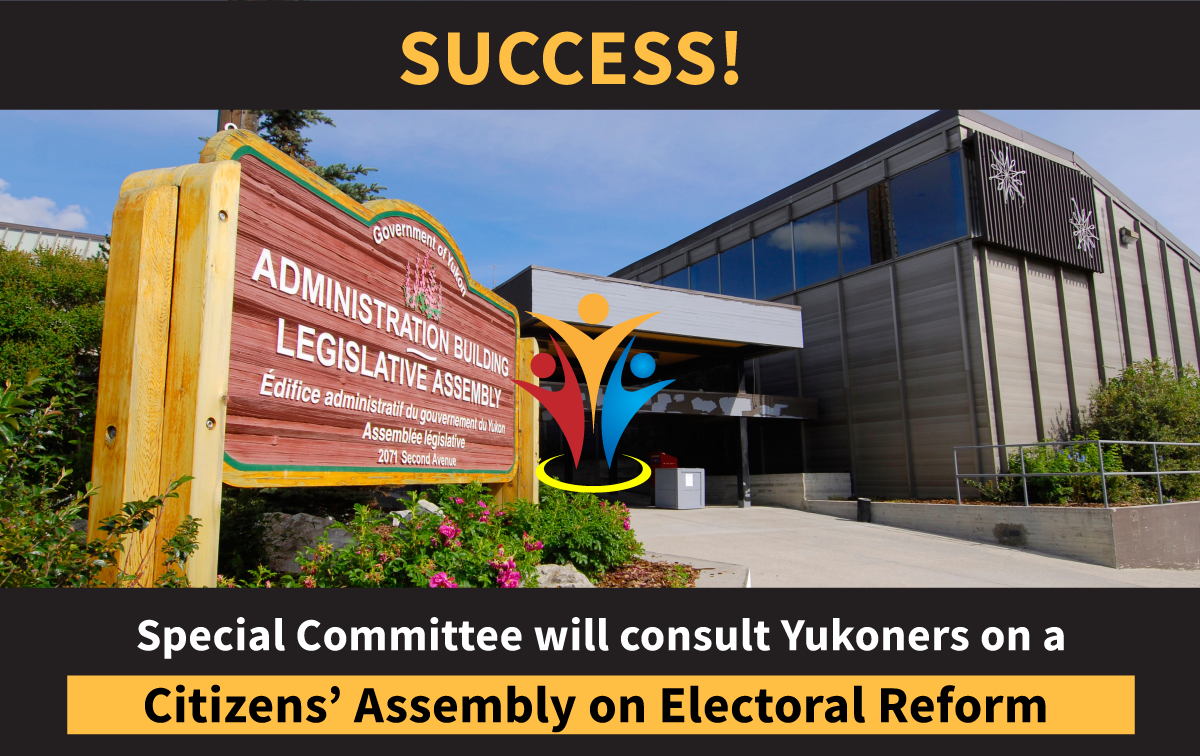 Proportional representation campaigners have won a crucial next step in the Yukon! 

Yukon's Special Committee on Electoral Reform has announced that they will consult Yukoners on the creation of a Citizens' Assembly on Electoral Reform!

This breakthrough wouldn't have happened without the relentless work of passionate and dedicated volunteers in Fair Vote Yukon.

In 2021, Yukon voters elected a minority government. The Yukon NDP and Yukon Liberals signed a Confidence and Supply Agreement.
The Yukon NDP won a breakthrough in their Confidence and Supply Agreement that the federal NDP couldn't get from Justin Trudeau: another chance at real electoral reform.

Critically, the agreement included a promise to convene an all-party committee and consult Yukoners on electoral reform.

Unfortunately, the committee's public education was a trainwreck―a website describing the technical details of no less than nine different voting systems. 
That's when Fair Vote Yukon launched a huge local ad campaign! Yukoners saw Fair Vote Yukon's newspaper ads in both of their major paper―for six weeks!

Beyond a doubt, Fair Vote Canada supporters and volunteers made the difference.

Fair Vote Yukon, a 100% volunteer-led team, have worked tirelessly in the Yukon over the past year. They ensured that the voices of citizens who want a stronger democracy were heard loud and clear:

Fair Vote Yukon

testified

before the committee, making a passionate case for a Yukon Citizens' Assembly on Electoral Reform

Fair Vote Canada

made a presentation

to the committee about the strength of citizens' assemblies and the pitfalls of referendums, and provided an expert

submission

on electoral reform

Fair Vote Canada supporters across Canada chipped in for six weeks of print and online

ads

in the Yukon News, the Whitehorse Star and

L'Aurore boréale (Yukon's French newspaper), with ads designed by a local Yukon artist

Fair Vote Yukon reached out to the community at the Whitehorse market this summer about the benefits of electoral reform

Proportional representation supporters across the territory showed up at public hearings to speak up for a Citizens' Assembly on Electoral Reform.
As Committee Chair and MLA Kate White told CBC Radio this week, the committee got message that a Citizens' Assembly on Electoral Reform is the "gold standard":

"A Citizen's Assembly belongs to the people―as opposed to the political parties that could benefit or not benefit from changes to the electoral system."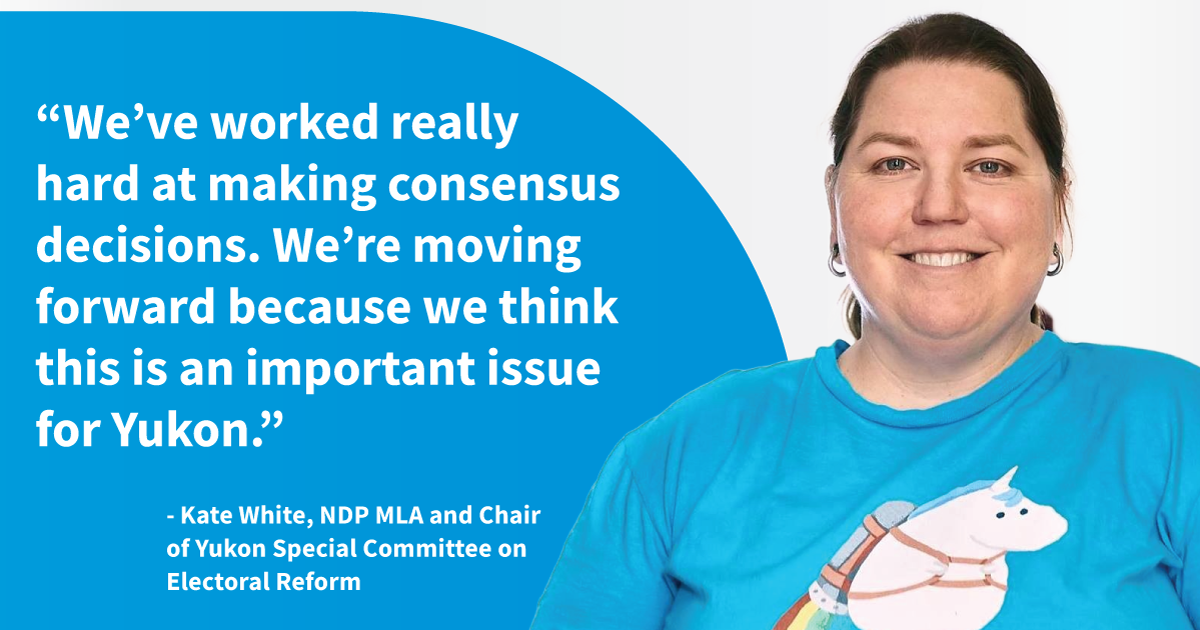 Now the Electoral Reform Committee has been granted an extension so they can work with the Yukon Bureau of Statistics on a final survey to all Yukoners. 
This time, the question couldn't be more important:

Will Yukoners support a Citizens' Assembly on Electoral Reform?

This campaign isn't over yet.
Yukon voters will need education―quickly―about what a Citizens' Assembly on Electoral Reform is, and how it can drive change.

We can't count on the politicians alone to get it right.
But for today, let's celebrate.

This victory shows us what we know is true:
Together, we can do this.