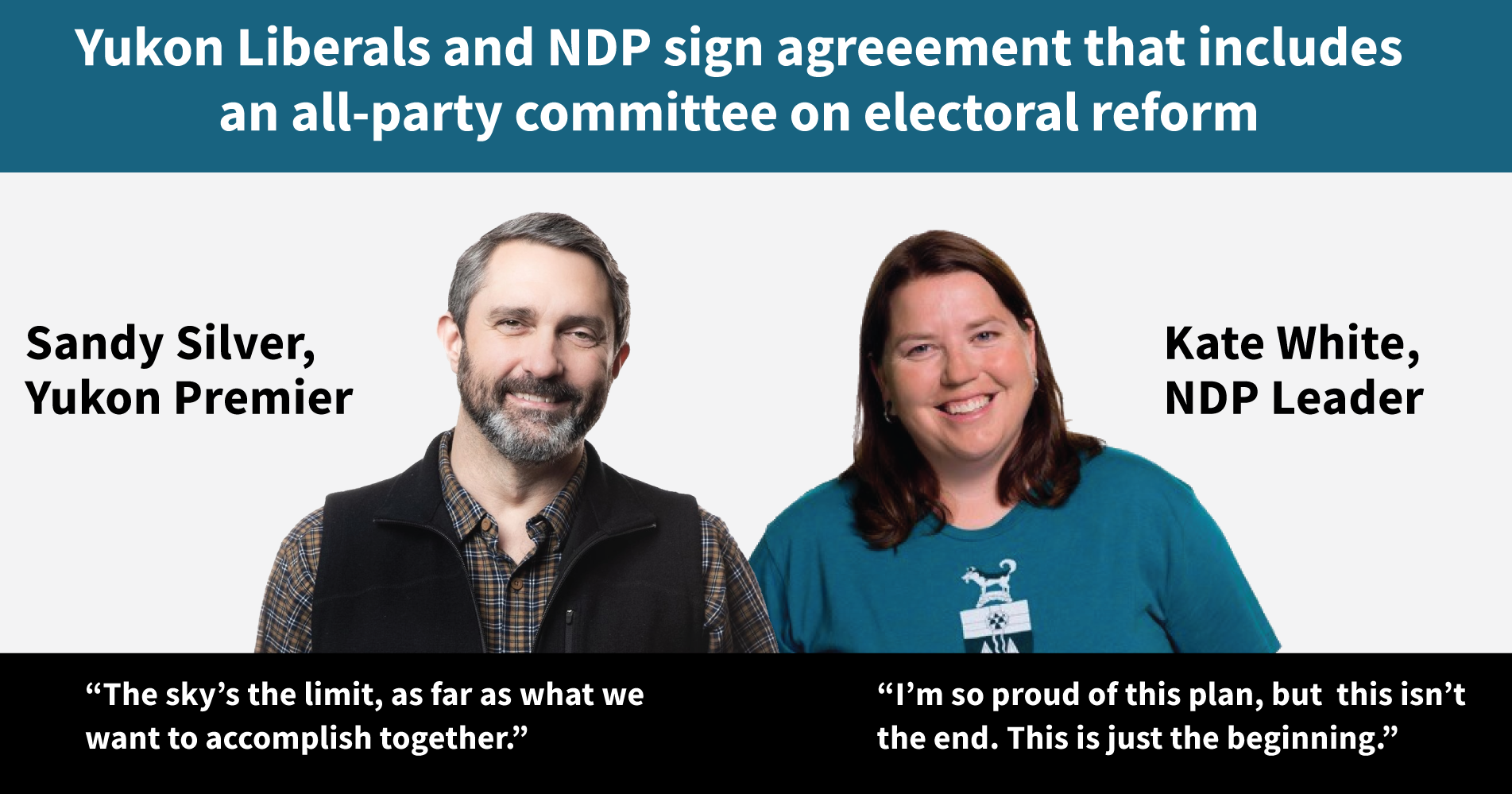 Fair Vote Yukon congratulates the Yukon Liberals and Yukon NDP for signing an historic Confidence and Supply Agreement with a commitment to a Legislative Assembly Special Committee on Electoral Reform. 
The Confidence and Supply Agreement states that the Special Committee will have an equal number of MLAs from each party, and promises it will bring recommendations on electoral reform to the Legislature by March 31, 2022.
Fair Vote Yukon is calling on all parties to back a Yukon Citizens' Assembly on Electoral Reform, and is urging the committee to put a Citizens' Assembly at the top of their agenda.
Support to move forward with electoral reform is strong in the Yukon. A public consultation in the last legislature showed that 61.5 percent of respondents wanted "options to ensure our electoral system captures the intentions of voters as well as possible" as their top priority.
"Yukon citizens need a process we can trust," said Fair Vote Yukon's Sally Wright. "Too often, partisan self-interest has scuttled progress. A new multi-party committee of MLAs is a hopeful first step, but to be truly inclusive of Yukon's diverse population and free of partisan interests, we need to put citizens in the driver's seat."

A similar model was the BC Citizens' Assembly on Electoral Reform, a model which could be adapted for the unique needs of Yukoners and instill public confidence in the process.

A 2020 report from the OECD of best practices from almost 300 similar processes around the world shows that citizens assemblies can be trusted with complex and challenging issues. 
Yukon's recent election results laid bare the glaring problems with Yukon's winner-take-all voting system. 
The Yukon Party got more voter support than the Liberals, but both won 8 seats. The NDP got over 28% of the vote – only 4% less than the Liberals – but only 3 seats. 
Yukon voters did not get the legislature they voted for. As with most elections, over half of voters (52.3%) elected nobody. 
"We look forward to a modern voting system that values equality, where every voter really counts," says Fair Vote Yukon's Sally Wright. "We urge all MLAs to back a Yukon Citizens' Assembly to deliver meaningful change for Yukon voters."
###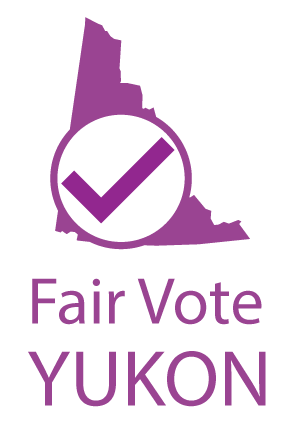 Fair Vote Yukon is a grassroots citizens' campaign for proportional representation.