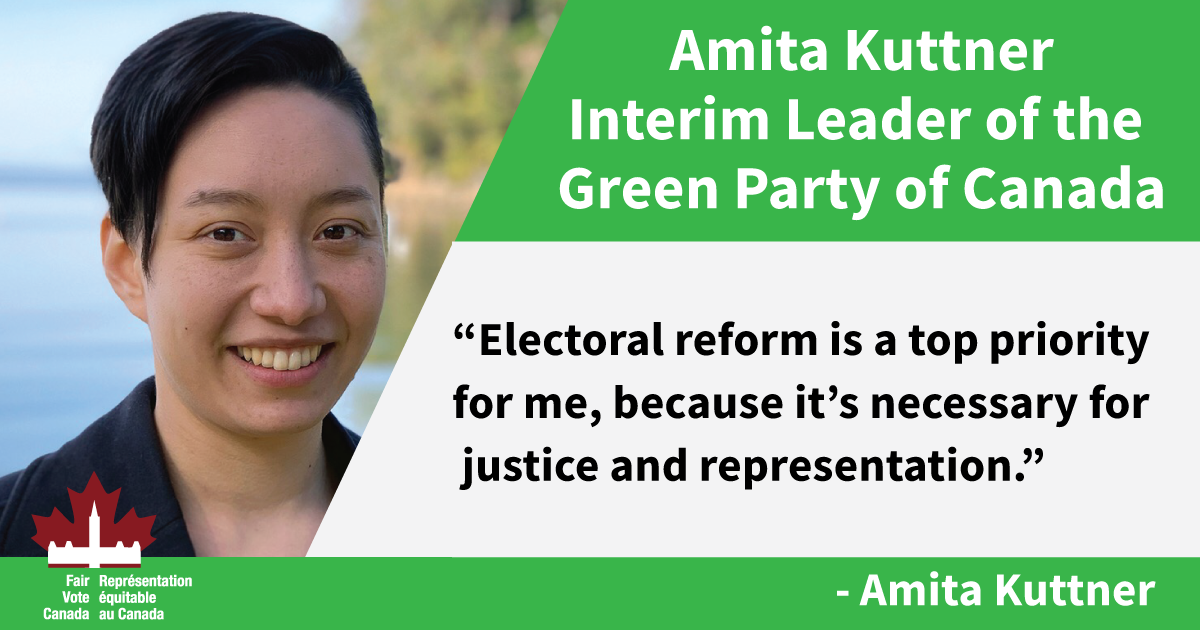 Fair Vote Canada congratulates Amita Kuttner on their appointment as Interim Leader of the Green Party of Canada.
Amita has been a strong and consistent champion of proportional representation and a National Citizens' Assembly on Electoral Reform.
In 2018, they helped Fair Vote Canada's local team campaign during the BC referendum.
In 2019, they joined Fair Vote Canada's local team to promote PR at their table during Vancouver's Pride celebration (picture below).
When they ran for the Green Party leadership in 2020, Fair Vote Canada gave Amita Kuttner an "A" grade on their position on proportional representation. They stated:
"Electoral reform is absolutely a top priority for me, because it's necessary for justice and representation. And I think given the urgency we need to take a pragmatic approach from many directions, making sure that we take every opportunity that we have. So immediately, as leader of the Green Party, I will continue to work with other parties to implement a Citizens' Assembly and to foster the broad support we will need across the country, I will work with every NGO that's willing to get that communicated."
Fair Vote Canada wishes Dr. Kuttner success in their new role.
NOTE: The role of a Green Party leader is to be a spokesperson for the membership. They do not decide policy. Amita's personal opinion in support of a National Citizens' Assembly on Electoral Reform is consistent with the Green Party platform on this issue in the 2019 and 2021 election.