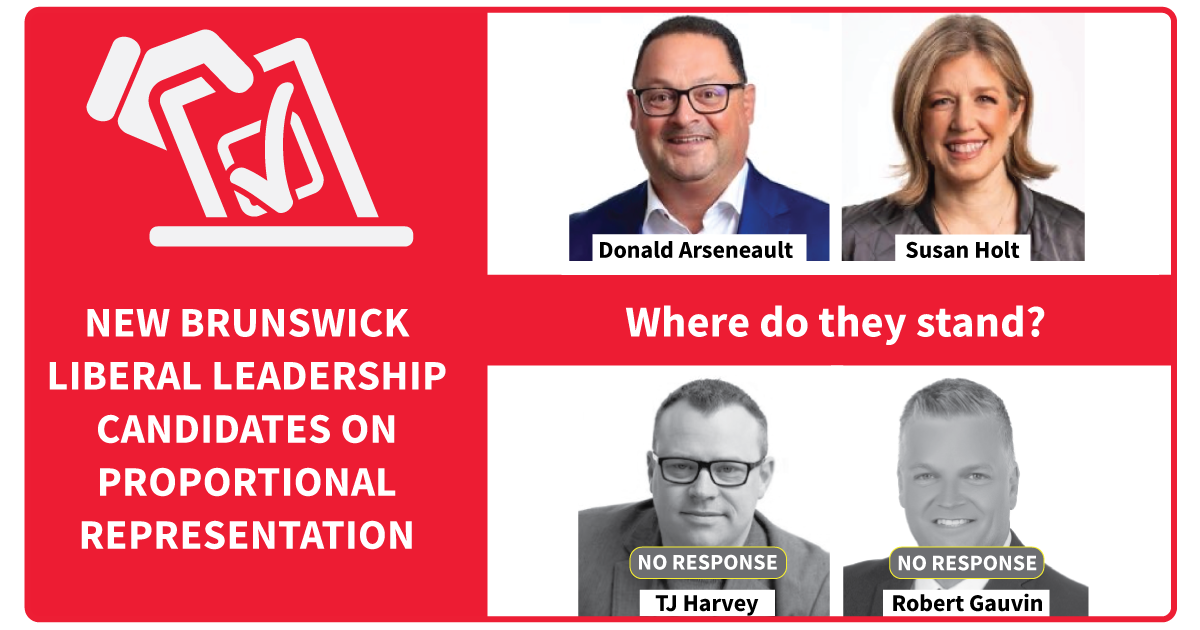 New Brunswick Liberal leadership candidates on electoral reform
FOR IMMEDIATE RELEASE
The New Brunswick Liberal Party is electing a new leader on August 6. Fair Vote Canada's Fredericton chapter asked the leadership candidates where they stand on proportional representation and a Citizens' Assembly on Electoral Reform, an independent, non-partisan process supported by Fair Vote Canada.
Leadership candidate Susan Holt responded that she does not feel the current system accurately reflects the will of New Brunswick voters. She would make electoral reform a priority. Susan supports a Citizens' Assembly on Electoral Reform, and would move forward quickly with its recommendations.
Leadership candidate Donald Arsenault indicated he supports a winner-take-all ranked ballot system. This non-proportional system was recommended by only 4% of the experts who testified to the federal electoral reform committee, and can deliver results more distorted than first-past-the-post. Donald opposes Mixed Member Proportional Representation in particular – recommended by the New Brunswick Commission on Legislative Democracy in 2004 – but did not comment on other forms of PR. He would not commit to a Citizens' Assembly.

Read their full response to our questions here.
The other two leadership candidates – TJ Harvey and Robert Gauvin – did not respond.

"I'm very appreciative of the two candidates who took the time to respond," says Vivian Unger, from Fair Vote Fredericton. "I know that a campaign takes a lot of work and time. I think their answers will be helpful to undecided voters who care about improving democracy in New Brunswick. They've certainly clarified the choice for me."
In the last provincial election, 39% of New Brunswick voters chose the Progressive Conservatives, but first-past-the-post handed them 55% of seats in the Legislative Assembly. 
###
Fair Vote Canada is a national citizens' campaign for proportional representation. We support a National Citizens' Assembly on Electoral Reform, as well citizens' assemblies on electoral reform at the provincial level. 
Media contact: Vivian Unger, Fair Vote Fredericton, [email protected]