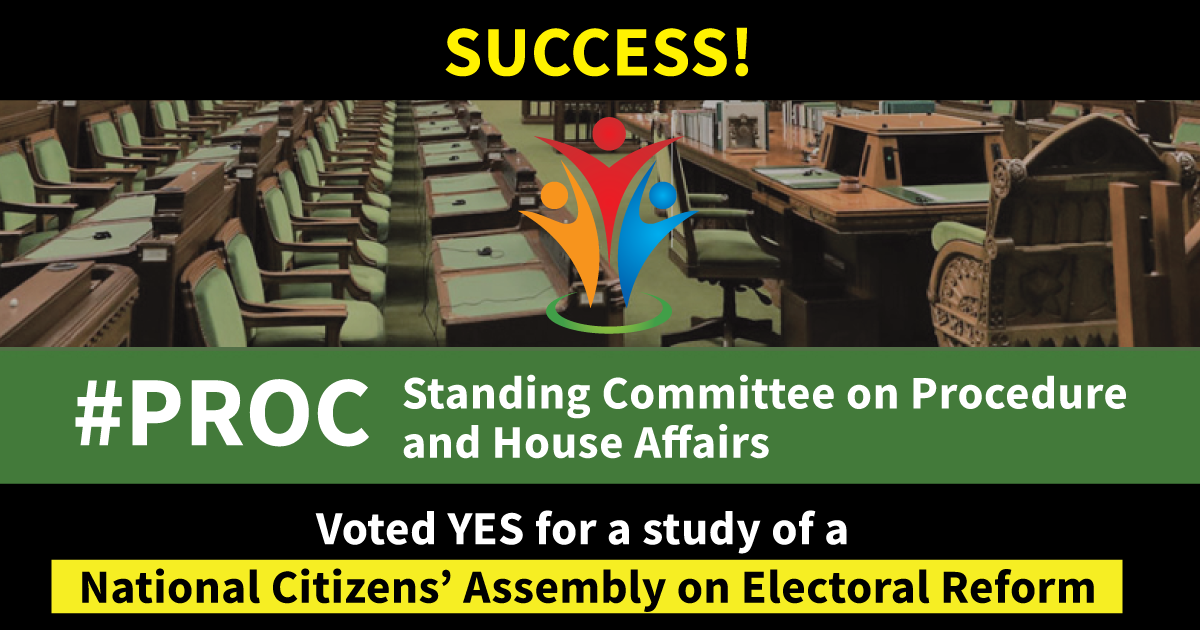 BREAKING NEWS! PROC committee votes YES to a study of a National Citizens' Assembly on Electoral Reform!
Canadians who want to make every vote count have won a breakthrough – a crucial next step for electoral reform!
On June 22, 2021, three parties (Liberals, NDP and Bloc) voted for NDP Democratic Reform Critic Daniel Blaikie's motion at the Procedures and House Affairs (PROC) committee to study a National Citizens' Assembly on Electoral Reform. The Green Party also supports this, but did not have a seat on this committee.
The vote passed 7- 4, with only the Conservatives voting against it. You can watch the meeting here.
To all who sent letters to the MPs on the committee, Minister Dominic LeBlanc and Prime Minister Justin Trudeau – THANK YOU.
To all who have been visiting MPs of all parties about a National Citizens' Assembly on Electoral Reform over the past months – THANK YOU.
To the thousands who have been working tirelessly with us for years (sometimes decades) for proportional representation – we couldn't have won this vote without you!
During the meeting, NDP MP Daniel Blaikie, the Liberal MPs and the Bloc MP agreed to an amendment from the Conservative Party – in an obvious effort to build support for the motion and show cross-party cooperation.
An amendment from the Liberal Party to enhance the study was also passed. Liberal MP Ryan Turnbull spoke passionately and at length about the power of citizens' assemblies.
You can read the full text of the motion at the bottom of this email.
What Happens Next? 
As we all know, winner-take-all voting systems often mean a government will force an early election. The power of the coveted "majority" government  – with 40% of the vote – is almost irresistible to party leaders and their backroom advisors. 
When the Liberals called an early election for September 2021, that meant the work of the PROC committee (winning this vote) did not carry over. MP Daniel Blaikie has committed to reintroducing this motion to the new PROC committee in this current Parliament. Fair Vote Canada will be mobilizing citizens again to lobby the MPs on the PROC committee before the vote! 
MOTION PASSED
"That, pursuant to Standing Order 108 (3)(a)(vi), the committee undertake a study on the advisability of establishing a National Citizens' Assembly on Electoral Reform to make recommendations about how to improve Canada's electoral system, including the question of how Canadians elect Members of Parliament and how the make up of Parliament reflects the votes cast by Canadians; 
that the committee's study shall include an examination of: 
(a) the terms of reference for such as assembly; 
(b) the composition of such an assembly; 
(c) a timeline for the completion of such an assembly's work; 
(d) public reporting requirements for such an assembly; 
(e) the resources required to support the work of throughout the process; 
(f) any other matters the committee deems pertinent to voting reform, including the need for a national referendum in order for Canadians to have the opportunity to approve any proposed changes to Canada's democratic system;
that the committee report back to the House, and; 
that the committee's report either (l) recommend not to proceed with such an assembly or (II) recommend to proceed with such an assembly and include a detailed plan for how to proceed that provides for the issues raised in items (a)-(f); 
and that the committee, in the course of this study, also examine the question of how citizen assemblies can be used more generally as a tool to drive citizen engagement in the policy-making process on a wide variety of issues and report its findings to the House in a separate report."