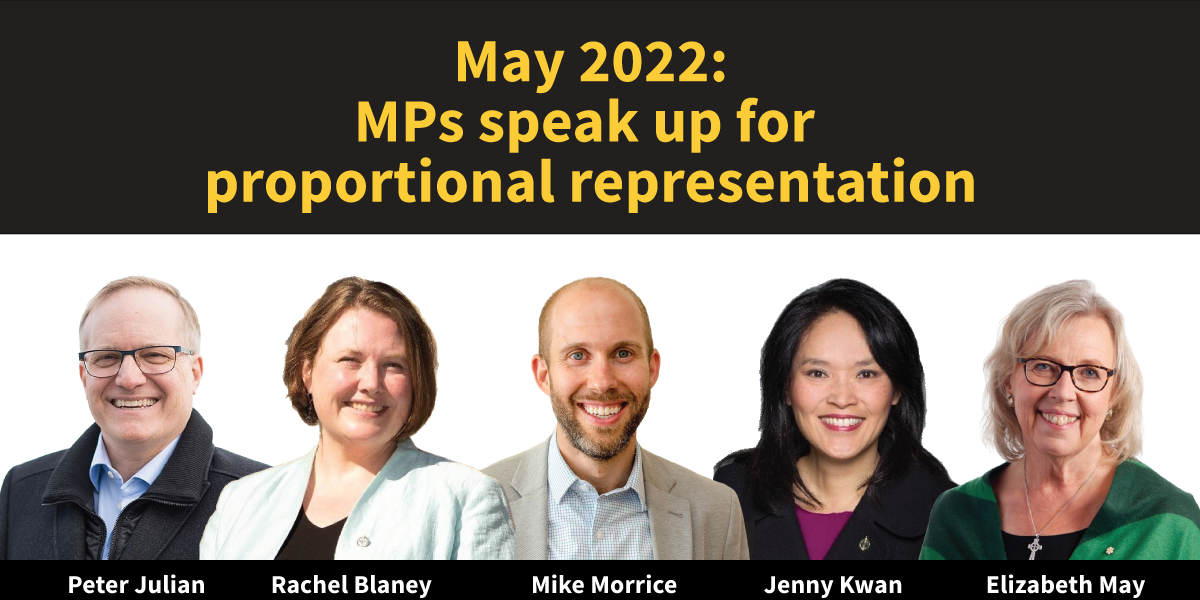 Your voices for proportional representation are being heard!
On Monday May 16, multiple MPs spoke up for proportional representation and a National Citizens' Assembly on Electoral Reform in the House of Commons.

Kitchener Centre MP Mike Morrice devoted a large part of his ten minute speech on bill C-14 to proportional representation. Here is an excerpt from Mike's comments: 
Millions of Canadians's votes are not reflected in the makeup of the elected parliamentarians in this place.
For my part, I spent the last number of years knocking on door after door in my community, and one of the most difficult conversations I had was with neighbours of mine who told me, "You know what? I'm not planning to vote at all. My vote doesn't count. It hasn't counted before, and I have given up on the partisan, toxic nature of that place. Move on."
It was a sad moment to recognize that so many, not only in Kitchener but across the country, have just given up on our democracy.
I recognize that they are looking for our parliamentarians to say that every single vote should count. Addressing this means bringing in legislation for proportional representation in the way that so many other democracies around the world have, and recognizing that the percentage of seats in this place should recognize the percentage of people who voted for a party.
Mike also posted a similar question he asked during Question Period on Facebook, thanking Fair Vote Canada for our work. You can share that post here!

North Island—Powell River MP Rachel Blaney talked about how important proportional representation is to her constituents, who are frustrated and disheartened by the Liberal's broken promise and are pushing for a National Citizens' Assembly on Electoral Reform. Here is an excerpt from Rachel's comments:
What I found interesting was that many constituents who were concerned about electoral reform, and who had a lot of things they wanted to explore further, felt very upset. They were frustrated that they did not get a voice…
I heard from a lot of constituents that they felt frustrated and that they felt that the Liberals just wanted a ranked ballot, and that was not what they wanted to see in our electoral process…
I hope the government will start to listen to those voices and take into account that when we have a system that allows people to have a voice, they want to speak out…
We want multiple voices so that when decisions are made, they are made in comprehensive ways that take in all of those different points of view and assessments.
We continue to encourage this to happen. I know that we will continue to do the work. Hopefully we will see a study in PROC that actually gets to what we need to see happen across this country around a Citizens' Assembly so that the work can start. It is really important. Many people in my riding have come forward and presented this idea to me multiple times with a lot of passion and energy.

Vancouver East MP Jenny Kwan talked about how the broken promise had fueled distrust in democracy:
Prior to the 2015 election, the Prime Minister promised Canadians that would be the last first-past-the-post election that we would have. Of course, when the Liberals formed government, that was all but forgotten, even though the House had engaged in extensive work with regard to proportional representation.

Saanich—Gulf Islands MP Elizabeth May spoke about how first-past-the-post was making urban-rural divisions worse, because the diversity of political views in rural areas are not represented. Elizabeth's comments:
I am going to ask my friend the question I was going to ask the member for Cypress Hills—Grasslands about the ways in which our voting system tends to enforce notions of regional difference and further isolate. The hon. member for Cypress Hills—Grasslands was saying that rural Canadians do not get represented properly in this country, and partly that is because of first past the post.
In Saskatchewan, in the last election, 20% of voters voted for the New Democratic Party, but none of the members represent that particular viewpoint. If we had proportional representation, we would have members from the governing party probably in cabinet and members of other parties raising the voice of concern for more rural Canadians.

New Westminster—Burnaby MP Peter Julian spoke about how voters in Quebec are not fairly represented with first-past-the-post. Here is an excerpt from Peter's comments:
Although we will be voting in favour of this bill, we must also remember that it is missing something, and that is the important notion of proportional representation.
I will remind the House that a few years ago, in 2015, our Prime Minister promised that the election that had just taken place would be the last non-proportional election, a promise he was quick to break. However, if proportional representation were applied to Quebec, it would greatly change the composition of the House of Commons.
When we look at representation in the House, we cannot forget this important element. It is not just about the number of seats. At the end of the day, the members who are elected must be elected in a way that respects the voters' choice. The NDP has been advocating for this principle for years.
Voices for for proportional representation in Canada are strong – and growing.
Conservative MP Michelle Rempel's piece this year encouraging Conservatives to reconsider proportional representation shows the ground is shifting on the right.
Liberal MPs Nathaniel Erskine Smith and Wayne Long are dedicated advocates of proportional representation who support the call for a National Citizens' Assembly on Electoral Reform.
Your visits to MPs, the hundreds of thousands of door hangers you delivered in the last federal election, your letters to the editor, and your voices on social media are driving the conversation forward.
Proportional representation is a gamechanger—and we won't give up until we win.