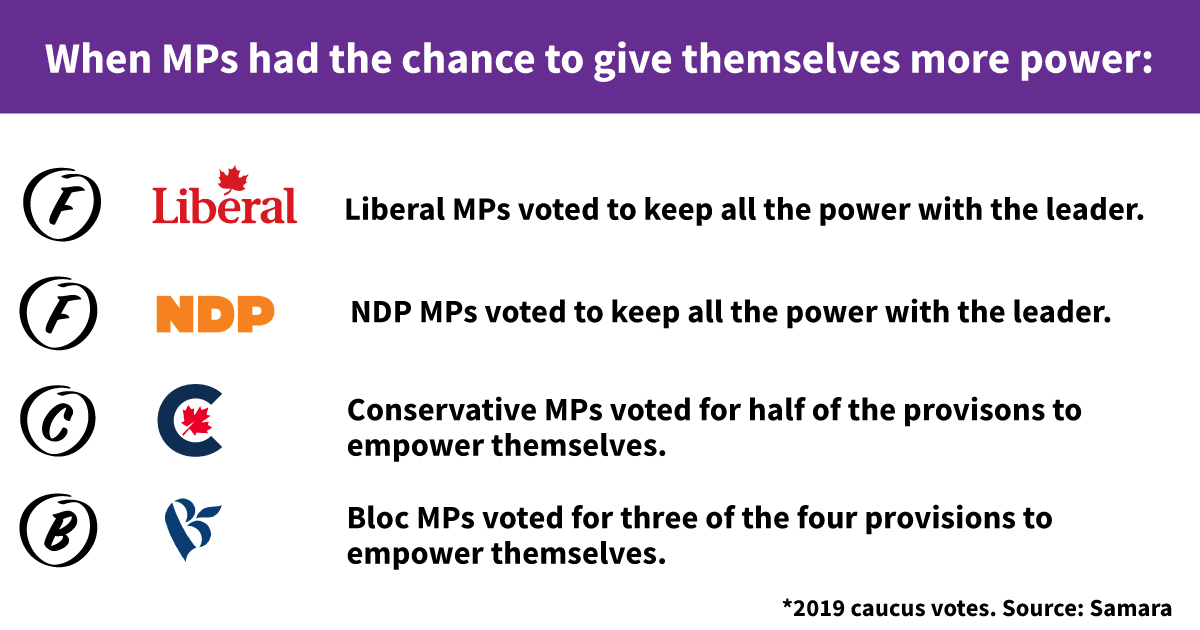 MPs must empower themselves, vote YES to Reform Act provisions
Two weeks ago, Canadians elected candidates from across the country.  The first of those new Members of Parliament began to arrive in Ottawa for orientation sessions and to stake out new offices last week.
Parliament is unlikely to reconvene until the end of fall.  MPs won't vote on a bill for several weeks, but their most important vote of the session may come much sooner.
Before Parliament resumes, party caucuses will meet and vote to determine who wields power: the MPs Canadians elected or their party leaders.  In 2013, Conservative MP Michael Chong proposed the Reform Act to empower MPs to properly represent their constituents, even when doing so might not curry favour with party leaders.  The hope was that the bill would "restore a system of checks and balances that would shift some power away from party leaders towards MPs and their party caucuses".
The Reform Act quickly attracted support, but in order for it to pass party leaders demanded that it be conditional.  The Reform Act provisions would only apply if MPs voted at their first caucus to keep their powers for themselves.  If they choose to delegate powers to their leader, those powers would be lost to them at least until the next election.
This version of the Reform Act passed and became part of the Parliament of Canada Act (Sections 49.1-49.8 specifically).  Unfortunately since the law has required these votes, some parties have simply refused to follow the law and hold the required votes.  Others have voted, but chosen to leave all the power in the hands of party leaders.
The Conservative caucus is scheduled to meet on Tuesday.  Other parties are yet to announce the date of their caucus meetings.
In the coming days, MPs have the power to empower themselves, and to devote themselves to serving their constituents and Canadians, or they could trust their party leaders to make decisions for them.
Fair Vote Canada calls on all MPs to vote YES in all of the required caucus votes.  
Canadians are sending local representatives to Ottawa to represent them.  MPs must represent their constituents, not simply trust their party's leader to do what is best for their riding.
When Parliament resumes, MPs should take their power back permanently, by passing legislation to make the Reform Act provisions mandatory for all caucuses.