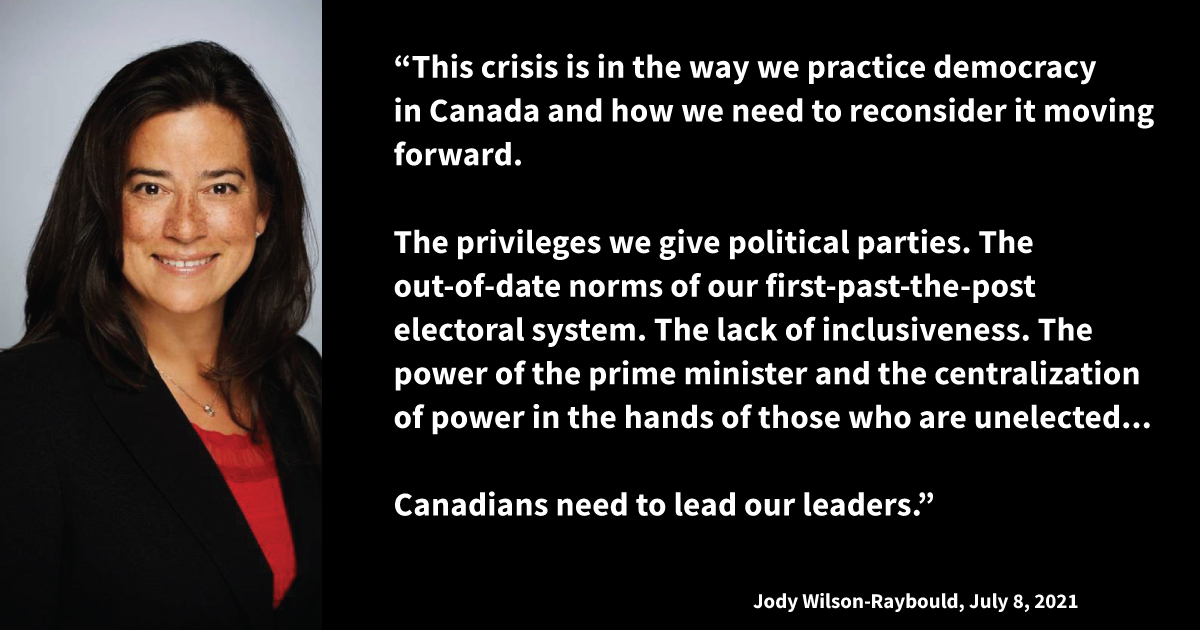 JWR says the system is broken. The fix? Liberal MPs just voted YES to study a National Citizens' Assembly on Electoral Reform!
Jody Wilson Raybould's letter to constituents outlined the dire state of Canadian politics:
"Toxic"
"Ineffective"
"Marginalizing individuals from certain backgrounds"
"A disgraceful triumph of harmful partisanship over substantive action"
She calls out the utter failure of the first-past-the-post electoral system.

The solution?

"Canadians need to lead our leaders."

On June 22, 2021, the Liberals, NDP and Bloc voted YES at a committee of Parliament to a motion by NDP Democratic Reform Critic Daniel Blaikie to study a transformational step towards citizen leadership to fix our politics:

A National Citizens' Assembly on Electoral Reform.
Liberal MP Ryan Turnbull spoke passionately in favour citizens' assemblies:

"The point that I want to make here—and why this has so much potential that I feel really strongly about—is that I think it starts to get at the root causes of the issue in a unique way.

It transcends the polarization of our political dialogue, which I think is one of the really key values to this type of process. I think it can account for regional differences in Canada, which I think often lead to polarization in our dialogues and debates.
You get buy-in on solutions that are proposed from many different stakeholders, who then may naturally row in the same direction. It engenders trust in the democratic process and the institutions. It builds agreement and acceptance around policy decisions. It demonstrates the many challenges in understanding and tackling complex issues." 
Are the politicians serious about letting citizens lead?

Will this commitment be ditched without a second thought when a snap election is called in a blatant attempt to grab all the power?
It's a question that Canadians should be asking every party leader.

As Wilson-Raybould said:

"Good governance, democratic principles, and integrity matter—more so than partisanship."
###   
Fair Vote Canada is a grassroots national citizens' campaign for proportional representation. 
MOTION PASSED by the House Procedures & Affairs Committee on JUNE 22, 2021
"That, pursuant to Standing Order 108 (3)(a)(vi), the committee undertake a study on the advisability of establishing a National Citizens' Assembly on Electoral Reform to make recommendations about how to improve Canada's electoral system, including the question of how Canadians elect Members of Parliament and how the make up of Parliament reflects the votes cast by Canadians; 
that the committee's study shall include an examination of: 
(a) the terms of reference for such as assembly; 
(b) the composition of such an assembly; 
(c) a timeline for the completion of such an assembly's work; 
(d) public reporting requirements for such an assembly; 
(e) the resources required to support the work of throughout the process; 
(f) any other matters the committee deems pertinent to voting reform, including the need for a national referendum in order for Canadians to have the opportunity to approve any proposed changes to Canada's democratic system;
that the committee report back to the House, and; 
that the committee's report either (l) recommend not to proceed with such an assembly or (II) recommend to proceed with such an assembly and include a detailed plan for how to proceed that provides for the issues raised in items (a)-(f); 
and that the committee, in the course of this study, also examine the question of how citizen assemblies can be used more generally as a tool to drive citizen engagement in the policy-making process on a wide variety of issues and report its findings to the House in a separate report."