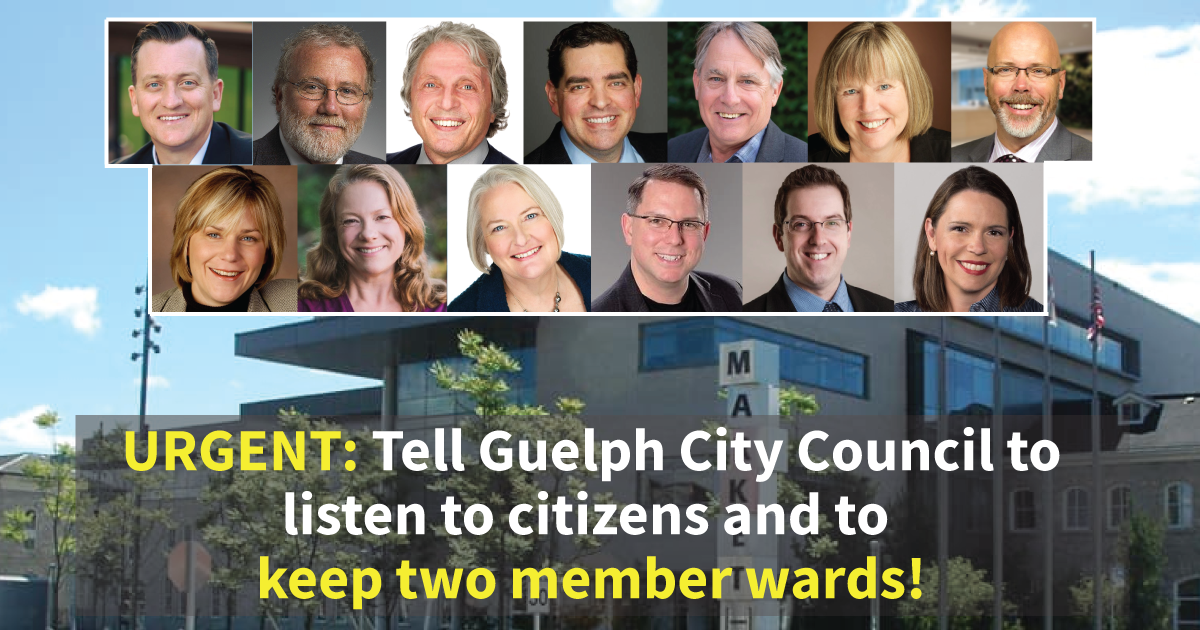 Act now to tell Guelph city council to listen to Guelph residents and keep two member wards!
The final report from the consultants is in, and shockingly, they are still not listening to the citizens of Guelph!
No matter how many times in the past ten months a strong majority say they want to keep two member wards in Guelph. In the final round of consultations, 65% of people wanted one of the two member per ward options, and 35% wanted single member wards.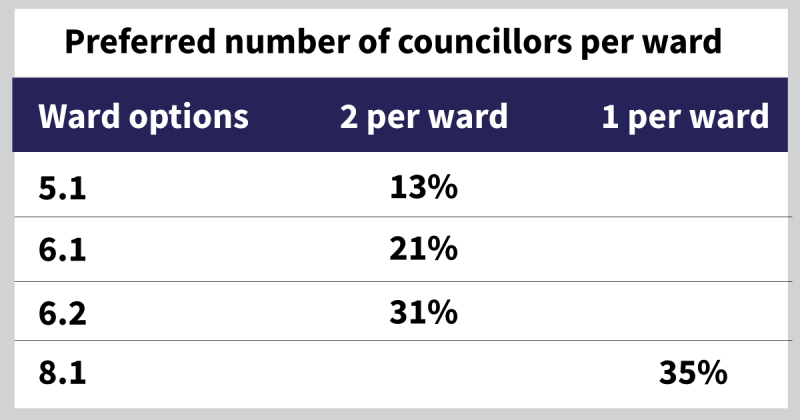 Yet the consultants continue to tell city council to implement unpopular single member wards instead.
As Democracy Guelph states:
It is frankly offensive that the citizens of Guelph have paid tens (if not hundreds) of thousands of dollars for a consultant to ignore public input and then suggest to those same citizens that they pay more for less. City Council should reject the consultant's proposal.
There is a special city council meeting to consider the consultant's final recommendations on June 21. The city councillors will make a final decision June 23.
We have only days left to speak up and ask city councillors to preserve the kind of representation most Guelph citizens want!
You can help! Please send a letter to city council now:

To recap what's happened so far:
The results from the first phase of the consultations in fall of 2020 were clear:
A majority of participants – 52.6% wanted to keep two member wards. Only 34.9% wanted single member wards
Yet the consultants recommended the opposite of what citizens wanted. The consultant's November report recommended reducing City Council to 8 councillors and adopting single member wards.
Fair Vote Guelph and Democracy Guelph partnered to commission a polling company to ask a representative sample of Guelph residents – to see how well public opinion lined up with the consultant's survey results.
The poll also showed that a majority of residents preferred to maintain two-member wards and only 25% wanted single member wards.
Citizens like having a choice of representatives to turn to!
The poll also found that 66% wanted to keep 12 councillors – not reduce the size of city council, as the consultants are recommending.
At a lively city council meeting in November 2020, the councillors heard from residents.
Instead of rubber-stamping the consultant's recommendation, the consultation was expanded.
In February 2021, the consultants asked residents to weigh in on 13 different options.
In April, 2021, they narrowed it down to four options – three of which included two member wards.
Here were the results of the final consultation, in the final report from the consultants (June 2021):
65% of people wanted one of the two member per ward options, and 35% wanted single member wards.
The consultant's final report also states:
"The data also suggests a preference for a two-member ward configuration compared to a single member configuration (65% compared to 35%)."
It goes on to say:
"Further, the reaction to option 8-1 (the single member wards) was somewhat polarized, with a relatively small share of respondents choosing it as their second or third choice while a relatively large share identified it as their fourth (least preferred) choice."
Yet, STILL, the consultants are recommending that city council vote to switch to single member wards!
City council makes a decision on June 23. There are now just days left to push back for what citizens want.
Some of the comments from citizens in favour of two member wards were noted in the first report:
"If one doesn't really represent your views, you have someone else to go to. I am more inclined to err on the side of having more representation than less. Having a second councillor would provide additional avenues for citizen engagement."
"It makes sense to have two people with different strengths, experience and points of view to offer insights and to back each other up to ensure the needs of the people they represent are met."
What does this have to do with proportional representation (the purpose of Fair Vote Canada)?


a
While Doug Ford has killed the option of ranked ballots for cities for now, every other provincial party has pledged to bring that choice back. In fact, Guelph was set to embark on a consultation on ranked ballots – but the door was slammed when Ford revoked local choice.
Electing multiple winners in a ward or riding is a necessary component of proportional representation..
When ranked ballots are used to elect more than one person (such as two members per ward), then the results will be more proportional! As long as Guelph continues to elect two members per ward, this opens the door for Guelph to choose proportional representation in future.
Many Canadians don't know that proportional representation was used successfully in Edmonton, Winnipeg and Calgary to elect city councillors at various times between 1917 and 1971.
Proportional representation at a local level is used successfully in all cities in Scotland, all cities in Ireland, the City of London (United Kingdom) and Boston, Massachusetts.
More cities in New Zealand are adopting it all the time, too, for the same reasons they adopted PR nationally over 20 years ago – to make more votes count and improve the diversity of their representatives!
For today, we can maintain the foundation for the future by speaking against the consultant's flawed recommendation and supporting what Guelph residents want – two members per ward!
Please send your letter to Guelph City Council today.
If you'd like to help even more, there is a special city council meeting (online) on this topic on June 21. If you would like to be an individual delegate – or represent to a group that is interested – you can register by visiting guelph.ca/delegate or contacting the City Clerk's office at 519-837-5603 or [email protected] by 10 a.m. on Friday, June 18.
More people watching the meeting also shows citizens are paying attention. You can watch the meeting livestreamed on June 21 at 6 PM at guelph.ca/live
A final decision by Guelph City Council on council configuration will be made on June 23.
Thank you for supporting the campaign to Make Every Vote count and for participating in local democracy!
Ken MacKay, Leader, Fair Vote Canada Guelph Chapter
Anita Nickerson, Executive Director, Fair Vote Canada