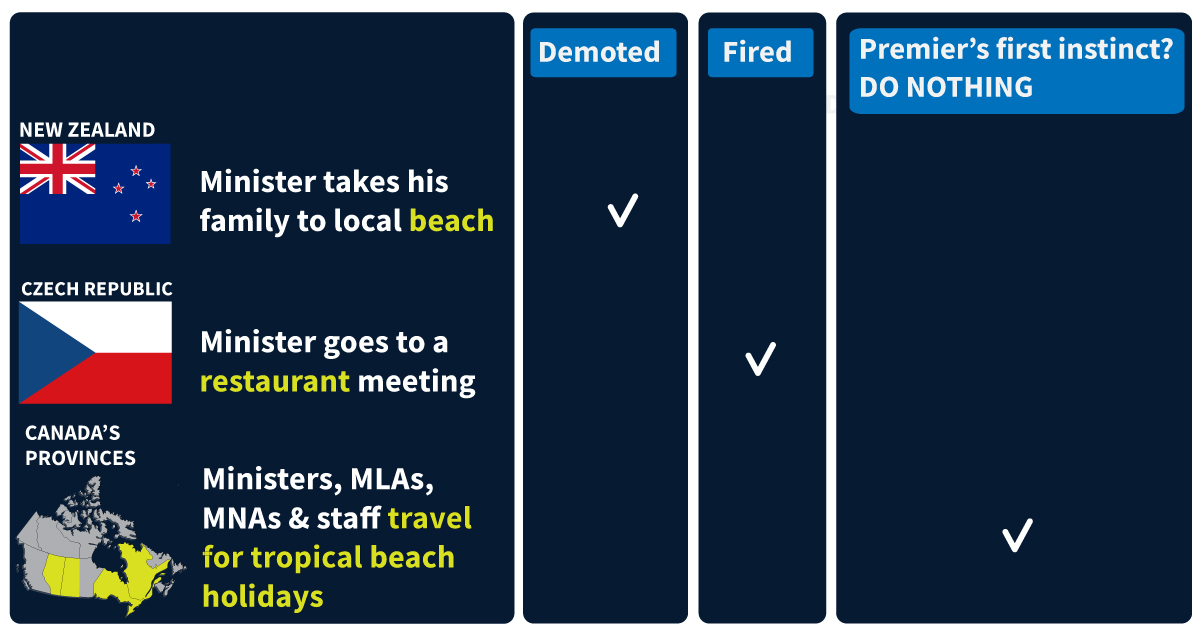 UPDATED JANUARY 2, 2021
While politicians all over the world are getting caught breaking their own COVID rules, mainly those in countries with proportional representation appear to be held to account by political leaders.
In New Zealand, Prime Minister Jacinda Ardern―then the leader of a coalition government―demoted her Minister of Health after he was caught driving his family 20 kilometres to the beach. He later resigned. Jacinda Ardern:

"It is essential our health leadership has the confidence of the New Zealand public".
In the Czech Republic, Prime Minister Andrej Babis, leader of a coalition government, asked his Health Minister to resign after he was caught breaking the rules by visiting a restaurant (that was supposed to be closed). Andrej Babis:

"There's no other solution than his resignation from the post," Babis said. "It shouldn't have happened. If we want the people to abide by the rules … it is us who have to set an example. We can't preach water and drink wine."
In Ireland, Leo Varadkar, the Tánaiste (Deputy Prime Minister) and leader of the Fine Gael party, suspended several Fine Gael senators for attending an 80 person dinner party in possible violation of health guidelines. 
Taoiseach (Prime Minister) Michéal Martin, leader of the coalition government and party leader of Fianna Fail, also suspended three members of the upper house from his party and accepted the resignation of one of his Ministers. Michéal Martin:

"People all over the country have made very difficult, personal sacrifices in their family lives and in their businesses to comply with COVID-19 regulations. This resignation was "the right decision for the country."
Meanwhile in Canada…
Doug Ford was "extremely disappointed" that Ontario's Minister of Finance Rod Phillips has been caught vacationing in the Caribbean in flagrant violation of health guidelines while posting a Christmas Eve video thanking people for their sacrifices to save lives―leaving the impression he was at home.
Ford even admitted that he knew Phillips was away weeks ago, but did not ask him to come home―until Phillips was caught.
The consequence? Phillips was issued a warning not to do such a thing again, and to come home right away where he is "needed":
"I have let the minister know that his decision to travel is completely unacceptable and that it will not be tolerated again—by him or any member of our cabinet and caucus. I have also told the minister I need him back in the country immediately." 
It was only following a massive backlash from the public that Phillips decided to resign. Opposition leader Andrea Horwath noted: "Doug Ford knew about Rod Phillips' trip to St. Barts two weeks ago. Not only did Ford not fire him then, he helped him keep the trip a secret. Phillips' resignation from cabinet today is not because of Phillips' vacation, it's because they got caught." 
In Alberta, no less than SEVEN United Conservative Party MLAs, Ministers or staff have been discovered out of the country, mostly on tropical vacations. The consequences from the Premier? Nothing. 
In Saskatchewan, a Saskatchewan (governing) Party MLA was discovered to be in Palm Springs – a fact known by the Premier ahead of time – with no consequences. 
In Quebec, an MNA from the opposition Liberal Party and the CAQ (the governing party) were caught out of the country. Consequences? Again – nothing.
The only politician in Canada to face any consequences from international travel over Christmas was the federal NDP's Niki Ashton, who was stripped of her shadow critic roles following a trip to see an ill grandmother in Greece. 
In the UK, where Boris Johnson enjoys a majority with 44% of the vote thanks to first-past-the-post, a junior Minister resigned over Johnson's failure to even reprimand a top aide who drove 400 kilometres to visit family, in violation of a national health order to stay at home. 
Is it possible that leaders in countries where power is shared―thanks to proportional representation―are delivering more accountability to voters than leaders in countries with first-past-the-post?
Research by renowned political scientist Arend Lijphart already shows that proportional representation is linked to lower levels of corruption. Using the World Governance Index and Transparency International's data, Lijphart compared 36 democracies over two 25-year periods, and found that countries with winner-take-all systems like first-past-the-post produced more corruption than countries using consensus (proportional) systems. 
When power is shared, there are more eyes on what's going on behind closed doors. That may make it harder for politicians to avoid consequences for engaging in sneaky, unethical escapades―and easier for voters to expect more than a slap on the wrist when they do.
UPDATE JANUARY 4th
When Jason Kenney refused to sanction any of his Ministers or MLAs for travelling, days of public outcry and media attention followed. Even the Calgary Sun lit into Kenney. On January 4th, Kenney accepted the resignation of one of his Ministers and his Chief of Staff, and demoted other MLAs.