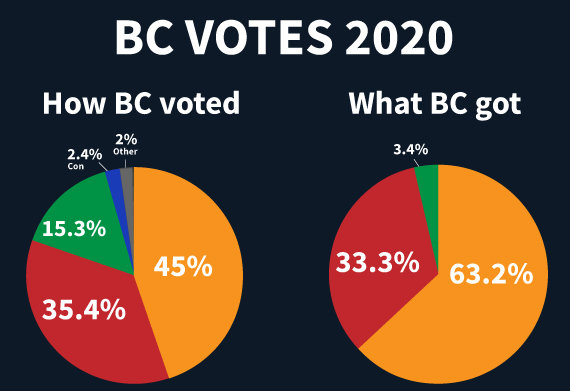 Premier John Horgan gambled on a snap election during a pandemic and it paid off, thanks to the flawed math of first-past-the-post. With about 45% of the popular vote, Horgan's NDP will form a false majority government ― that is, the party won a majority of seats without a majority of voter support.
The vote share for the BC NDP increased by about 5% from 2017. With first-past-the-post, small changes in voter preferences are distorted into significant seat changes, giving parties an incentive to go to the polls early.
If almost every vote had counted, NDP voters would have elected the 40 MLAs they deserved, not 55. Green voters would have elected 14 MLAs, not just three. Liberal voters would have elected the 31 MLAs they deserved. Conservative voters would have elected the two MLAs they deserved, and perhaps more if they had run more candidates.
Instead of Liberal voters electing no one on Vancouver Island, they would have elected three MLAs. Instead of electing no one in Burnaby, the Tri-Cities, New Westminster, Pitt Meadows and Maple Ridge, the Liberals would have elected three MLAs there as well. Instead of electing just three MLAs in Vancouver and the North Shore, they would have elected five. Defeated Liberal incumbents like Sam Sullivan, Jas Johal, Michelle Stillwell and Mary Polak have the voting system partially to blame for their results.
Conversely, in the 14 Interior seats, NDP voters would have elected five MLAs, not just three.  In the 10 northern seats, NDP voters would have elected four MLAs, not just two.
"BC voters saw how well a cooperative government worked during COVID-19," says Fair Vote Canada board member Gisela Ruckert. "Now, parties representing 55% of the voters will be shut out of decision-making for the next four years"
In a September 2020 Leger poll, 95% of BC citizens said they want an electoral system that encourages parties to work together more in the public interest, and that 87% believe that improving our democracy is key to achieving long-term progress on other issues. 
With a result reflecting how voters voted, NDP MLAs could have continued to govern cooperatively with the Green MLAs. Cooperation on the ongoing COVID-19 crisis—and BC's recovery from it—would continue. The main difference would be that more than one party would be holding the reins, ensuring that government decisions reflect the public good without the temptation to accommodate partisan goodies. Political opportunism, as we've just seen in BC, would be reduced.
NOTE: This information will soon be outdated – BC Election results may change substantially after mailed votes are counted.