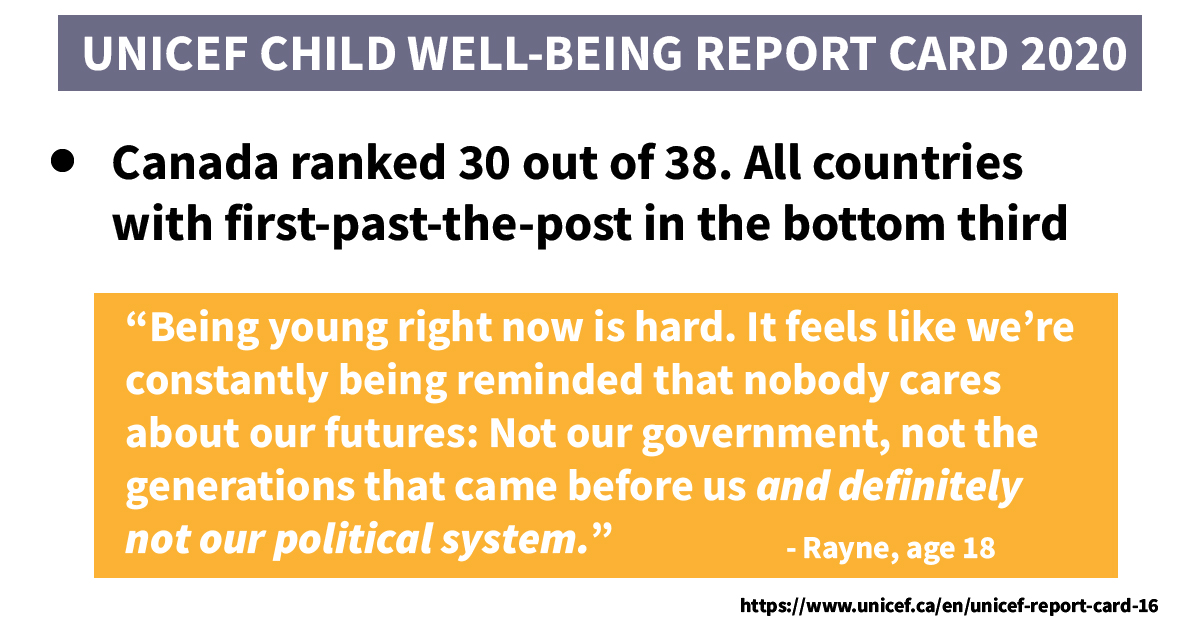 UNICEF has released it's 2020 Child Well-Being report card, ranking 38 rich countries on measures such as child physical and mental health, life satisfaction, relationships, community connections, education and skills.  
Canada comes in at #30 – in the bottom third, along with the US and the UK, who also use first-past-the-post. 
Of the top third, all but one country uses proportional representation.
Analysis shows that countries with winner-take-all voting systems could be expected to score 12 points lower than PR countries when it comes to child welfare in the UNICEF ranking of 38 higher income countries.
This comes as no surprise. 
Time and again, research shows that on average, countries with proportional representation get better outcomes for people. They have lower income inequality. Their citizens live longer and are healthier. They do more to protect the environment. Economic growth is higher. More youth vote and more elected representatives are under 40.
During the federal electoral reform process of 2016, 88% of experts recommended Canada move to proportional representation. Partisan self-interest sank the promise to make every vote count.

Our children deserve better. Fair Vote Canada is calling for a National Citizens' Assembly on Electoral Reform. Learn more at: www.nationalcitizensassembly.ca