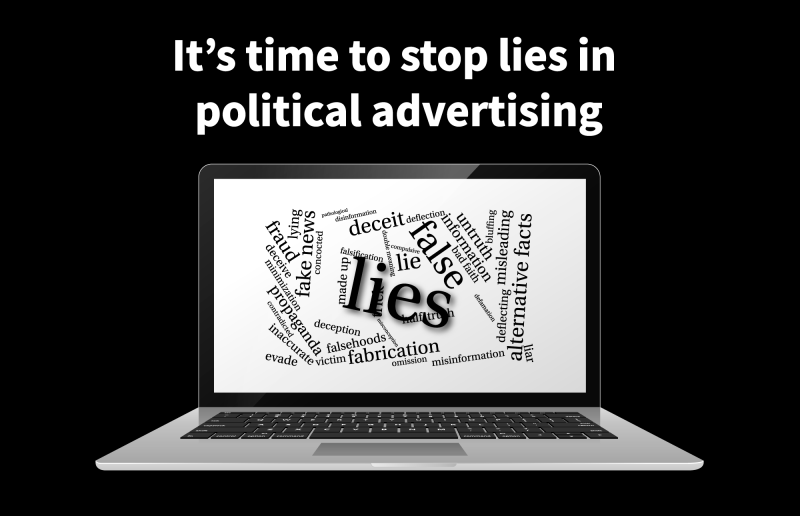 Today's recommendations by Anton Boegman for the BC government to address misinformation in political advertising are encouraging―but Fair Vote Canada would urge the BC government to go further in clamping down on blatantly misleading ads. BC should put into place an independent body to review and enforce basic standards to ensure that political advertising is based on fact, rather than partisan spin.

Boegman states: "In a fair election, voters can make their choice based on accurate, factual information about candidates and parties."

Fair Vote Canada strongly agrees. The recommendation to consider adopting the rules currently in the Elections Canada Act are a good start, but insufficient to deal with the scope of the problem.
The Advertising Standards Code states:
(a) Advertisements must not contain, or directly or by implication make, inaccurate, deceptive or otherwise misleading claims, statements, illustrations or representations.

(b) Advertisements must not omit relevant information if the omission results in an advertisement that is deceptive or misleading.
Unfortunately, the Advertising Standards Code does not apply to political advertising.Under the proposed changes, political advertisements that mislead voters on important points of fact would be allowed to continue. 
For example, last year the BC Liberals put up billboards saying "Blame John Horgan" for a rise in gas prices. In fact, BC's carbon tax increase at the time only raised the price of gas by 1.1 cents per litre. The amount that gas prices could be reduced by cutting the taxes recommended by the opposition was no more than 8.5 cents―at time when drivers were paying 1.72/litre.

In Ontario, Doug Fords' government required all gas stations to put  a sticker on pumps claiming "the federal carbon tax will cost you", omitting crucial information that at least 90% of the tax will be returned to households in rebates and that many households will end up receiving more in rebates than they pay in carbon taxes.

This kind of misleading advertising can swing votes―but BC can do better.

In New Zealand, citizens can complain to the Advertising Commission about dishonest political advertisements. In South Australia, the Electoral Commission investigates complaints and can require a party to remove an advertisement and issue a retraction if it is determined that the advertisement is purporting to be a statement of fact that is inaccurate and misleading to a material extent.
Says Jason McLaren, President of Fair Vote Vancouver:
Other places have managed to put stronger rules into place, and we can too. Political misinformation is a scourge―we need to fight back. Our democratic choices shouldn't be based on information that is deliberately misleading. We have laws that prevent toothpaste manufacturers from distorting the truth, so why do we let our politicians do it? It makes no sense.
Adopting the rules of Elections Canada is a step in the right direction, but BC needs to go further. It is time that BC implements truth in advertising laws that voters can count on. 
###
Fair Vote Canada is a citizens' campaign for proportional representation. Our position on truth in political advertising can be found at https://www.fairvote.ca/truth-in-advertising/.