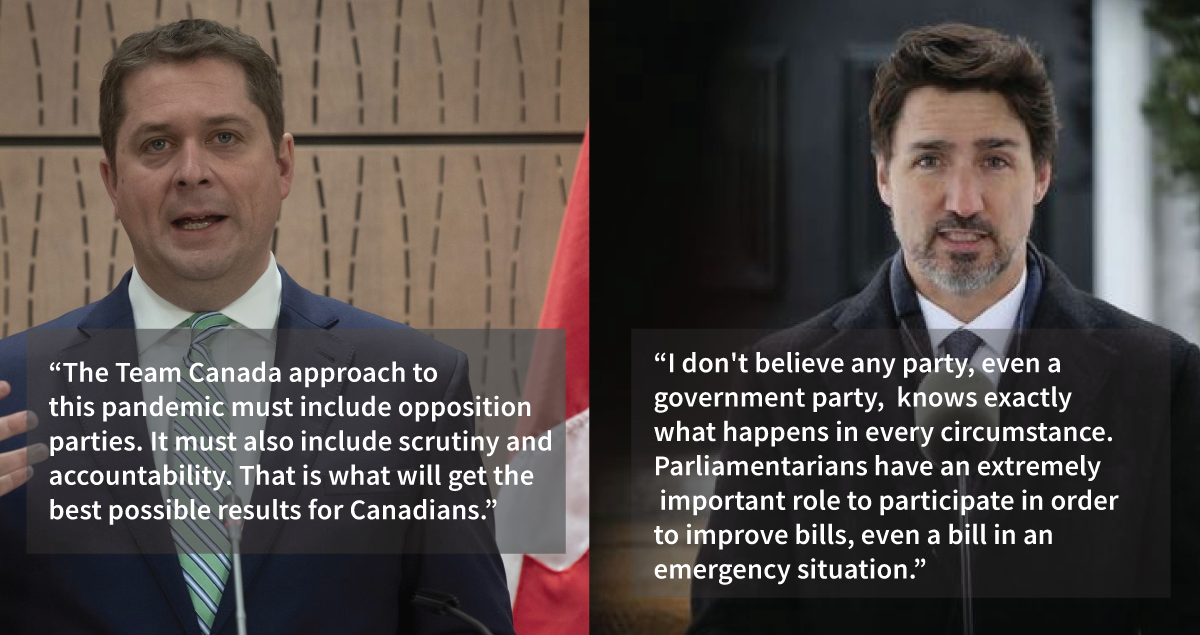 Put down the gloves and do this right! 
As MPs prepare to return to the House on Saturday to pass a second key piece of legislation, Justin Trudeau and Andrew Scheer are trading barbs about how "Team Canada's" democracy should be operating. What's puzzling is that they're saying virtually the same thing! 
Here's what Trudeau had to say:
"I think it's extremely important that we do have strong democratic institutions that continue to function to serve Canadians. That is essential."

"I don't believe any party, even a government party, knows exactly what happens in every circumstance and Parliamentarians have an extremely important role to participate in order to improve bills, even a bill in an emergency situation."

How different is that from Scheer's demands?

"We have put aside our partisan differences. We have proposed meaningful solutions… The best place to provide that oversight and accountability is in the House of Commons. Now the Prime Minister has called for a Team Canada effort and said that all of us in Parliament must work together and Canadians need to see us doing just that. The Team Canada approach to this pandemic must include opposition parties. It must also include scrutiny and accountability. That is what will get the best possible results for Canadians."
Justin Trudeau and Andrew Scheer are both right. 
Openness, transparency and collaboration between parties will ensure the best possible outcomes for Canadians. 
Research shows cooperative government produces better outcomes for citizens —  including on matters as important as public health. After so many years of divisive, hyper-partisan politics, these leaders' statements about working together are a breath of fresh air. 
Now it's time for them to put their words into action.
"It's important to underscore that passing needed legislation in a timely and efficient manner can go hand in hand with a commitment to a stronger democracy,"
Examples of how to strengthen cooperation while ensuring accountability are on display at home and abroad: 
In

Prince Edward Island

, all parties are sitting on cabinet committee working groups in a united, all-party response that is both inclusive and efficient.

 

In

New Brunswick

, an all-party COVID-19 committee meets daily to oversee the response, making decisions together — an approach that has earned rave reviews.

"

It's been very collaborative, it's been very constructive and I think it serves New Brunswick well," said Liberal leader Kevin Vickers. Green Party leader David Coons agreed, saying "This way of working is very different… I'm seeing things that I'm proposing being taken on board, and I see results. I see all of my questions being answered honestly." 



These approaches follow what is being done in New Zealand, where the government's response to COVID-19 has garnered praise. There, the opposition leads an all-party committee overseeing the COVID-19 response. The all-party, collaborative approach takes accountability and efficiency to a new level — ensuring all voices are heard and problems are addressed up front.
"At a minimum, a commitment for the House to meet virtually is needed," says Fair Vote Canada's Executive Director Anita Nickerson. "Canadians want more examples of political leaders building trust by reaching across the aisle. That's what minority governments are supposed to do."