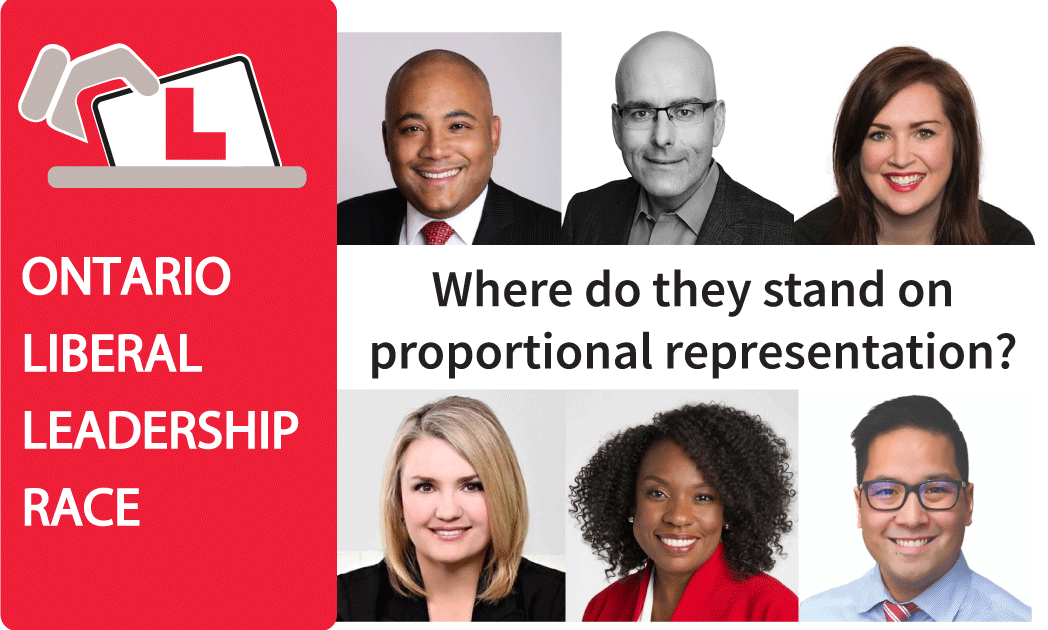 Ontario Liberal Leadership Candidates On Proportional Representation
Fair Vote Canada asked the six Ontario Liberal leadership candidates about their positions on electoral reform and obtained quite distinct responses from different candidates. Their full responses are posted on Fair Vote Canada's website.
Kate Graham stands out from the others as a candidate prepared to make a campaign issue of electoral reform. Although she expresses a personal preference for proportional representation, her platform commitment is to convene a binding citizens' assembly on electoral reform to hear from citizens themselves what they would like to see. Coming to this issue a bit later, Brenda Hollingsworth has also committed to a binding citizens' assembly on electoral reform.
Fair Vote Canada supports citizens' assemblies on electoral reform as a mechanism for obtaining citizens' input in a way that is non-partisan, independent and evidence-based. Citizens' assemblies are currently being used in various parts of the world to address difficult issues such as electoral reform, climate change and abortion.   
Michael Coteau and Steven Del Duca are open-minded about a citizens' assembly but non-committal about the leadership role they would play on electoral reform. Both would take direction from Liberal Party members to determine the party's platform on this subject.
Mitzie Hunter and Alvin Tedjo favour a ranked ballot model called Alternative Vote (AV) which uses single-member ridings, like first-past-the-post. Hunter's response does not mention proportional representation as an option. She considers a Citizens' Assembly to be unnecessary, stating she would run on a promise to bring in the Alternative Vote and implement it directly. 
Fair Vote Canada's Executive Director, Anita Nickerson comments that
"During the 2016 federal Electoral Reform Committee, the Alternative Vote earned the dubious distinction of being the only system shown to be less proportional than first-past-the-post. It was supported by only 4% of expert witnesses, compared to 88% for proportional representation. Although the Alternative Vote looks good on the surface it would not solve the sort of distorted results that need fixing and would not be accepted by other parties, due to the perceived advantage it would give to the Liberal Party." 
Fair Vote Canada applauds Kate Graham and Brenda Hollingsworth for running on a courageous platform and trusting an independent citizens' assembly to work on citizens' behalf. "Ontarians want a fair electoral system and need a process they can trust to get there," says Réal Lavergne, President of Fair Vote Canada. "We encourage all six candidates to set partisan considerations aside and let us hear from citizens themselves what sort of electoral system they would like to see. Although Fair Vote Canada calls for some form of proportional representation to address the ills of our current voting system, the intent of an independent citizens' assembly would be for informed citizens supported by experts to reach their own conclusions on one solution or another."

###
Fair Vote Canada is a cross-partisan national citizens' campaign representing 80,000 Canadians advocating for voting system reform. FVC promotes the introduction of an element of proportional representation in elections at all levels of government.