FOR IMMEDIATE RELEASE
Electoral Reform Expert Links Money Laundering Problem with the Voting System
Canadian electoral reform expert Associate Professor Dennis Pilon says the latest revelations about the previous BC government's handling of the money laundering scandal show how the flaws of first-past-the-post voting affect the lives of British Columbians.
Pilon points to research by renowned political scientist Arend Lijphart, who compared 36 democracies over two 25-year periods. Using the World Governance Index and Transparency International's data, Lijphart found that countries with majoritarian systems like first-past-the-post produced more corruption than countries using consensus (proportional) systems.
As Pilon explains, "First-past-the-post leads to a poor policy process because governments have too narrow a base in civil society. Usually around 40% of voters can give one party complete control over policy development and implementation, with little or no input from other parties. Low levels of support combined with complete control can lead to bad decisions or a cover up of questionable ones. Proportionally elected governments do better because more people are involved in the policy process – usually a number of parties that together represent an actual majority of voters – and more eyes on the process means fewer questionable decisions getting rush approval or covered up after the fact."
"It's not about which particular party failed British Columbians," says Fair Vote Canada BC spokesperson Gisela Ruckert. "It's that a single party in government with less than a majority of the vote was able to do nothing and get away with it for 16 years. Secret backroom conversations involving only one party meant only one set of eyes on what was going on. It's clear from German's report on money laundering in casinos and the government's response that accountability and transparency for voters were missing at every step of the way."
As Steve Withers, a dual citizen of Canada and New Zealand who campaigned for pro rep in the early 1990s, explains, "When New Zealand switched to pro rep, voters started to find out a lot more about what was really going on. Parties in the governing coalition were more likely to tell the public about weaknesses they wanted changed. Was this messy for the government? Only if greater transparency is a a problem."

This fall, BC voters will choose whether BC should adopt a proportional voting system, where 30% of the vote gets a party about 30% of the seats. Most often, this means parties work together on legislation – meaning more than one set of eyes on decisions being made on every policy.
###
Fair Vote Canada BC (FVC-BC) is a grassroots citizens campaign for proportional representation with a long history of electoral reform expertise and locally-driven campaigns. It currently has 25 local teams in BC. FVC-BC is a registered advertising sponsor in the upcoming referendum on proportional representation.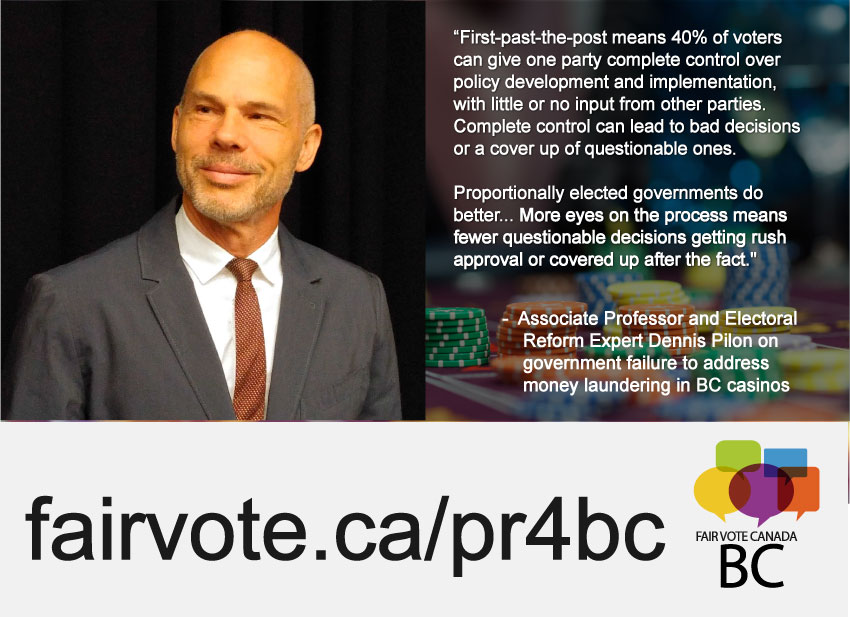 Dennis Pilon is Canada's leading authority on voting systems and voting system reform, having worked on the topic for three decades. He is also an expert on the political history of British Columbia. He was born in Vancouver and has lived and worked all over BC, including the lower mainland (Vancouver, Burnaby, New Westminster, Coquitlam, and Surrey), Vancouver Island (Port McNeil, Victoria), the central interior (Williams Lake), the northern interior (Smithers) and the far north (Cassiar). He has a BA in Sociology and History and an MA in History from Simon Fraser University and PhD in Political Science from York University. He has written extensively about the political history of British Columbia, co-editing the collection British Columbia Politics and Government with Michael Howlett and Tracy Summerville, as well as the province's many instances of democratic reform. These include campaigns for municipal voting system reform around World War I, in the 1930s, and from the 1970s on, particularly in the city of Vancouver, as well as provincial reform efforts in the 1950s, 1970s, and from the 1990s on. He is the sole author of two books: The Politics of Voting: Reforming Canada's Electoral System, and Wrestling with Democracy: Voting Systems as Politics in the 20th Century West.