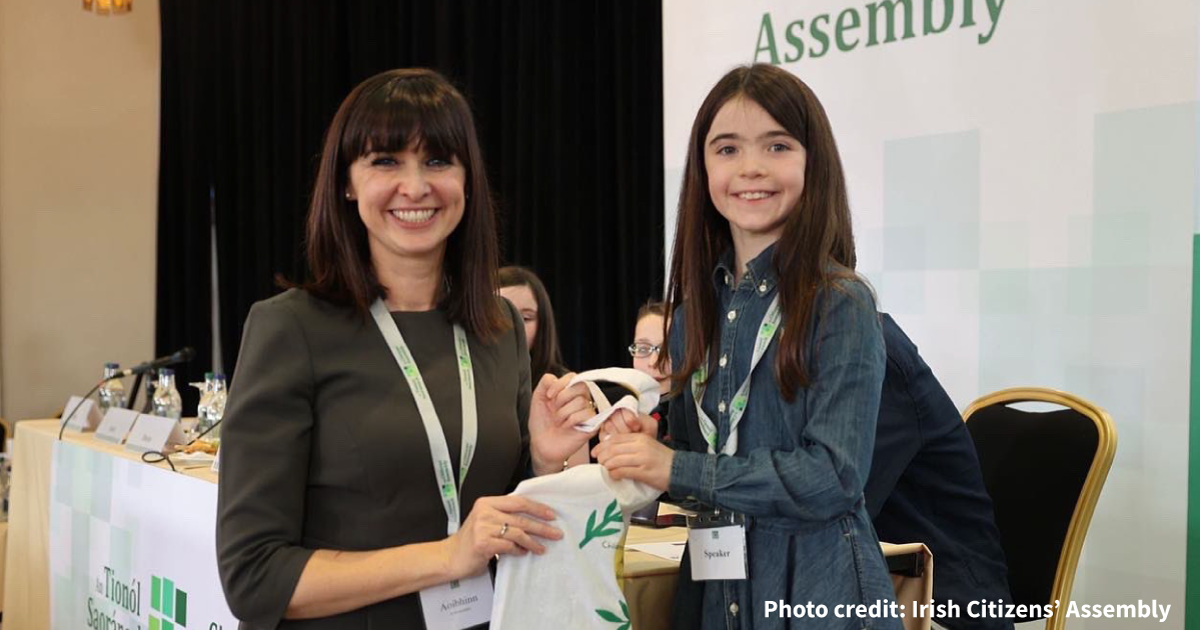 Citizens' Assemblies are shaking up the status quo in Ireland―and getting results
Imagine, if the voices of citizens had real power over the biggest issues in the country―at election time and in the years in between.
Ireland is showing the world how it's done.

Ireland already uses proportional representation. Seats closely match the popular vote, people get what they vote for, and parties work together.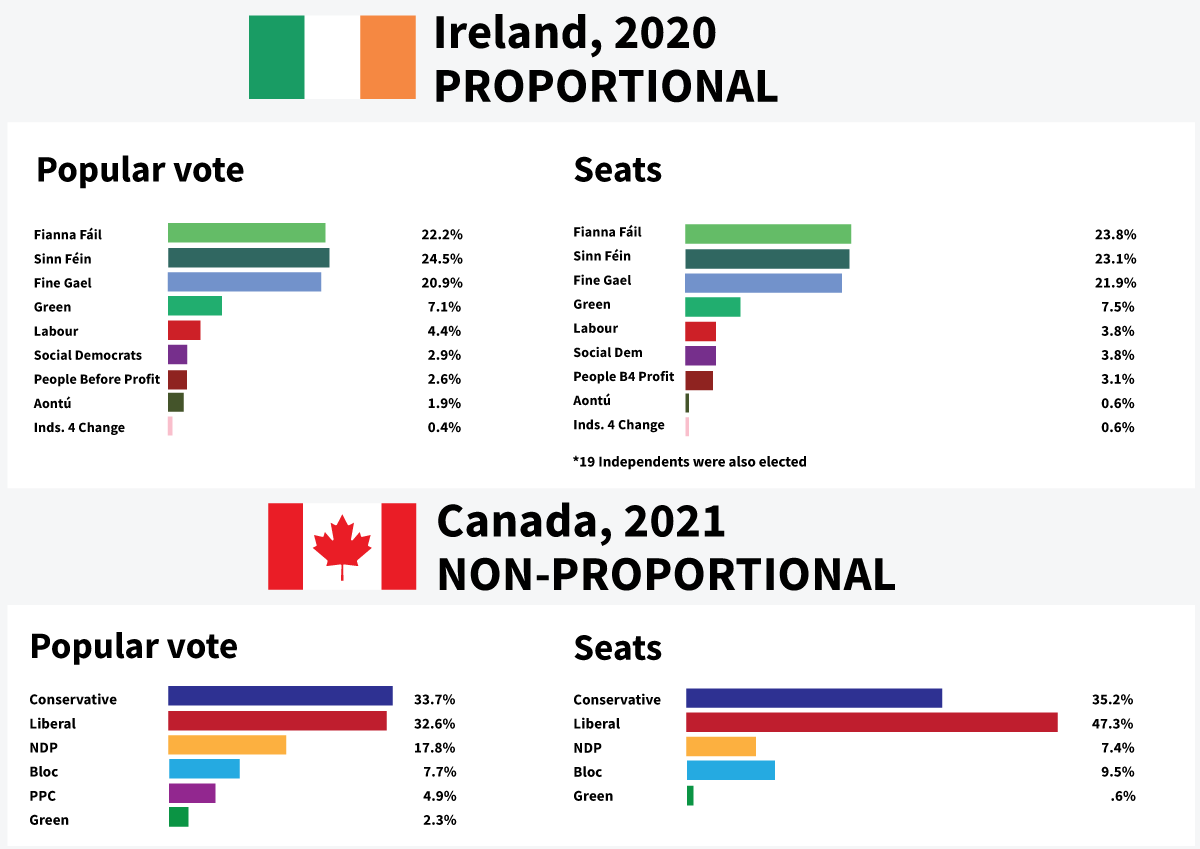 According to Cambridge University's 2020 Satisfaction with Democracy Index, Ireland ranks 5th in the world  for democratic satisfaction of its citizens.
It was one of only seven countries in the world where satisfaction with democracy was actually increasing.

All seven top countries use proportional representation.

Ireland's current government is an historic three-party, five-year coalition between two traditional rivals―Fine Gael and Fianna Fáil―and the Green Party.

In other words, Ireland's politicians have embraced an unprecedented level of cooperation, to tackle the big challenges of our times.


Taking people-powered democracy to the next level

Having a solid foundation of proportional representation, Ireland is now blazing a trail for other democracies by becoming a world leader in the use of citizens' assemblies.
Since 2016, citizens' assemblies in Ireland have been used successfully to tackle the toughest national issues, such as abortion and gender equality.

Ireland was the first country to hold a national-level citizens' assembly on how the government should lead on climate change.
Ireland's current Citizens' Assembly on Biodiversity Loss was recognized by Ireland's Minister of State in his address at the COP15 UN Biodiversity Conference. This Citizens' Assembly was accompanied by a Children and Young People's Assembly, to give youth a stronger voice into the policies that will matter most to their future.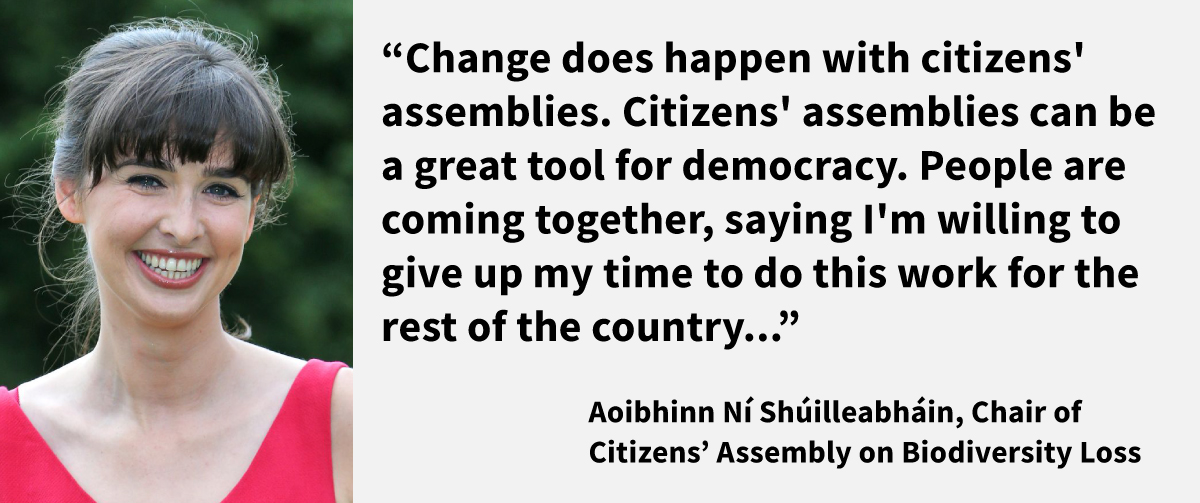 Every major party in Ireland―spanning the political spectrum―now supports or champions national citizens' assemblies.

During Ireland's Parliamentary debate on the motion to create new citizens' assemblies this year, the main complaint from the opposition parties was that the third promised citizens' assembly (on drug policy) wasn't happening fast enough!

People in Ireland support citizens' assemblies because they see that the assemblies are driving positive results.
Once citizens are fully informed about an issue, they are often way more ambitious than the politicians.

As Cambridge University researcher Leslie-Anne Duvic-Paoli concluded:

"Citizens' assemblies have shown that citizens are able to break down their vision into a variety of measures that range from the very technical to the vastly transformational…"
Their recommendations are taken seriously by those in power.
As radio show host Philip Boucher-Hayes explained, the recommendations from the Citizens' Assembly on Biodiversity Loss "could be policy in relatively short order."  Recommendations from past citizens' assemblies that seemed to be "radical" at the time, "soon became mainstream thinking."

In short: citizens' assemblies are getting results. 
When the recommendations came in from the Irish Citizens' Assembly on Climate, for example, the government acted. A Committee on Climate Action was established in Parliament, which spent six months considering the Assemblies' recommendations. This led to a report entitled: "Climate Change: A Cross-Party Consensus for Action", which was unanimously adopted by the national Parliament and formed the basis of the government's Climate Action Plan.

The comments made in Parliament during this year's Parliamentary debate on Citizens' Assemblies speak for themselves:

Jack Chambers, Minister of State:

"Citizens' assemblies have become an important part of the Irish democratic system, The views expressed by citizens' assemblies have on a number of occasions led to constitutional change and significant enhancements to the State in which we live and the way in which we live our lives."
Paul McAuliffe, Fianna Fáil:

"I welcome the citizens' assembly because I believe, as we saw with other issues, it will help to build a consensus."
Ruairí Ó Murchú, Sinn Féin:
"Citizens' assemblies have proven themselves as being sometimes more useful at delivering action and seeing viable solutions than in here and beyond."
Allen Farrell, Fine Gael:
"The citizens' assembly model has proven its worth over the past number of years. Some of the questions that have been asked may not have come about as quickly had we been left to deal with them in these Houses.
Brian Ledden, Green Party:
"Ireland's Citizens' Assembly was an exceptional experiment in democratic governance and engagement. It afforded politicians the space to do what is right. We would not have that Act and the ambition in it if we did not have that citizens' assembly."
John Lahar, Fianna Fáil:
"Citizens' assemblies have served the country very well. They were certainly ahead of politicians, or maybe in a better place to take more courageous and clear-cut decisions than were politicians.

That then enabled politicians to consider that they broadly had a cross-section of the will of the people and to legislate accordingly."
Ireland's use of citizens' assemblies was built on a foundation of proportional representation: parties that were willing to work together in new ways, to give everyday citizens a voice, and to listen to those voices.

As new research on six climate assemblies found, the effects of citizens assemblies on democratic engagement can be long-lasting:

"Participants did not always pack up and go home after their assemblies officially ended."
Informed and empowered citizens? That's the start of something good.