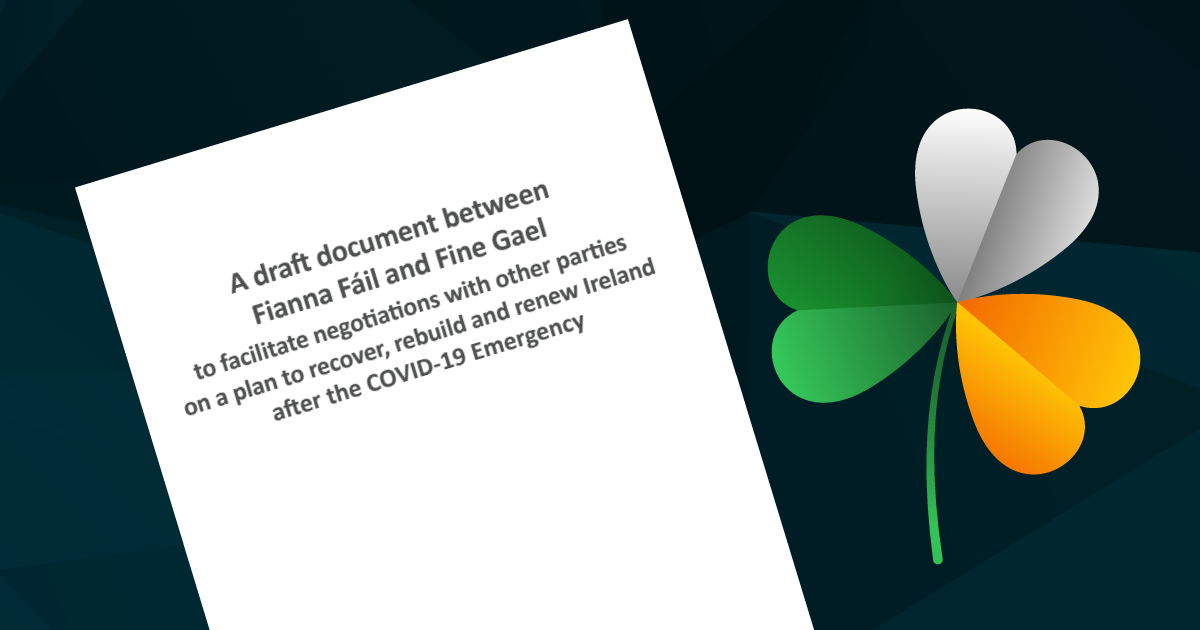 100 Years of Rivalry Transforms into Historic Cooperation in Ireland
100 years of rivalry between Ireland's two main parties — age-old enemies Fine Gael and Fianna Fail — looks to be ending this week with an historic grand coalition agreement. This is a transformative coalition; 97 years after the end of the Civil War, their great-grandchildren have agreed to work together.
The two parties have publicly outlined ten priorities for working together and are seeking smaller parties or independents to join a cooperative government committed to a five year term.
To understand the extent of the profound shakeup that is underway in Irish politics, the closest equivalent one could imagine in Canada would be a grand coalition between the Liberals, the old Progressive Conservatives, and Jody Wilson-Raybould.

It is cooperation on an unprecedented scale in Ireland, even with the country's long history of cooperative governments thanks to proportional representation.
Fine Gael and Fianna Fail were born from competing sides in the Irish civil war. Both centrist parties, there is not always a lot of daylight between them. Fine Gael and Fianna Fail have passed the torch of government power back and forth since 1923.

However, thanks to proportional representation, cooperative government is the norm in Ireland. The last time a single party had all of the power was 1977. Effective campaigns have even been run tapping into voter's distrust of concentrating power with one party (see the picture below this blog!). For the past forty years, all governments have been minorities or coalitions with Fine Gael or Fianna Fail working with smaller parties such as Labour, the Greens or Independents.

Even with Ireland's history of cooperative governments, almost no-one would have predicted the transformation that is underway today.
A new era of voters and a global pandemic = turbocharged cooperation
The first real shakeup came in the 2016 election, when voters handed Fianna Fail and Fine Gael only about 25% of the vote each. Irish voters elected a diverse Parliament, with several smaller parties and 22 independents in the mix.
For the first time in history, neither Fianna Fail or Fine Gael had enough seats to form a government, even if they were to work with smaller parties. Yet the prospect of the two of them working together, like the grand coalitions in Germany, was still unthinkable.
The result was a minority coalition government of Fine Gael and Independents (some of whom became Ministers), with a supply and confidence agreement with Fianna Fail. It lasted 3 years —  proving to the cynics that even innovative kinds of cooperation could work.
But the 2020 Irish election took cooperation to the next level.  
An unprecedented 26% of voters chose the left-leaning Sinn Fein, making it the most popular party in the legislature. Another 34% of the vote went to smaller parties or 22 Independents.

That shift away from the traditional big parties, combined with a global pandemic that is challenging politicians everywhere to set aside even the most deeply etched partisan rivalries, is leading Ireland to consider a government like Germany's: a grand coalition.

Cooperation Could Make or Break Ireland's Climate Efforts
Irish media are reporting that the first serious contender to join the Fianna Fail – Fine Gael coalition are the Irish Greens.
Green Party leader Eamon Ryan knows we could be facing a tipping point for climate — exactly the time for a Green voice in government. He also knows how easy it is for small parties in a coalition to be thrown under the bus and wiped out in the next election. The Irish Greens want to see specific, science-based commitments spelled out — as well as the details of a proposed housing program to tackle the housing crisis in Ireland — before they make a decision.. 
Like Canada, Ireland is a climate laggard. Canada has the oil sands jobs and its lobbyists. Ireland has cattle farmers and its agricultural lobbyists. Both have politicians who talk a good game while emissions rise.

The first signs of real progress on climate came with the 2016 minority coalition government, which achieved the following milestones:

– The Irish Citizens' Assembly was convened to tackle how the state can make Ireland a leader in tackling climate change.

– Ireland became the first country in the world to divest from fossil fuels and the second country to declare a climate emergency.

– An all-party committee examined the Citizens' Assembly's recommendations, leading to the government's 2019 Climate Action Plan being unanimously endorsed by every party in the legislature.
The current Minister of Climate Change has just joined 12 other Ministers of Climate Change in the EU in calling for a European Green Deal to be a central part of post-COVID-19 recovery efforts.

Will Ireland's commitment to finding climate solutions bear fruit in the next five years? One thing is certain: it could all depend on cooperation.​