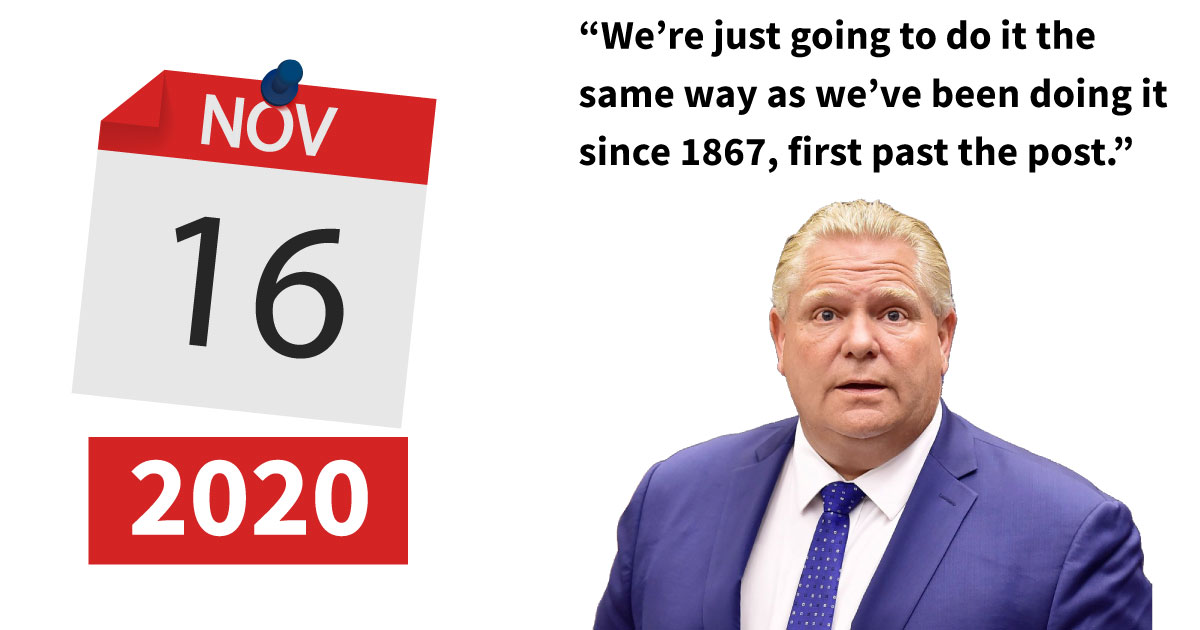 Ford tramples local democracy

Fair Vote Canada condemns the passing of Bill 218 today, which repeals the right of Ontario municipalities to use ranked ballots in local elections.

When combined with at-large elections or multi-member wards (already used by 68% of Ontario municipalities)  ranked ballots produce proportional representation at the local level. Banning local proportional representation kills the opportunity for real democratic renewal for municipal voters.
In 2016, parties representing 62% of voters approved local choice for Ontario municipalities. 
In 2020, one party, representing only 41% of voters, repealed it. 
Civil society groups such as Fair Vote Canada who applied to present to the "public hearings" at the Justice Committee were denied. The item dealing with ranked ballots was buried in a COVID-related omnibus bill which did not even allow MPPs to vote on items separately.

Ironically, even some cities in the United States allow more local democracy than Doug Ford's government. Cambridge Massachusetts, Albany New York and Palm Desert California all use—or have committed to switching to—proportional representation. They join London, England, all cities in Scotland and Ireland and some cities in New Zealand. 
"This whole fiasco demonstrates again why Ontario needs electoral reform badly—but politicians are in a conflict of interest," says Fair Vote Canada's Executive Director Anita Nickerson. "Too often, politicians will push for whatever system is in the best interest of their party, or to protect their own jobs. Today we see that since the Conservative Party supports first-past-the-post, every municipality in Ontario is now stuck with it.

Fair Vote Canada is calling for a Citizens' Assembly as the way forward on electoral reform—nationally, and in Ontario. Our democracy needs renewal, but it must be an evidence-based approach, not the whim of one party or one politician. For an approach to electoral reform we can trust, citizens must lead the way." 
###


Fair Vote Canada is a national citizens' campaign for proportional representation.

https://www.oecd.org/gov/open-government/innovative-citizen-participation-new-democratic-institutions-catching-the-deliberative-wave-highlights.pdf
https://nationalcitizensassembly.ca/