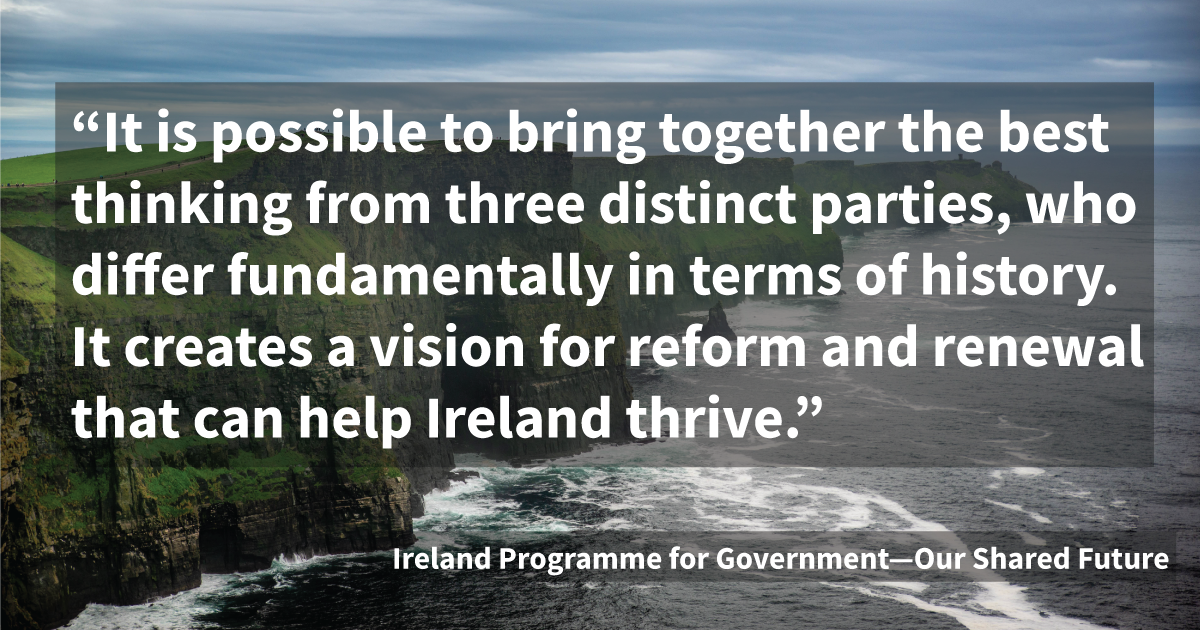 Historic new cooperation deal between parties in Ireland – proportional representation made it possible
One hundred years of rivalry between Ireland's two main parties — age-old enemies Fine Gael and Fianna Fail — is ending with an historic grand coalition agreement, which also includes the Green Party.
This is a transformative coalition. Ninety-seven years after the two sides ended the civil war, their great-grandchildren have agreed to work together. It is cooperation on an unprecedented scale in Ireland, even with the country's long history of cooperative governments thanks to proportional representation.
The three parties have submitted a draft "Programme for Government – Our Shared Future."​
Some highlights:
It's a five-year plan – reflecting the commitment of three parties to a stable, collaborative and productive government
The leaders of Fine Gael and Fianna Fáil will take turns being taoiseach (equivalent to Prime Minister)
All three parties will have Ministers – 9 each for Fine Gael and Fianna Fáil and 6 for the Greens
Priorities include a job stimulus program, a commitment to reducing carbon emissions by 7% a year (a condition of the Greens joining the coalition), expanding affordable housing, expanding community-based health care, and measuring success by a well-being indicator (rather than simply by GDP), similar to New Zealand.
Find below the introduction to the draft Programme agreement of the three parties (highlights ours).
Imagine this level of long-term cooperation in the public interest in Canada.
With proportional representation, it's possible.
Programme for Government – Our Shared Future

This is a defining moment for our country. We face urgent challenges which touch every community. In the space of a few short months our world has turned upside down. Lives have been lost and hearts broken, and our lives and livelihoods have been changed utterly.
In striving together against something which threatens us all, we have shown we can surprise ourselves – adapting quickly, building new alliances and collaborating in ways we never expected.
All to realize a common purpose: our common future.
COVID-19 has presented the global community with a terrible set of challenges to add to the ongoing climate and biodiversity emergency. In this Programme for Government we are asserting our ambition to meet these challenges, repair the damage that has been inflicted by the pandemic, and take the renewed spirit arising from these challenging times and translate it into action. Action that can deliver a better quality of life for all, equality within society and a deeper sense of connection to the natural world around us, and each other.
The world was approaching a climate crisis long before COVID-19 hit our shores. The pandemic has acted as a catalyst, enabling us to implement radical policies that were considered impossible before; it will not and must not be used an excuse for failure to take immediate action to deliver on all that is needed to build a better society and a secure future for all living things. This is a Programme to recover our economy, rebuild our society, renew our communities, and respond to the challenges we face both nationally and internationally. This will be a Government of enterprise, creating new jobs, preparing for the jobs of the future, driving our economic recovery, and improving the quality of life for all our people.
This Programme shows that it is possible to bring together the best thinking from three distinct parties, who differ fundamentally in terms of history. It creates a vision for reform and renewal that can help Ireland recover and thrive. It will not be easy, and this Programme does not offer easy solutions. Not everything will be achieved within the lifetime of this Government. But as we begin to make some transformative changes for our country we recognise that these steps have the potential to deliver radical change. This Government will be a genuine partnership between all involved and the policies outlined reflect a shared desire to work together and a mutual respect for each other's policies, beliefs and values.
The actions taken over the next five years will define this nation's future direction for decades to come. Our objective is to contribute positively towards a wider global response to how we shape the post-COVID recovery and also how we lead as an exemplar in decarbonising our economy. We recognise that the task is immense. Some of the biggest tasks include achieving social solidarity and equality of opportunity, reaching ecological harmony and economic equity, securing good livelihoods from our land and housing for all, and embracing our cultural diversity. It is a task we will not shirk from.
The new Government will make every effort to get people back to work, to reopen businesses, while developing the strategies and the policies to drive this forward. We will stimulate the economy through investment in public infrastructure, and critical areas such as housing, healthcare, transport and energy. The wellbeing of our nation, however, goes beyond the narrow confines of economic growth. Over the next five years the Government will use wellbeing indicators as well as economic indicators to
point out inequalities and help ensure that policies are driven by a desire to do better by people. Our economy must recover in a way that is fair and balanced, leaves no one behind, and is futureproofed against shocks. Embedding resilience within our economy must become a way of life, recognising our strength as a home for international business, and crucially how our own indigenous small and medium sized enterprises can trade in a supportive environment.
This is a vision for Ireland that seeks to move beyond division and discord and find shared solutions. Nowhere is this more evident than in the area of Climate Action where we show that it is possible to move beyond politics and deliver transformative change that benefits our agriculture and fisheries, our society, our economy and our planet.
This Programme seeks to deliver a better life for all. We must take the good things we have learned from the pandemic and apply them towards a resilient future. Therefore this Government will facilitate and support remote working, reduce the time wasted in our cars and ensure that families have more time together.
The Programme has balanced regional development at its heart because all parts of Ireland must thrive if we are to prosper as a country. By continuing to invest in rural Ireland, ensuring global connectivity without sacrificing its best features, we will ensure that all parts of our country are prosperous, sustainable and resilient.
As we rebuild our economy and reimagine our society we will renew our role in Europe and the world. Ireland's total commitment to the aims and ideals of the EU has been a consistent feature of our membership. Ireland is also committed to the aims and ideals of the United Nations and we willingly accept the obligations that arise from being part of the world community.
Our relationship with our nearest neighbour has been challenged by Brexit but this government will build on the good work of the last administration by ensuring that the spirit and the letter of the Good Friday Agreement are protected. We will work to protect the island of Ireland from the worst effects of Brexit as we develop a new relationship with the United Kingdom. By continuing to build a close relationship with Northern Ireland, the new Government will also look forward to how we can
share this island together.
This Programme outlines a vision of an Ireland for all ages where arts and culture thrives, the Irish language is nurtured and developed, and sport inspires us to healthier and better lives. An Ireland that is a welcoming place to all visitors, whether they are here on holidays, to learn, to seek refuge, or for business. An Ireland for people of all ages. The Programme therefore includes policies to help people raise their children in all circumstances with real care, encourage youth political participation, promote digital safety, and value our older people.
As the country begins to reawaken, this Programme will strive to commemorate those we have lost, to celebrate all those who helped us survive and endure, and ensure that there is support for all those who feel alone or lost. The pandemic has shaken us in many ways. Repairing that in every aspect, including mental health, will take time and the support of this Government.
COVID-19 upended our certainties and changed our world. It is our obligation to ensure that we emerge from this Emergency having learned its lessons and with a renewed determination to build a better future. The solidarity shown during the emergency can serve as an article of faith in the future and what we can achieve together.
The goals which we have set ourselves are deeply ambitious, but they are achievable. Our commitment is that we will work with good faith and urgency to deliver this programme of recovery and reform for the benefit of all our people.

Éire atá ar thóir láidreachta ó thaobh an gheilleagair agus ó thaobh na sochaí sóisialta de, ceangail a thógáil agus a neartú ar an oileán seo agus a bheith mar ghuth dearfach don chomhoibriú idirnáisiúnta – seo ár dtiomantas.