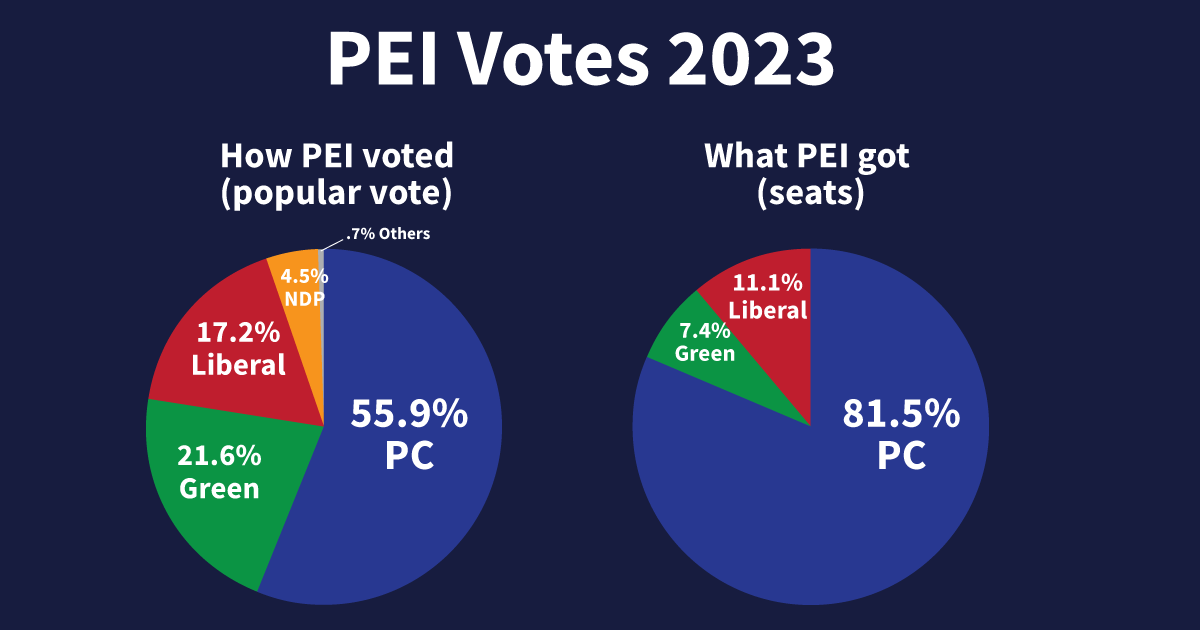 First-past-the-post has handed Dennis King's Progressive Conservatives 81% of the seats with 56% of the popular vote.
The Green Party received 21.6% voter support, but Green voters received only 2 (7%) of the seats.
The Liberal Party received 17% voter support, but Liberal voters received only 3 (11%) of the seats.
Notably, the Green Party received more voter support than the Liberal Party, but received fewer seats. This means that the Liberals, not the Greens, will be the Official Opposition, even though the Green Party was more popular with voters.
4.6% of Island voters chose the NDP, but were locked out of any representation.
Voter turnout hit a new low of 68.5 per cent.

"First-past-the-post has massively exaggerated support for the PCs, giving them a huge seat bonus and cheating voters of other parties out of their fair share of representation in the legislature," says Executive Director Anita Nickerson.
"First-past-the-post could easily have left Islanders with barely any opposition at all. Four out of five opposition MLAs won their seats by narrow margins. Had just over 500 more voters cast ballots for the Progressive Conservatives in those districts, the opposition parties that nearly half of Islanders voted for would be left with only one representative between them, as was the case in the 2000 election."

Support for proportional representation is strong in PEI. In 2016, 52% of Island voters chose Mixed Member Proportional (MMP) in a plebiscite, but the Liberal majority government failed to honour the vote. In 2019, MMP received 48% of the vote in a referendum, winning a majority of the vote in a majority of districts. 
In 2021, a majority of MLAs in the PEI legislature voted for a PEI Citizens' Assembly on Proportional Representation. Despite Premier Dennis King's previous support for proportional representation, the PC government chose to ignore that vote, and failed to take action.